Financial : Financial accounts are concerned with classifying, measuring and recording the transactions of a business. At the end of a period (typically a year).
Financials are based on basic three rules as follows :-
1. Real Account - Debit what Comes In and Credit what Goes Out.
2. Nominal Account - Debit all Expenses/ Losses and Credit all Profit/ Gains.
3. Personal Account - Debit the Receiver and Credit the Giver.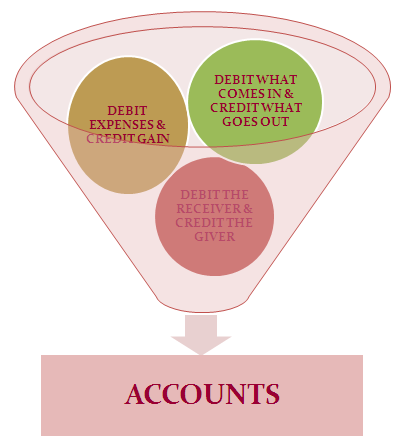 Financial Accounting :-
The "measurement" of accounting information is not a straight-forward process.It involves making judgements about the value of assets owned by a business or liabilities owed by a business.
It is also about accurately measuring how much profit or loss has been made by a business in a particular period.
Taking a commercial business as the most common organizational structure, the key objectives of financial management would be to:
| | |
| --- | --- |
| 1. | Create wealth for the business. |
| | |
| --- | --- |
| 3. | Provide an adequate return on investment bearing in mind the risks that the business is taking and the resources invested. |