Set Supplier Wise Default CD/TD/Tax
Set Supplier Wise Default CD/TD/Tax : This form enables the user to set the default values for TD(Trade Discount),CD(Cash Discount),Excise and other different taxes for Suppliers.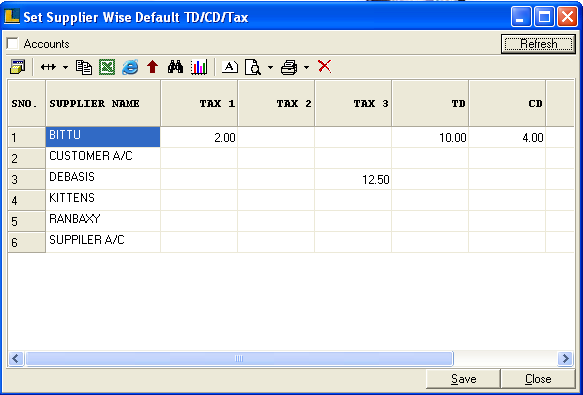 In order to create a record select the accounts.To select the accounts check the account box > Account Search window appears,select the required accounts and click Ok or press Alt+O.Click on Refresh button or press Alt+R.Now enter the values for Tax1,Tax2,Tax3,TD,CD,SP CD and Excise and click on Save button or press Alt+S to save the record.Click Close or press Alt+C to exit.
Copyright © 2011, LOGIC ERP Solutions Pvt. Ltd.