Why Choose Logic ERP Distribution Software for Inventory Management?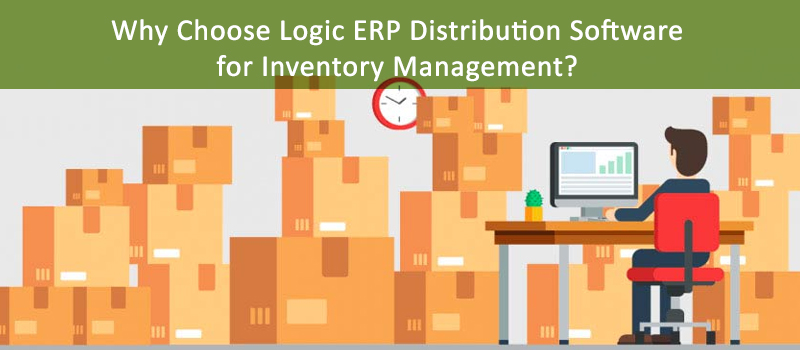 Inventory mismanagement may lead to overstocking of items in the warehouses or out-of-stock issues. Both cases will lead to losses, but the latter situation will lead to customer loss and a decrease in reputation level.
That's why as a distributor, you need to give extra attention to inventory management. The advanced distribution software by Logic ERP gives you the ability to easily organize your items and stock. Create custom analytics reports, manage order processing, streamline order picking & packing, and track inventory movement in real-time under one platform.
Challenges faced by Distributors
Distributors are the middlemen between the manufacturer and consumers. Their responsibility is to maintain an adequate supply of goods, ensuring that the manufactured items reach the customers on time and intact.
A distribution process consists of multiple stages and you have to ensure consistency in every stage to maintain the health of your business. But sometimes, distributors find themselves stuck when they have told inventory to make sure that stock is available for the clients. If not managed properly, distributors will be vulnerable to price fluctuations, economic turmoil, changing trends, etc. Following are some of the challenges affecting distribution business on a large scale:
Lack of communication with retailers and suppliers

Dynamic customer demands

Errors in data handling due to manual process

Fast delivery expectations of retailers
Inventory Tracking
Inventory is known as the heart of any business, and managing it is a complicated task, especially when you have to deal with dynamic shifts in market conditions. Logic ERP distribution software helps you to solve matters related to inventory issues so that you can feasibly address the fluctuations in sales. It provides real-time updates on inventory movement and helps in better decision-making with customizable reporting.
Manage Overstocking
Sometimes, there may be cases of inventory leftovers due to low demand or any other reasons. An ERP inventory management module enables you to analyze overstocking conditions and react immediately. A delay will only generate unnecessary trash and cause a loss of money that might have been saved if you have a proper inventory management module in place.
Higher Business Profits
Logic ERP cloud & on-premises software streamline inventory management that speed-up the pick-up process, improves productivity and efficiency of your stock room. You can manage more orders, strengthen customer satisfaction level, and earn higher profits.
Auto-Stock Replenishment
The auto-stock replenishment module provided by Logic ERP helps you to keep tabs on inventory movement. You can predefine stock levels for items and set low inventory level alerts. Whenever the stock will reach the limit, the ERP system will automatically notify you to replenish the item's stock. You will stay up-to-date regarding market demands, purchase goods on time, and have the right inventory level all the time.
Transparency among Operations
One of the difficult tasks in the distribution companies is understanding the product flow. An ERP system provides you an analytic view of every step involved in the product distribution process. It helps you to spot any discrepancies and fix the issues faster so that they may not harm your business reputation.
Better Planning & Logistics
Logic ERP software and mobile applications offer wide visibility across operations so that you can access data in real-time. You can analyze the factors affecting your distribution process and take necessary measures with better planning. You can analyze the financial problems in advance and prepare methods to counter them.
Having an efficient distribution management system will improve your business performance, efficiently tackle inventory management issues, and foster growth. Logic ERP cloud and on-premise software will make order processing faster and accurate so that you provide better service to your customers. It will improve customer loyalty and will have a positive impact on your income. Contact us now to know how our ERP software system will fit your distribution business and how you benefit from it.