8 Advantages of ERP Software in the Apparel Industry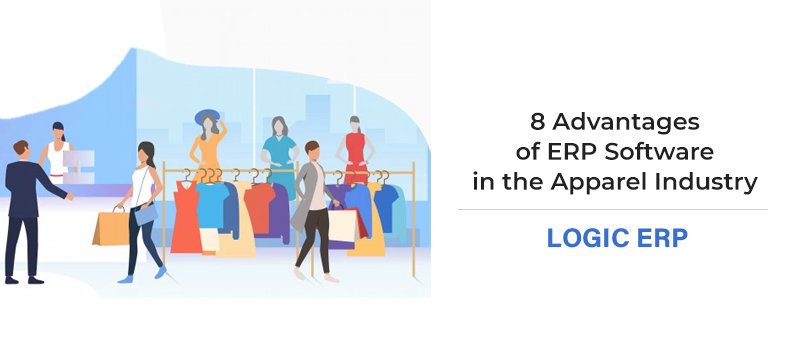 The apparel industry contains a plethora of complex components that can influence business experiences. Product life cycles are shorter here, and the rate of change in demand is significantly faster than in other sectors. Every season necessitates a completely new collection. Keeping track of merchandise in a variety of styles, sizes, fits, fabrics, and colors is also a challenge for businesses. As a result, anticipating demand and forecasting sales is critical for reducing production and delivery time while minimizing unplanned markdowns.
The ability to record and maintain all information in one system improves the apparel industry's overall operational efficiency and has a positive impact on decision making. This is made possible by the right ERP solution. Let's look at the advantages that Logic ERP's apparel management software brings to the apparel industry.
Top Advantages of Using Apparel ERP Software
Apparel manufacturing, wholesaling, and retailing companies that want to succeed in a highly competitive market environment must be able to synchronize their operations, cut their budgets, and constantly collect insights, just like any other business. To make this possible, here are some advantages which Logic ERP's apparel ERP software can offer.
Leveraging data analytics for forecasting
Determining upcoming purchase trends and stocking or manufacturing products based on them is the key to success for any apparel business. You can use the information stored in the Logic ERP's system to perform data analytics and accurately understand and predict customer demands. These insights would allow you to gain a better understanding of customer needs and improve your customer experience, allowing you to retain existing clients and gain new ones.
Easy receipt generation and payments
Automation eliminates human errors, which is especially important when you need to manage multiple clients at once, assemble multiple orders with different pricing components, and generate receipts for a variety of products. To improve billing accuracy, Logic ERP's software eliminates manual handling of invoice generation. It includes an integrated accounting system that supports flexible payment options, allowing customers to pay their bills whenever they want.
Eliminate Data Security Concerns/ Multi-Location Accessibility
For multi-location transactions, the best apparel ERP solution is a cloud-based system. It stores all of your business data in the cloud, allowing you to access critical information from anywhere, at any time. The cloud ERP system also includes high-level security features that enable you to define user authority for database access. This allows for greater control over access and ensures that the integrity of the information stored is preserved.
Improve Customer and Supplier Relationships
The advantages of ERP software go beyond simply optimizing internal processes. The integrated system enables your employees to review customer transaction history and stock balances in real time, allowing them to actively resolve customer queries and respond to supplier requests.
Enhance Inventory Overview
Inventory management becomes difficult in the aftermath of globalization, where warehouses are frequently dispersed across multiple locations. Manual handling of stock data is inefficient and prone to errors. This problem is addressed by a cloud-based apparel ERP solution. The system includes powerful automation tools for tracking inventory and monitoring for shortages or surpluses. Furthermore, the best apparel inventory management software is built with barcode scanner systems to display detailed inventory by SKU, color, style, size, and other criteria. As a result, it provides you with a more comprehensive view of each stock that enters or exits the warehouse.
Simplify order and return processing
Order and return processing are common in the apparel industry, particularly in the retail sector. As a result, in order to handle these processes efficiently, your apparel business must be equipped with an effective tracking system. Feature-rich ERP software for the apparel industry standardized order tracking and management. You can predefine discounts, package tracking, shipping, return terms, account credits, and other related activities with this institutional system. This streamlines the processes, resulting in more on-time deliveries and better return processing.
Enable Department-Wide Collaboration
ERP software for the apparel industry includes a plethora of features. The main benefit of this integrated platform is that it allows employees from any department to use the same system, making data entry, editing, accessing, and transferring information much easier and faster. Thus, implementing an appropriate ERP application allows you to promote better networking and communication among team members and departments, allowing for uninterrupted services during operational hours.
Streamline business operations
When important business data is spread across multiple platforms, it is difficult to access when needed. As a result, apparel companies frequently find ERP systems useful in consolidating data into a single platform and retrieving information in a common usable format much easier. Furthermore, an apparel ERP system enables you to create role-based permissions, allowing you to control which information employees have access to and grant permission only to the appropriate personnel.
Conclusion
Not every business management solution is appropriate for the apparel industry; you can reap the benefits of ERP software only if it is appropriate for your company. Logic ERP creates the most effective ERP software for the apparel industry. The system includes industry-ready modules and features that provide quick ROI and assist your company in remaining competitive.