How to Utilize the functioning of POS Systems for your Retail Business?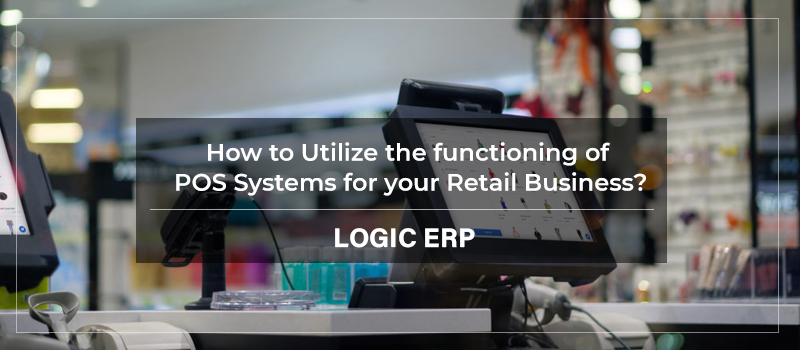 A variety of administrative, management, and marketing abilities are required to run a retail store. These abilities are required for your store to run successfully, from ensuring that there is enough inventory to compiling monthly sales statistics. Retailers who invest the resources and time to set up a point of sale (POS) system before they need it will reap the benefits. Logic ERP provides a well-functioning POS system with which you can go a long way toward ensuring that all of your operations work smoothly.
How to leverage point-of-sale systems to make sales
The major purpose of your POS is to process sales; thus, you should become familiar with the system's sell screen. Every POS system is different, however with the POS system from Logic ERP, you'll be able to ring up sales by following these steps:
Include items in the sale
The first step in the checkout procedure is to fill out the form. Depending on how your system is configured, you can add objects in the following manner:
Scanning the barcode on the product.
On the sell screen, check for it (most POS systems include a search bar / product lookup functionality.)
Using a shortcut for the sale screen (For example, Vend offers "Quick Keys" for commonly purchased items.)
You can then alter the quantity based on how many units the customer is purchasing.
Apply discounts – If you're running a sale or would like to apply discounts to a line item or the entire basket, you should be able to use your POS to do so. If your system does not include this feature, you need to make sure that it allows you to adjust the price of the product manually.
Take payments – This is the part where you get paid. In general, all POS systems have the capabilities to take all types of payments in card as well as cash, thus handling transactions becomes quite easy.
Other systems, on the other hand, allow you to provide extra payment alternatives, such as:
Giveaway cards — If you sell gift vouchers, make sure they're linked to your POS system so you can take them as payment. Check with your supplier to see if they have any agreements with gift card firms, and see if you can get a discount.
Purchase now, pay later – "Purchase now, pay later" is a service that allows clients to take products home right away and then pay for them in monthly instalments. "Purchase now, pay later," popularized by companies like Afterpay, is quickly gaining traction, particularly among Millennials and Gen Z customers.
Layaway / Layby – Layaway is an application that enables you to take a deposit from a consumer for a good or service, put it aside, and let the user pay it off later.
Digital money – Depending on your point-of-sale system and payment processor, you might be able to accept mobile payments like Apple Pay. For further information, contact your solution providers.
Loyalty – You can use loyalty points or incentives as a method of payment if you have a loyalty program.
Add notes – Lastly, if you need to add specific remarks to a sale (for example, if a buyer has a specific request or if you need to ship an item to their location), you can do so as a note.
Lastly, if you need to add specific remarks to a sale (for example, if a buyer has a specific request or if you need to ship an item to their location), you can do so as a note.
How a good point-of-sale system can help you manage your consumers
Customer management skills aren't just "great to have" – they're realistically required now that customers expect increased levels of personalization from merchants. If your present POS doesn't offer CRM features, you should look for one that does.
Here are some characteristics to check for:
Client database – Your system should ideally allow you to generate customer profiles with contact information and purchase histories.
Customer groups – The ability to build customer groups or segments is also necessary, since it allows you to simply develop targeted marketing and promotions. For example, you could form a VIP shopper group for when you want to send them special offers.
Loyalty programs – Offering incentives and prizes is a proven strategy to generate repeat business, so create a loyalty program if you can. Check to see if your POS includes built-in loyalty features. If not, third-party integrations are always an option.
Conclusion:
Various Point of Sale systems are available to help firms and merchants manage and conduct their operations while keeping track of all financial transactions. The POS system from Logic ERP is an example of a Point-of-Sale system that successfully assists retail establishments in running a profitable and developing business. Live tracking of all record sales and orders, a user-friendly interface, efficient performance, and a variety of other capabilities are some of the most notable aspects of Logic ERP's POS.