Footwear Manufacturing and the need of ERP Software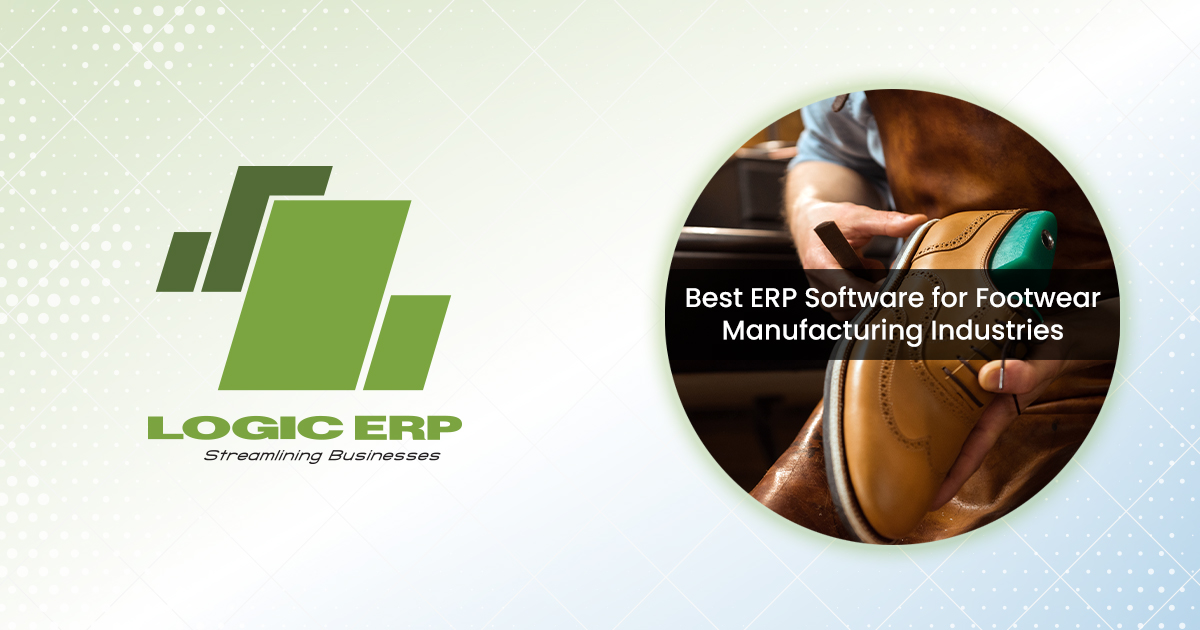 Footwear holds a prominent position in the leather industry as one of its largest and most significant segments. With a diverse range of options available, customers have the opportunity to explore a vast collection of sandals, slippers, sneakers and various other types of footwear.
A lot of small and medium-sized manufacturing companies in this industry have grown into large corporations over the past two decades. Each one uses cutting-edge technologies to make high-quality shoes. Learn more about ERP software for the footwear industry by reading this blog.
Overview
Manufacturing, procurement, distribution and retailing are just a few of the many operations that make up the footwear industry, which is enormous. The need to produce items in a variety of sizes, styles and colors is what sets this industry apart.
Retailers and manufacturers need a system that can handle all operations, from the time material enters the warehouse to the time the finished product reaches its consumer, in addition to the functionalities of inventory management and supply chain management.
Nevertheless, the appropriate ERP software for the footwear industry aids in the coordination of all relevant business processes and ensures that the appropriate products are stocked to satisfy customer demands. A specific ERP system for footwear recognizes the complexity of footwear product orders and the significance of ensuring that customers receive exactly what they want when they want it.
Challenges Looked by the Footwear Business
Conflicting requests, consistently changing business sector patterns and necessities, the need to work at lower costs, ceaseless strain for offering better worth, and different consistence prerequisites in various nations have impacted the footwear area.
The producers likewise face difficulties in dealing with different distribution centers and stores. Additionally, they need to manage the severe tax assessment guidelines, focus on bringing down strategic expenses, and amplify stock utilization to keep away from wastage. Then, they should also concentrate on providing products in a timely and effective manner while also making certain that the production process as a whole is managed in an orderly manner. To accomplish this, a footwear manufacturing ERP becomes the only real solution.
ERP systems designed specifically for footwear processing units solve several problems by integrating all business functions over a single platform, including procurement, inventory, production, operations, sales, accounting, and finance. Footwear ERP software offers manufacturers invaluable advantages for cost reduction, growth management, process streamlining, and gaining a competitive edge over rivals.
It maps everything, from getting the raw materials for production to cutting, stitching, providing a variety of patterns, colors, and textures, packaging and getting the product to the end user.
Let's examine it more closely:
Improved Supply Chain Management
Tailor-made footwear ERP helps firms to implement best practices to enhance profitability in this highly competitive sector by obtaining control of the whole supply chain, from raw materials procurement to the production of attractive footwear.
Observance of Compliance
ERP assists footwear producers in meeting critical legal duties by providing timely documentation and crucial functions that permit conformity to established regulatory norms. It helps them to keep ahead of the quality criteria, regulations, and legislative laws relevant to the procedures of the footwear industry.
Helps with Inventory Management
It simplifies the procurement process and guarantees that it is handled swiftly and smoothly so that production may continue uninterrupted. ERP not only assists in the creation of a procurement strategy but also the real-time tracking of logistics and the maintenance of procurement schedules. The quality of raw materials and processes may be assessed at any moment. Managing and monitoring inventories gets easier with the aid of batch numbers. With barcode integration, manual data entry is avoided, and data is immediately available on the system.
Waste Management
ERP increases efficiency and productivity by assisting organizations in optimizing complicated operations, preventing data re-entry, and improving activities such as manufacturing, order fulfillment, and delivery.
Constantly Shifting Customer Demand
Consumers want new products regularly, and firms struggle to achieve a balance between R&D and continuous innovation. ERP addresses this issue with its user-friendly laboratory module, which enables simpler R&D while adhering to the original methodologies. ERP allows organizations to manage several shoe hues and versions to meet client needs.
Controls Costs
Footwear manufacturing necessitates large expenditures in machinery and labor, leaving little room for profit margins. ERP's out-of-the-box costing module assists with "what-if" cost analysis and pricing policy decisions. It also aids in cost optimization at all levels.
Traceability in Both Directions
ERP aids in the early detection of erroneous batches at the first sign of a compromising raw material being utilized in manufacturing. Traceability is possible with ERP since it provides detailed stock positions everywhere in the supply chain, including lot data with the press of a mouse.
Conclusion
An ERP solution assists footwear producers in achieving consistent and assured quality, enhanced packaging, tighter cost management and greater profit margins.
The footwear ERP software, LOGIC ERP is capable and adaptable, allowing manufacturers to bring together all of their operations across multiple units and locations, implement automation for the entire system, maintain and retrieve data in a single location, as well as efficient control and streamline compliance-related activities.