LOGIC Introduced AapTak Mobile App for Online Ordering of Items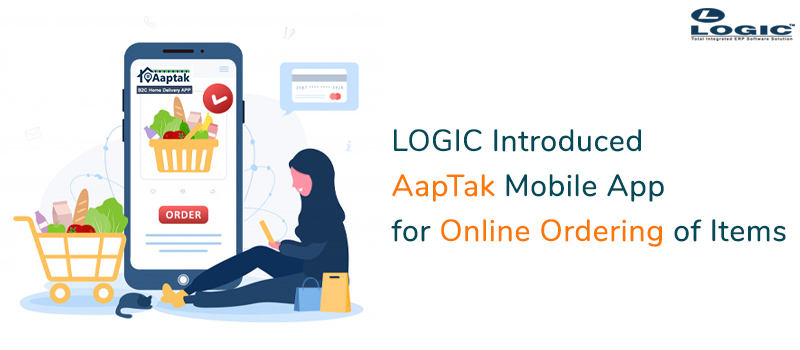 One thing that became clear from the COVID-19 pandemic is that people have started to prefer online shopping methods over traditional shopping. It is also a good thing because, in this age of digitalization where everything is connected to the internet, nobody wants to stick to old means. Also, if you wish to keep yourself safe from getting infected, shopping online is the best option. It would help in maintaining social distancing.
But the main problem that consumers and shop owners were facing was the lack of applications or software that could facilitate local online shopping of groceries or other essential items. So to resolve this issue, LOGIC launched AapTak Mobile app to promote online shopping and provide a secure way of doing business.
AAPTAK APP BENEFITS FOR CONSUMERS
Consumers can search for the local stores in their areas from where they can purchase items.
Order essential goods from the comfort of your home through the mobile app.
Make payments online for your orders.
Consumers can get the items delivered at their door-step at a given time-slot mentioned by them.
Customers can keep track of the online orders and get the digital bill summary on the AapTak app.
AAPTAK APP BENEFITS FOR SHOP OWNERS
Store owners can take their business online to enable their consumers to order online.
It will help them to keep the crowd minimum in the store.
Collect the payment for online orders and upload bills within the app.
Expand your consumer base by taking your business online.
Collect online orders and schedule them for online delivery.
One common benefit that both consumers and shopkeepers can enjoy is that they can keep themselves safe from catching coronavirus. Also, by the end of 2020, most people would prefer to shop online rather than going personally to the local stores. It's a perfect opportunity for shopkeepers to increase their sales by implementing AapTak app in their currently running business process and taking it online.
Also, consumers don't have to waste their time calling or sending Whatsapp messages to the vendor, which is time-consuming and a tedious task for vendors too. There will be no more queues in the store, which will ease the shop owner's working, and the shops will have more room for physical distancing. There'll be less waiting time and will facilitate the timely delivery of the items.
To download the AapTak Mobile App, click the links below:
For Android: https://bit.ly/2XoWDYz
For IOS: https://apple.co/3hj6xT9