Warehouse Management Systems: Key Advantages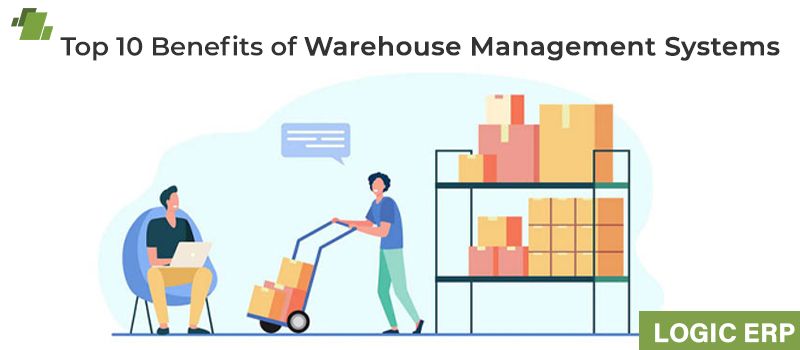 Introduction
A warehouse management system is a software solution that offers firms total inventory visibility while managing warehouse operations. It guarantees that your activities are managed as effectively as possible. Warehouse management allows you to have complete control over your warehouse procedures, such as receiving, picking, putting away, inventory tracking, and order fulfillment. These goals frequently result in improved inventory and shipping accuracy, cost savings, labor efficiency, and material handling.
Benefits of the Warehouse Management System
Your warehouse management system benefits may vary somewhat depending on your needs, industry, and size. Nonetheless, the following are the top 10 benefits of warehouse management systems:
Lower Operating Expenses
A well-designed WMS cuts operational costs in a variety of ways. To reduce waste, this method finds the most efficient use of both labor and space. WMS software may assist you in determining where to store specific supplies, goods, and equipment to optimize warehouse traffic.
Warehouse floor simulators are available in certain sophisticated systems, allowing users to arrange pallets, shelving, and other equipment in your warehouse. Users may arrange their warehouse to function at maximum efficiency, saving money and time.
Increase Visibility
WMS software provides real-time inventory data through the use of barcoding, serial numbers, and RFID tagging. These technologies enable users to document each item as it enters the warehouse, as it moves across the floor, and as it is transported from one area to another.
This kind of visibility is required to generate demand projections, which reveal which items are most popular with clients at different periods of the year. These estimates aid leaders in determining which goods to invest in and which may be losing market share.
Enhance Management
Another advantage of a warehouse management system is just-in-time (JIT) inventory management, which is a process that keeps stock levels low and items moving swiftly through the warehouse. Instead of stockpiling goods for extended periods, your warehouse receives them "just in time" to complete an order.
Boost Security
Most warehouse management solutions require employees to use individual user accounts while entering transactions. This method creates an audit trail that connects certain employees to specific transactions, enhancing accountability and minimizing the risk of theft and other problems. Employers may also use it to find new training opportunities and other ways to improve employee behaviors. It also allows each user to see the information needed for their specific work. This way, you won't have to worry about exposing company secrets or losing your competitive advantage.
Improve Performance
Warehouse management software suppliers release new features regularly to mirror current industry best practices. This technique makes it simpler for firms to keep up with the newest advances and continuously enhance their operations in response to these innovations.
Continuous development is considerably easier with cloud WMS. Automatic updates and new features may be introduced to the system, minimizing the need for in-house IT professionals.
Improve Both Inbound and Outbound Logistics
Users may optimize the positioning of merchandise and equipment, as well as how it is transported to the warehouse. Based on personnel and equipment availability, these tools enable you and your supplier to establish the ideal day and time to receive cargo.
WMS software has several algorithms for determining the optimal route for material selection. Users can choose zone, batch, or wave picking to eliminate warehouse traffic and other holdups, depending on the quantity and type of their goods.
Effective Labor Administration
As previously said, a WMS allows you to freely select which picking, packaging, and putting-away procedures work best for your company. WMS systems can help you identify the right person for the job while also streamlining inventory allocation and route planning. These solutions let you distribute work to team members by taking into consideration factors like skill level, proximity, and current tasks.
Boost Employee Morale
When tasks operate smoothly, employees are happier with their employment. This is especially true when managers make concerted attempts to optimize their time. There is reduced stress, and increased productivity and profitability boost workers' emotions, especially in warehouses that provide Festival based incentives.
Improve Billing Management
Most top WMS solutions provide billing management features or interact directly with third-party software to give this functionality. This feature enables you to employ activity-based invoicing, which monitors all warehouse-related operations for certain suppliers to produce appropriate fees. WMS software may also accept credit cards and link to major eCommerce sites.
Improve Customer and Supplier Relations
You can optimize both supply and demand chains with great inventory visibility and the flexibility to plan shipment reception. The shorter wait time at ports and loading bays is one of the most evident advantages for suppliers.
Conclusion
Nowadays, competition is fierce, and your company must stand out with cutting-edge technology – WMS can undoubtedly deliver you cost savings and flawless operations. You may also reduce hazards more effectively, increasing total productivity and profitability. That is why you should start using a sophisticated Warehouse Management System right once, but be cautious and analyze which options are crucial for your specific organization.