Garment ERP Software – Guide for Selection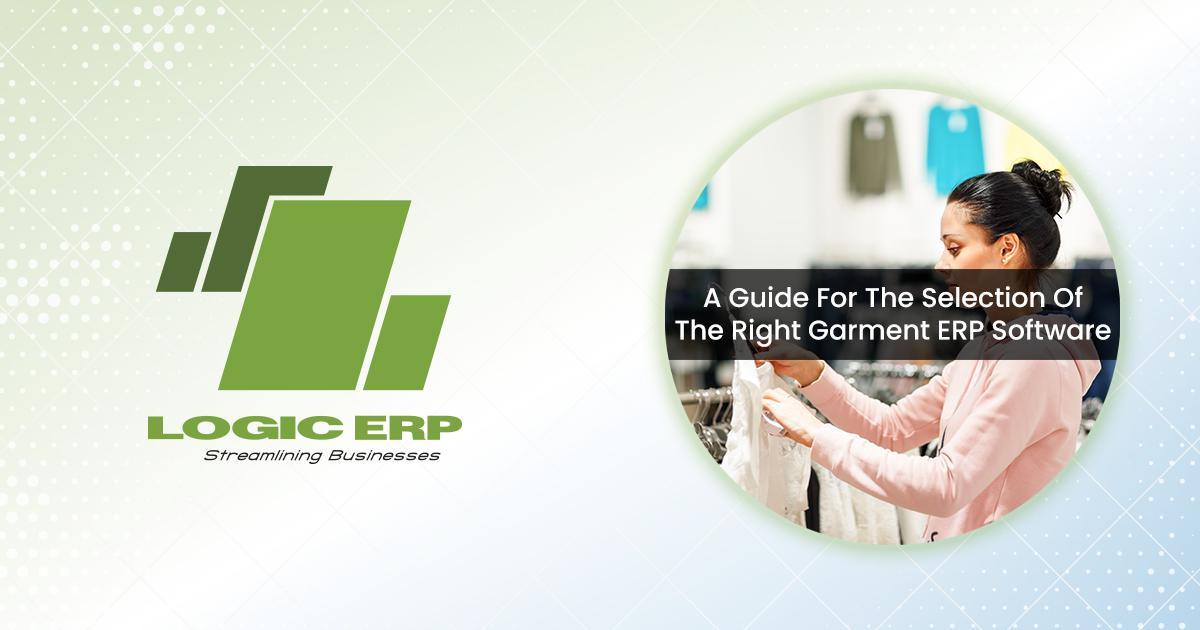 Garment manufacturing software also assists businesses in improving employee happiness and customer connections by automating repetitive processes like sales order monitoring and fulfillment, as well as managing quality control across many garment production lines.
Garment ERP software is essential for every garment manufacturing company. ERP systems serve to simplify manufacturing processes, increase productivity, and improve organizational communication. This article will assist you in selecting a system that enhances clothes manufacturing management while keeping expenses in check.
We'll look at ten important elements to consider when choosing a Garment ERP solution, including setup costs and vendor viability.
Examine Your Procedures and Trouble Spots
Before you can choose an ERP system, you must first understand your company's difficulties and specific needs. Realizing your cycles completely can help you in figuring out what kind of programming is fitting for your necessities and how it ought to be introduced. It is here that you will look at how you want to improve and find bottlenecks and agony regions utilizing a Clothing ERP framework.
Determine If You Require Standalone or Integrated Systems
ERP systems are classified into two types: stand-alone and integrated. You may employ several modules to execute multiple functions within your organization using a stand-alone system. Because they provide additional benefits, integrated systems are more frequent. Companies choose integrated solutions because they are cost-effective and scalable over time, as well as simple to implement.
Look for a System that is Designed Specifically for the Garment Industry
A quality control module for garment manufacturing that allows you to track product problems throughout their life cycle, from fashion design and product development to production and final inspection, as well as preventative maintenance programs and rework operations.
An end-to-end product lifecycle management module for managing the complete design process, including managing design modifications, preparing BOMs (bills of materials), scheduling merchandising chores, fashion inventory management, and generating analytics reports.
Ensure that the System Satisfies Your Technical Specifications
The solution should be compatible with your factory's supply chain network. More particularly, the program should not necessitate modifications to your network settings or the acquisition of new hardware. If you do need to invest in new gear, keep those prices in mind. The perfect solution should also make use of cutting-edge market technology to guarantee that you constantly have access to powerful business analytics and data reporting capabilities.
Guarantee that the Framework is Easy to Use For Your Staff
Assuming that you need a framework that is easy to utilize, go for one that has an easy-to-use interface. Since your staff will use the program consistently, this is a significant issue. If purchasers find it challenging to utilize, they might feel baffled and leave the framework. Hence, it's worthwhile to invest some time in determining whether your possible ERP solution has an intuitive design and is simple to learn for your staff.
Examine the Installation and Post-Implementation Support Alternatives
When you've discovered a vendor that appears to be a good fit for your sector and business, it's important to look into their installation and post-implementation support options. We recommend looking at how many clients they've helped deploy their program, their experience with fashion supply chain management, and the outcomes of those implementations.
Finding the Total Cost of Ownership (TCO)
The total cost of ownership (TCO) is the cost of installing and maintaining a software system over time. Hardware, software license, implementation fees, training, and maintenance charges are all included.
You must incorporate any hidden expenses in your calculations. Some firms charge extra for post-launch assistance, while others charge clients only when certain modules are used. Some businesses charge an annual maintenance fee that covers updates, upgrades, and bug patches.
Consider Your Mobile or Remote Access Needs
With the right instruments, you can guarantee that all that chugs along as expected consistently by checking creation from any place. Along these lines, if something turns out badly with a request or there is an issue in stock levels, it very well may be revised in a split second as opposed to holding on until the following day when everybody returns.
Be Familiar with the System's Scalability and Modification Possibilities
You should guarantee that the framework you select can be scaled and tweaked to meet your prerequisites. This suggests that it ought to have the option to oversee expanded or diminished client traffic and ought to likewise take into consideration straightforward changes in light of client inclinations.
Try Not to Neglect the Seller's Reasonability
Consider how long a merchant has been doing business and whether they have a laid-out client base while choosing a supplier. You ought to likewise consider the merchant's monetary well-being, client support notoriety, and history with past clients to ensure that they will be accessible when you want them. You may likewise demand that the vendor offer you a rundown of their clients so you can perceive how long they have been utilizing the item and the number of clients they have.
Conclusion
We believe that our Garment ERP guide has helped you with understanding how to pick the best ERP Software for your garment manufacturing. Preceding making a purchase, similarly as with each modernized change choice, it is essential to lead research and fathom what is openly watching out.