10 Most Promising Retail Software & Solution Providers-CIO Review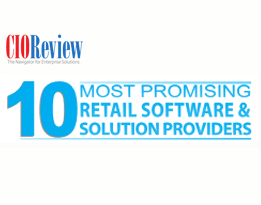 The booming retail sector in India is worth $500 billion. With an annual growth rate of about 20 percent, it is still largely dominated by small shops and stores. But organized retail is taking off and holds a huge potential.But the environment for retail is changing and so is the nature of the stores. With the wide acceptance of E-commerce, brick and mortar stores are compelled to leverage technology. They require new technologies and partners who can help them figure out loyalty, in-store behavior, comparison shopping and what to do with social networking, thus putting the onus on retail software solution providers.
Retail executives and CIOs continually seek to bridge the gap between business leadership and technology adoption. Their current priorities include: improving inventory efficiencies with RFID; embracing mobile engagement, leveraging localization and personalization; and harnessing Big Data with retail analytics. The Indian market has several retail software solutions providers who are aiding the retail CIOs to achieve these desired goals by developing innovative software products and services.
To help retailers find the perfect software fit for their needs, CIOReview brings to you '10 Most Promising Retail Software and Solution Providers' a list of 10 high value retail software solution companies in India that are winning over CIOs and in turn driving growth for retailers across India. Having been closely scrutinized by a distinct panel of judges including CEOs, CIOs, CXO, analysts and CIO Review editorial board, these names are disrupting the industry and heralding a new era for retail software solution providers.