Why POS Barcode Scanner Is Important In A Bakery Business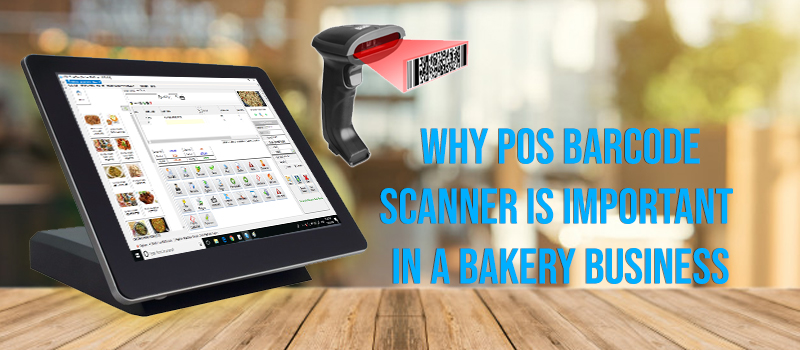 Everyone desires that their business run smoothly and hassle-free. The transactions maintained properly, accurately tracking of products, and many other features that business owners want in their POS Software. As the Bakery Business depends upon the freshness of raw materials, the handling inventory control and backend operations become more important.
When looking for a reliable Bakery POS, check whether it has powerful barcode generation and management features or not. If you have a barcode scanner, then you can efficiently manage your bakery inventory. It is because bakery business deals with perishable products, so it's necessary to keep their shelf life in check.
What is Barcode?
It is an optical, machine-readable, representation of product information, and the code represents the product carrying the barcode. The code is in parallel lines patterns varying in width and in numbers form, printed on a commodity. It makes the stock control and item tracking easy and enhances the billing operations speed.
After installing a bakery POS in your premises, you can deliver a friendly, fast, and reliable services to your customers. You can keep perishable products shelf life in check, accelerate your billing procedure, and improve customer satisfaction. Following are some of the benefits of POS Barcode Scanner, which makes it important for your bakery business:
Reduction in Discrepancies
There are chances that some of your bakery staff may try to fill their pockets behind your back. Well, you don't have to worry about it if your entire operation is technology driven. You can minify pilferages and internal thefts when you have access to every item quantity information in your bakery. Once you are sure about your bakery's internal operations, you can make effective strategies to improve your customer's base.
Fast Billing
The manually billing process consumes a lot of time, and the whole process is tedious. There are also chances of mistakes in manual calculation. But if you have a POS Barcode Scanner, you can easily calculate the exact price of the items. Simply scan the barcode as it contains all the information, which will automatically update on the computer. It will speed up your billing process, enhance customer delight, and improve the efficiency of your business process.
Reduction in Mistakes & Efficiency Improvement
When you have to deal with dates and numbers, the scope of manual mistakes increases, especially when your billing process is still manually. Such mistakes can give rise to discrepancies in numbers when redone. Also, it will increase the wastage of time as you have to redo the whole task if you did some mistake. However, if you have a barcode scanner and barcode, you can perform your bakery operations smoothly. Even though you have limited staff, the efficiency of your bakery business will not affect.
Necessary Features in a POS Barcode Scanner
Following are some of the important barcode features you must look for when you have to choose your Bakery POS to ease your operations:
Managing Products having Barcode
Most of the items in a bakery have predesigned barc0de, which makes the items easy to handle. You only have to decode the information with your barcode reader, and the data will automatically update at the POS. Make sure that both machines get synced with each other perfectly.
Barcodes Generation
As a Bakery owner, you might have to generate the codes for the products you manufacture. Also, there are products that come into your bakery without a barcode. Therefore, it becomes necessary that your Bakery POS should have barcode generation feature. It must contain the following tabs:
1) Item Number
2) Item Name
3) Vendor Barcode
4) Templates of Barcode
5) Barcode Group
6) Quantity
7) Nutritional Value
8) Barcode Date
9) Barcode Rate
Barcodes Printing
It is an easy process. You have to plug-in barcode printer and generate the labels. In case your system's configurations are low and you have to print barcodes in batches, then your POS system must have a batch operation feature. It will allow you to automatically print barcodes in small batches.
Managing a Bakery inventory and running it successfully takes years to master. But having a Bakery POS Barcode Scanner will be a first step towards your goal. So, what are you waiting for? Go ahead and try Logic ERP POS with a Barcode module to bolster your Bakery business by leaps and bounds.