Common Mistakes Made by Retailers When Selecting a POS Software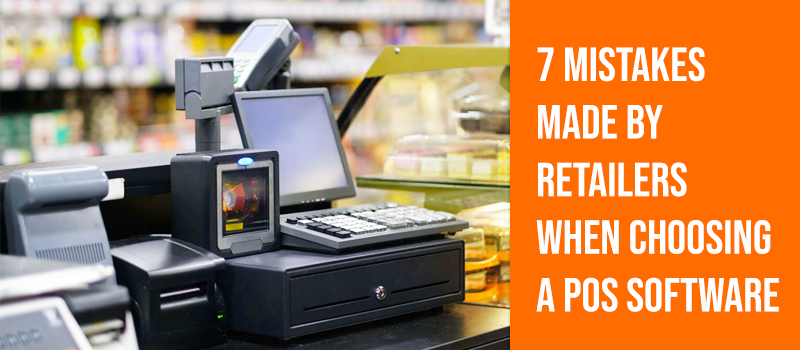 In a retailing business, there're a lot of things that a retailer have to take care of. They spend a lot of time and resources in order to increase their sales. As the sales grow, it opens doors to new opportunities for growing the business. But the question is, "how you can keep track of all these business operations that you are handling simultaneously?"
POS System
A fully integrated POS system would provide information about your customers, employees, sales, and inventory so that you can efficiently manage your business. If you look into the market or online, you will find plenty of solutions for retailers, but finding the most compatible and best POS for your business will be a real challenge. That's why during the selection process, people make mistakes which cost both your time and money.
Following are some of the common mistakes made by retailers when selecting a POS software system and how you can avoid them:
No clear understanding of your needs
The obvious mistake that you make when choosing a POS system would be not having a proper understanding of the features that you require in an automated system for your business. Whether you are running a multi-brand retail store or a pop-up store with limited space, you need to carefully evaluate your needs and how you can integrate POS functions with your business.
If you don't, then the risks of incompatibility with arise, leading to the failure of the system to handle critical business functions.
Prioritizing price rather than features
You need to be smart when spending your money, but don't be so cheap when it's about your POS. No doubt that you should go for cost-effective software, but compromising important features in the process is not the best move. For example, in a loyalty program, the most essential feature is loyalty and rewards. If you exclude this feature to save a few bucks, then it might diminish the customer experience. In a retail business, it is a far greater price to pay.
In order to ensure that you don't overspend on the software:
Make a list of the important features that you want in a POS.
If you have multiple stores at different locations, the system that supports multiple locations will be a good choice.
The system must have the ability to successfully integrate with your accounting software, inventory, staffing platform, and e-commerce site.
Once you have a clear understanding of these requirements, you will know in which system you must invest for your business to grow and run successfully.
Focusing on hardware investment
One of the major mistakes that retailers do is they focus more on hardware rather than software. By doing so, you waste your money and time on the resources that might not be even compatible with your next POS system you are going to buy. You should know that not every POS software will run from the same hardware.
For example, if you are a small retailer, then you might only need a smartphone or a tablet or a mobile card reader. As for a larger retailer, he/she might have to focus more on hardware like receipt printers, traditional card readers, computer system, etc.
Every POS system needs a particular operating platform and card readers, cash drawers, scanners, and printers. So don't invest aimlessly on computer system first. If you do so, you are only limiting your options for your Point-of-Sale system, which will not be compatible enough to meet your business goals.
Not doing prior testing
When you buy a new vehicle, you always do a test drive first. So, why don't you take a demo first when selecting a POS system for your business? There are chances that PSO solution may not appear great on paper, but you will never know until you take a demo first.
You can request a free trial to test the working and compatibility of the software with your business operations. If not, you can even schedule a demo to check every feature of the system, make notes and see how effective the performance of the software is. It will give you a picture of how the system runs, and what business platform it supports.
Improper Training
Staff is one of the most important assets in a business, yet most of the retailers tend to save money by not training their employees regarding the working of the POS system. It turns out more expensive in the long run. In business, knowledge is a key, and knowing how to run new systems is important for your business success. Your employees will be directly managing inventory, sales, barcode scanners, etc. So no matter how expensive or advanced your POS software system is, poorly trained employees will not be able to use it properly, making it less effective.
For avoiding such situations, you should give them a proper overview of the system, train them how to operate its features such as barcode scanning, purchasing, receiving, reporting, inventory management, accounts, etc. Make sure not to rush the training, rather teach them what they need to know to run the business day-to-day.
Not considering the support system
You may be skilled to run your business, but it doesn't mean that you can solve any problem, especially when it's about your POS software. In case something went wrong, then having a knowledgeable support system will help you to tackle those problems. When selecting a POS software system, it is important that you check for technical support availability also. By doing so, in case a problem occurs, you do not have to wait for hours or stuck on the phone waiting for your turn to raise your issue. Not only it will cause your problem, but also to your customers also.
Wrong Partner Selection
Selecting a POS system for retail business is a very big deal, so you have to make sure that you choose the right company. You will have a lot of choices, so make sure that you choose a partner with a strong experience in the retail industry. The following points will help you to make a wise choice:
Is it cover the features that are important to your business?
Does the system compatible with your other business operations?
What type of support system they have?
Does the pricing according to the features of the software?
Does the company offer the choice to add additional features according to your business needs?
Make a list of pros and cons related to various software providers. Then narrow down the options according to the benefits you will get from them. In the end, you will be left with few choices. Contact them over the phone, check the reviews online, visit their websites to inquire about other services, and then make a final decision.
If you avoid the avoid mentioned mistakes, you will definitely integrate an invaluable tool to your business, which will open new doors of success in the future.