How POS Software could help you Speed-up Checkout Time at your Store?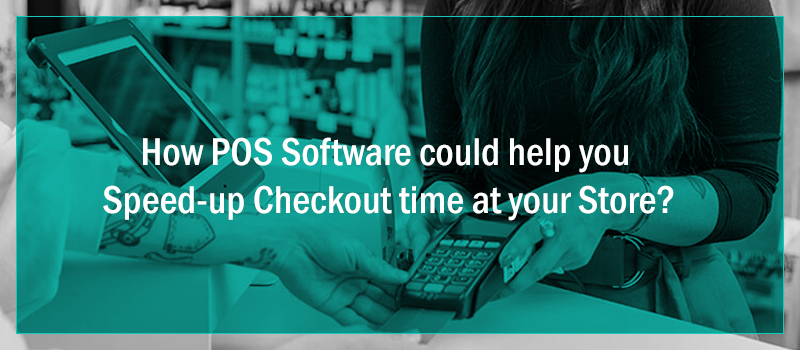 In this fast-moving world, everyone is in a hurry and wants to speed-up their lives. According to a survey, the stores with faster checkout systems tend to have better sales and attract more customers. Having slow checkout speeds directly impact your sales value. If you are running a supermarket or a general store, improving checkout speed will be the best thing you can do for your business. It would help you to generate more revenue and provide a better customer experience. All you need to do is install a piece of technology to accelerate the entire process.
Impact of Wait-Time on Customer Satisfaction
The checkout process is an important factor in business. According to a study, improper scanning of products, long lines, and slow cashiers can have a negative impact on customers behavior. Checkout is the last impression of your store on the customer. Even though your customers have a great time shopping at your store, a slow-moving or massive checkout line will ruin the whole shopping experience. It will make your customer less likely to shop at your store next time.
If you are thinking to install self-checkout mechanism then let us tell you this, "it's not a perfect solution." Most of the consumers avoid the self-checkout process as they find barcode scanning difficult or they encounter other technical difficulties. Due to this, consumers still want a human cashier to process their orders. As you know now, consumers hate slow checkout process and hesitate to use self-checkouts.
So, what can you do to improve their overall shopping experience?
Customer Satisfaction affects Sales
Providing a better service to raise the customer satisfaction level is one of the primary goals in business. Very few people complain about the bad shopping experience, which some take their business elsewhere. These factors have a huge impact on the business, resulting in a sales slump.
The customers have high expectations when they do in-store shopping as compared to online shopping. Although people search the internet first before buying the product, they also want to enjoy the shopping experience, that's why they go to store. The positive shopping experience can result in long-term customer relationship. If you want to create a strong foothold for your business, it's important to understand the reasons you need to focus on better customer service. Consumers nowadays have various choices to do business with, so you need to set yourself apart from your competitors.
Now the question is, "how you can create more positive customer experience?"
Using POS Software
Having a POS software can solve the problem of the slow check-out process, dissatisfied customers, and long wait times experience. A Point of Sale software can help you manage the transaction process with ease and will speed up the process. It will result in increased sales and better customer service. With LOGIC POS system, you can cut the time needed to process barcodes or EMV transactions in half. Also, it would be easy to train the staff about the working of such software, which will save you training cost and time.
Install the Right Software
A POS software that integrates well with other business operations is a perfect choice. Not only it will speed up checkout times and boost customer satisfaction, but also will help in managing inventory, expenses, etc. LOGIC POS software empowers thousands of stores, supermarkets, etc. to enable the owners to engage in better business practices. The software comes with features that can optimize your point of sale and inventory management.