Customize & Manage your Retail Store Inventory with LOGIC ERP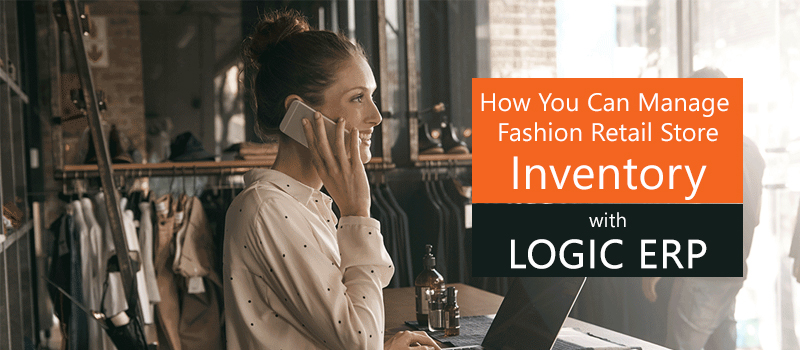 The apparel and fashion industry is one of the largest and innovative business sectors in the world. Most of the concepts that retailers use these days were first experienced by fashion and apparel retailers. For example, Pop-up shops concept, which was initially piloted in the 90s by fashion and apparel retailers. Then came the next innovation wave of immediacy and personalization. The consumers expect retailers to suggest products according to their preferences without consuming much time. If you are an independent fashion and apparel retailer, then you can also personalize which products you market to consumers.
But the thing that binds scalable personalization and order fulfillment together is inventory management. To know consumers' choice, you need to analyze which products you should order, sell, and offer a discount on. CRM tools can help you track each customer's visit to your store, their purchases, returns, and wishlists.
LOGIC brings you an all-in-one commerce platform that combines all such tools. From sales data and inventory reporting to synchronizing inventory levels in-store and online, all of this can be done by using one tool.
This post will cover how LOGIC ERP apparel software can help merchants:
Customizable Item Category and Attributes
In the fashion industry, every article has multiple colors or shades with multi-size or packages. So the item matrix is the best view and entry format for the article. As the MIS revolves around the style specify for industry, this option is the best differentiator factor offered by LOGIC. You can even categorize the materials based on different hierarchy. For better MIS, you can associate individual attributes with the article. You can create your barcode patterns for individual Stock Keeping Units. The predefined set and theme of the items can be boxed with unique barcodes. This, in turn, eases both inward and outward process and facilitate the stock audit.
Predict demand for Seasonal inventory Accurately
The apparel industry is a seasonal product category in which retailers order stock for each season a few months in advance. But before they place a purchase order, they must know how much stock they need to order. Will, they order the same volume as last season, or should they order less, or more. With the LOGIC sales report, you can analyze which products sold well in a selected period. By doing so, you can order the right amount of stock to fulfill the demand. It will prevent the over-stocking condition.
Smarter Ordering, Better Sell-through
Inventory should be organized, but having an optimized inventory is much better. With the LOGIC inventory management system you get an accurate overview of your inventory sales performance. Keep track of which products you are selling, how fast they are selling, and whether or not you should start discount schemes on them. With such intel, you can sell through inventory faster and place new merchandise on the shelf. You get the auto-update for the items that ran out-of-stock or running low in stock.
Choose a Right Retail Point of Sale
One of the recent trends set to go mainstream in 2020 for independent retailers is personalization and custom-curated inventory. If you want to be successful in the long-term, apparel and fashion retailers should partner with a POS system provider that prefers innovation. With new features, integrations, and tools being released timely, LOGIC inventory management capabilities will grow to new heights in the coming future. Inventory is the largest active asset for retailers and when you streamline your inventory flow, profits will follow too.