Changing Culture of Grocery Shopping with Online Grocery System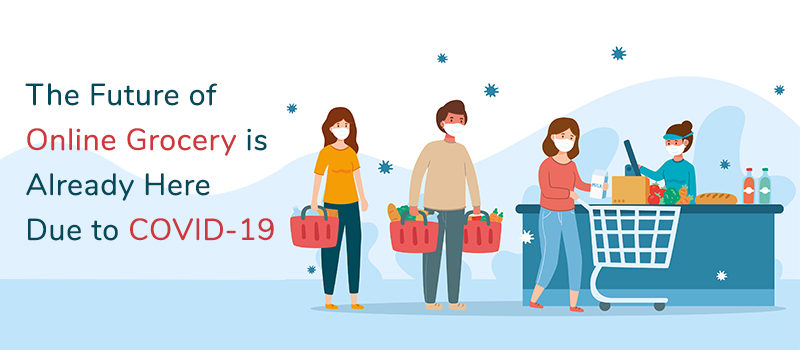 When the COVID-19 pandemic started and a complete country lockdown was announced, an unprecedented challenge started for the grocery stores and food retailers. Consumers started stocking up on essential items and retailers were facing supply chain disruption. The result – empty shelves. But as the COVID-19 crisis stirred up, the culture of grocery shopping started to change.
Consumers turned to curbside, Buy Online Pick Up at Store (BOPIS), and delivery options to maintain social distancing while fulfilling their needs. Grocers, eCommerce companies, and delivery services started to adapt at a rapid pace to fulfill consumer's demands and manage the unchartered territory by keeping shoppers and employees safe from the virus.
STATS RELATED TO ONLINE GROCERY SHOPPING
According to data collected by Rakuten Intelligence, the online order volume from grocery merchants rose substantially from March 12 to March 15 as compared to last year. The dollar value of orders (smart delivery & BOPIS) during those four days was up 210.1%, while the orders number grew to 151.1%.
Between January 1 and March 15, the number of online orders rose to 57.6%, and sales increased to 61.3%. Amazon Fresh, the Walmart To Go service, Kroger Co., Grocery Delivery Company Instacart Inc., etc. were the merchants in this category that witnessed the subsequent growth.

From 12 March to 15 March, the dollar volume of BOPIC orders of grocery and non-grocery items grew up to 111%, while the number of orders grew by 82.8%. Between January 1 and March 15, those numbers were 38.9% for dollar volume and 39% for the number of online orders.

For March 12 and March 13, the online orders for full-assortment grocers rose to 219% and online sales grew by 325.9%.

For BOPIS orders, orders grew 126.3%, and sales rose to 183.7% for March 12 and 13.
The above-mentioned data shows how online grocery and overall BOPIC purchases have grown since the start of this pandemic. If we talk about the change in consumer behavior, then according to the NRF survey:
6 out of every 10 consumers are worried about going to the store because of fear of catching the infection.

9 out of 10 consumers shifted to online shopping from traditional shopping.

More than 60% of consumers started ordering products online that they normally purchase from the store.
These changes are going to stay permanent and will affect the future retailing business. The best thing you can do as a grocery store owner is to take your grocery business online before it's too late. If you want to upscale in the post-COVID-19 era, then the following strategies offer by LOGIC ERP can help you in it:
ENTERPRISE ORDER MANAGEMENT
It is an Order Management System technology used by retailers and brands to offer omnichannel practices. With enterprise order management strategy by LOGIC, you get:
Real-time Inventory Visibility,

Returns Management,

Enhanced Functions,

Workflow and Order Management,

Smart Order Routing, etc..
Rather than logging into individual POS systems or sales channels, you can manage everything in one place. You can easily track orders, fulfillment, sales, and inventory, along with streamlining the processes necessary for products to get delivered to customers who bought them.
TAKE CONTROL OVER ORDER DELIVERY
If you are using a third-party order delivery service, then it might be costing you more than you expected. In some cases, it also ruins the customer experience if there are some issues with order delivery. So as soon as possible, you must switch to fulfilling these orders on your own. You can use LOGIC Home Delivery and AapTak app to receive online orders and schedule home deliveries.
COLLABORATING ONLINE SALES PLATFORMS & MOBILE APPLICATIONS WITH ERP SOFTWARE
When you are running your grocery store online, you need a one-stop solution to manage online sales platforms and mobile applications in one place. With the LOGIC ERP grocery store solution, you can integrate your e-commerce and online sales channels to manage and receive online orders from your customers. You can also schedule an online transaction process to receive online payments.
During the first phase of the global pandemic, grocery stores responded swiftly and played a crucial role in fulfilling the demands and consumers' needs. Now it's up to you that as a grocery store owner, you must continue this trajectory by changing your business tactics according to industry. As a retailer, you should consider your customer's safety and store experience. With cloud-based LOGIC grocery store software and mobile applications, you can efficiently manage your store operations from anywhere, and anytime.