LOGIC ERP enabled Advanced Stock Replenishment Module at V-Bazaar Stores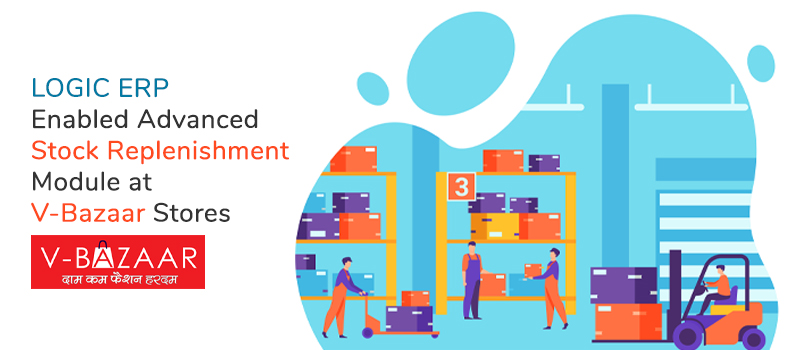 V-Bazaar is one of the leading Value Retail Stores chains in India. V-Bazaar has opened 70 stores in 61 cities in India. V-Bazaar believes in operating in untapped markets, provides customers different shopping experiences, comprising of a vast range of value retail products under a modern ambiance and feel of a large retail mall.
V-Bazaar got on board with Logic ERP on the very first day of company immigration and started working on the application.
What was the Challenge?
The V-Bazaar team was facing issues in the stock refilling for Stores because their merchandising team members were busy working in excel extensively for generating orders for stores on basis of store sales, sell-through %, closing stock is available at the store end. It was very difficult to fulfill proper inventory as per the requirement of stores because their product line is very huge and needs to keep inventory on assortment/base stock wise at store level. They were facing the following issues as well:
Store Grades System to fulfill the Inventory was not defined in the system.
Store + Category wise/Department wise MQL/Base Stock was not defined in the system.
Store + Season wise Budget and Target of Category was not defined in the system.
Store + SKU Level, Re-order Level was not defined (MQL Setup).
Store + SKU Level wise set Qty re-order Level was not defined (MQL Setup).
Manually upload Store order for Store Dispatching after calculating data in excel.
No authenticity of order data as billed for dispatching.
How did we help?
Logic ERP team designed Advance Stock Replenishment Module after checking the challenges of Clients/Customer facing issues in dispatching material from the warehouse to Stores. ASR module helped V-Bazaar in dispatching stocks to stores from the warehouse and considers all the criteria as required to store wise fulfilling their inventory requirement level. Mentioning major points as covered in the ASR module and details mentioned below:
Store grading system was applied the system allocates stock as per store grading.
Store + Article/Assortment wise capacity is defined for allocating the stock for stores.
Store + Season wise capacity Budget Qty & Target value can now be defined.
Store + SKU wise Set Qty & item code wise Re-order qty can now be defined as controlling the inventory for allocation.
No manual work in Excel.
The system auto-generates the requirement of Inventory on the basis for allocation to store wise as per defined parameters.
System auto gives priority of other items under group/Category if sell thru% does not happen for items and fulfillment is pending for allocation as per base stock requirement then the system auto picks other items as available at the warehouse level on FIFO basis.
The system generates Store requirements based on category wise and consolidated.
New Store allocation of the stock basis of the FIFO method of Inventory.
The order should be generated on the Auto mode through the define scheduler.