5 Reasons Manufacturers and Distributors Should Consider a Cloud ERP Solution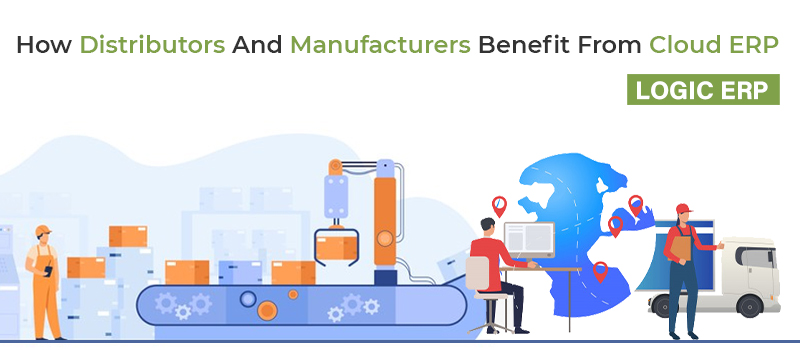 Today's IT departments are increasingly relying on the cloud to deliver software and services within the enterprise, as well as to consumers and partners. In fact, according to the data published by the American Enterprise Institute on how Cloud Computing Enables Modern Manufacturing, cloud computing is being used by 90% of the global businesses in some way or the other. Moreover, according to Gartner, 40% of North American organizations expect to invest the majority of new or additional resources in cloud technologies.
5 Reasons Why You Should Consider Moving To Cloud ERP
You've probably seen or learned about cloud ERP software if you're a decision-maker in a manufacturing or distribution-oriented business. You might have even thought about it, however lack the confidence to proceed. Cloud technologies accelerate the sales and purchasing processes and provide a more cost-effective, convenient alternative to ERPs. We have enlisted 5 key reasons why 'the cloud' should be a part of your business strategy post-Covid-19.
Lower total cost of ownership (TCO)
Though cost should not be the only consideration when transitioning to a cloud ERP system, it is a significant reason why a change may make sense for your organization. In addition to the money saved from not buying the hardware, businesses save money on recruiting technicians to install and manage the device from start to finish. Much of this is handled by the cloud provider. Thus, many distribution software variants these days incorporate cloud technologies, especially in the areas related to marketing and human resources.
ERP software or systems store a significant amount of confidential company data, such as customer lists and payment records. A security breach can be extremely expensive in terms of lost sales and consumer confidence. Security has always been regarded as an obstacle to cloud adoption. Furthermore, many IT organizations believe that cloud systems are less reliable than on-premises solutions. However, the perceived risk difference is slowly vanishing.
According to a September 2019 survey of security professionals in the United States and the United Kingdom, 61 percent believe that the possibility of a security breach is no greater, or even smaller, in cloud environments. Here is the reason behind it: cybersecurity is a specialized field, and it only takes one flaw for a hacker to gain access to the system. Cloud services have a protection and enforcement staff with much more experience than you can build in-house.
Aside from being able to go live instantly, choosing a cloud ERP solution means that less time is spent managing the system by IT workers, allowing them to focus on tasks that are more strategic. Patches and upgrades are installed by the software vendor to ensure that you always have the most up-to-date version and instant access to new features and functionality. The cloud provider is also in charge of adding more storage space and updating nodes, as well as providing power and cooling to the servers.
It can take months, if not years, to implement an on-premises ERP system. This covers the phases of needs evaluation, preparation, business process development, and ERP collection, as well as hardware purchases and installation. A cloud ERP system can be up and running in much less time than an on-premises ERP system. The steps involved in buying and installing hardware, as well as configuring and integrating applications in ERP systems, are eliminated with cloud ERP. In certain situations, a cloud ERP system will go live in a matter of weeks.
Data analytics in real-time
Business moves rapidly, and the organization's decision-makers want the most up-to-date information available. This can be challenging if you lack the necessary manpower, experience, or financial resources to support the advanced on-premise program. Cloud ERP systems often use the most recent data analytics software. Because of the architecture of the cloud, you can scale up your storage and resource consumption as required, eliminating the need to purchase additional hardware to run analytics. As a result, the company, from the shop floor to sales, will make decisions based on the most up-to-date details, whether it's about maintaining quality or upselling a customer.
Conclusion
Modern ERP vendors have a cloud version of their products. According to a 2019 Accenture survey, 78 percent of CIOs in the UK believe the cloud is crucial to their overall IT strategy – and 50 percent already use a hybrid cloud ERP platform. Cloud ERP is changing the manufacturing and supply chain dynamics by providing businesses with multi-site or multi-partner operations with integrated processes that yield better insights and make the supply chain more responsive. Companies that use cloud ERP are now outpacing their rivals, providing better customer service and lowering their costs. It is high time that manufacturers and distributors upgrade their distribution and manufacturing software to cloud-optimized versions.