How Does an Apparel Retail Software Help your Retail Business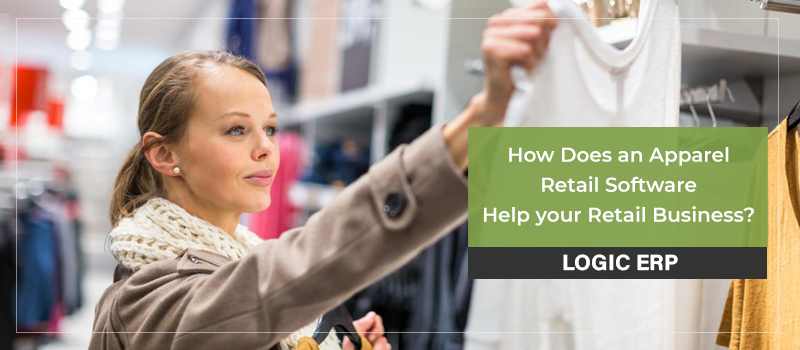 Today, managing an apparel retail business is not the same as it was about a decade ago. The last few years have seen a tremendous rise in software and technology. It is almost impossible for an enterprise to stand out without investing in the right technology. An apparel retail software can help retailers become more efficient in their work and serve customers better.
As per statistics, almost 87% of shoppers will leave the store if a product they intend to buy is not available. And 78% of buyers will not consider going to a retailer again if there was a late or faulty delivery. This means it all boils down to speed, accuracy, and efficiency. And that can be achieved with a robust and comprehensive retail software tool. Logic ERP is one such software solution that can help retailers streamline their operations and perform better. Let us see how.
1. Real-Time Information
Information plays a crucial role in the success of any retail business. A business can run smoothly when it has access to accurate data when required. With Logic ERP apparel software, enterprises can get real-time information about all the areas of their business. As a business owner, you can view all information related to pricing, inventory, sales, etc., in one place. The software provides a unified database that gives you real-time data of multiple stores.
2. Inventory Management
The automated warehouses help in better management of inventory. Manual inventory management is a tedious task and can often be faulty. With Logic ERP's automated stock management tool, retailers can efficiently manage their stock flow, do forecasting, and make accurate decisions. It is both time-saving as well as cost-effective. It gives you the real-time information of raw, in-process, and finished goods that help prevent wastage, spoilage, and theft.
3. Customer Relationship Management
According to the latest report by Grandview Research, more than 91% of organizations with 10+ employees use CRM to handle customer interactions. A CRM tool helps you track various customer activities and understand their psyche while making a purchase. You can get deeper insights into your customers' buying patterns and purchase decisions. This way, you can know the exact preferences of your customers and make tailored promotions to make loyal customers.
Logic ERP gives you a complete picture of your customers' demographics, segmentation, and buying behavior. It helps you launch loyalty programs and offer discount cards and gift vouchers to your customers. This results in better customer satisfaction and retention
4. Point of sale system
A POS system facilitates the acceptance of the payments and keeps track of transactions. In conventional apparel retail stores, a cash register is generally used for this purpose. However, modern retail businesses use software systems to streamline their billing processes.
Logic ERP provides a POS that enhances customers' experience during the checkout point and makes order processing super easy. It also keeps a record of a customer's previous orders and stock levels at all stores.
5. Omnichannel Retail
Retailers are often in the need of multiple channels that work in a synchronized way to handle all their operations smoothly. ERP unifies all of these channels into a single platform, allowing departments to share data in real-time. As a result, all departments will be on the same platform, and they will not need to notify anyone about any new upgrade. Employees have access to data at any time.
6. E-Commerce
These days, E-commerce has become indispensable for the apparel retail industry. As the demand for online shopping is growing at a rapid pace, many retailers are opening online stores for selling their products. This is especially the case with the apparel and fashion category.
E-commerce helps retailers to reach a wider audience and expand their business. Besides, it offers great convenience to the shoppers as they can browse and select products from the comfort of their homes. Therefore, it makes sense for retailers to make use of apparel retail software that provides integrated E-commerce solutions.
7. Sales Analytics
The ultimate goal of any apparel retail business is to improve sales. Sales are often directly linked with profitability. Thus, every action is taken keeping in mind the overall objective to boost sales. To achieve this, it is vital to know which products are selling best and which ones are underperforming. An apparel retail software allows you to perform analytics on sales and customer trends.
ERP software will give you insights into products that have been selling the most and are popular amongst the buyers. It will also help you determine those products that did not sell enough and should be discarded. So, you can do better planning about your products and their pricing, discounts, etc., and achieve increased sales.
Conclusion
As a business organization grows and becomes more complex in its functioning, having a software solution becomes vital. Retail software provides several benefits to a retail business, making their processes more efficient and simplified. Be it sales, inventory, accounting, or customer engagement, it takes care of every aspect of your business. Companies that would deploy such technology can certainly develop an edge over others.