Why should you Invest in an Integrated E-commerce Platform?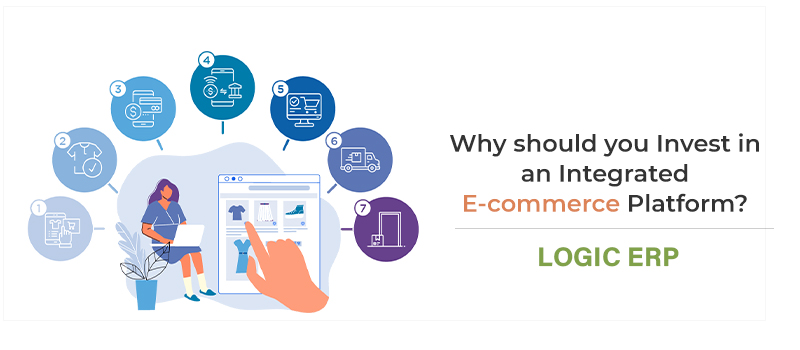 Today, it's difficult to find someone who does not use e-commerce in some form. If you're in the business of selling things online, you're probably aware of how competitive the sector has become and how difficult it can be to stay afloat. Trying to keep up with constantly expanding technology is a struggle for most e-commerce businesses. It'll probably only be a matter of time before you have to determine whether or not to improve your internet platform. If you remain with the same setup, your platform may not be able to support your operation effectively, especially if your company is expanding.
When Should Your E-Commerce Platform Be Upgraded?
You certainly won't need to make a change right away if your current e-commerce system satisfies your current demands and you're still seeing excellent conversion rates. If you see any of the following indicators, you should upgrade or adopt a new integrated e-commerce platform immediately –
Customer dissatisfaction – Customers are less likely to finish a purchase or return if they have trouble using your e-commerce platform. If you're getting a lot of bad reviews, you might consider upgrading your platform to avoid a reduction in sales.
Inadequate flexibility – You'll probably need to add additional features or make other changes as your e-commerce business expands. It's time to switch platforms if your current platform can no longer meet your customized needs.
Lack of scalability – Although most e-commerce networks can handle increased volume, they do have a limit. Your system won't be able to handle the larger load once you've reached that limit. To keep your company expanding, you'll need to upgrade it.
Reduced ROI – If you're using a system for a long period, you'll eventually find that you're devoting too much time and effort to keeping it up to date. Difficulties finding developers who would work with your platform, increased maintenance expenses, and unavailability of vendor support services are all red flags to look out for.
What Does It Mean to Have an Integrated Solution?
Making the transition to integrated e-commerce solutions provides the finest and most cost-effective long-term benefits for many online enterprises. This type of system will employ the logic and data from your present ERP to power your online store's platform. The procedure comprises the installation of software into your ERP. As a result, there's no need for complex third-party connections, which can add to the complexity of your system and raise the chances of faults and failures.
The Advantages of An Integrated E-Commerce Solution
Another instance of how adopting automation might save operating expenses is integrated e-commerce systems. Customer support, data entry, and error correction will require less human work, which will benefit your company's bottom line.
Integrated e-commerce systems like Logic ERP provide for a more seamless flow of orders, resulting in faster processing, selecting, and shipping. Your clients will get their goods faster – in many circumstances, this move can cut delivery times by several days.
Manual process of re-typing orders into an ERP can result in figure transpositions, costly typos, and a lot of other errors. By eliminating this phase in the development, an integrated solution lowers the requirement for human interaction. As a result, you'll have more satisfied consumers and your service employees will be less overworked.
Integrated systems like Logic ERP will move orders to your ERP instantly and effortlessly, reducing the need for duplicate data entry. The procedure saves time while also improving order accuracy.
A unified solution streamlines the record-keeping procedure. For example, if a customer changes their billing or shipping address, the system will update it both online and, in your ERP, immediately.
Selecting a Right Solution
Logic ERP has long been recognized as a top solution provider for software solutions to a variety of consumer goods and apparel industry applications. The following factors will assist you in selecting the best integrated e-commerce solution for your company:
Opting for a SaaS cloud system simplifies the use of APIs for ERP integration, saving time and making the process more consumer-friendly.
For the effective implementation of an integrated e-commerce solution, testing prior to actually going live is essential. It will help you identify any integration issues as well as potential synchronization errors between the online platform and the ERP.
Access to support and training
Make certain that your e-commerce platform solutions company provides training to your team prior to the launch. It should also be responsive to your needs and provide ongoing technical support if any issue arises.
Conclusion
Fully integrated e-Commerce is clearly the technology of the future. The decision is not whether to use integrations or not; rather, which integrations to use first. It is a decision that necessitates a thorough understanding of what consumers demand from a modern e-Commerce platform as well as a thorough examination of your business processes.