Modern Technological Advancements in Clothing Retail System that can Strengthen your Brand's Competitiveness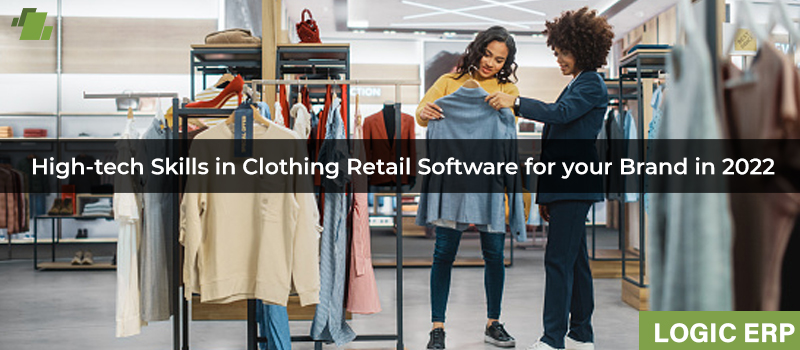 The way people shop and sell is changing as a result of technology. Even while internet shopping is more popular, many consumers still prefer to visit local stores for good customer service, and technology may support them in this. New technologies, such as cloud retailing software and POS systems for retail can assist brands and retailers in enhancing customer experience and driving substantial business efficiency at a point when consumers have more choices and the market is becoming more volatile. The personalization of goods and shopping experiences, as well as the improvement of logistical procedures that have an impact on budgets, will enable garment firms to strengthen their competitive advantage. To maintain retail stores' current and provide customers with the greatest possible shopping experiences, it is crucial to locate the most contemporary fashion retail software tools. Let's examine some of the leading garment retail software innovations that are transforming the control of store stock and building efficient, customer-focused systems for ground-breaking user experiences.
Machine Intelligence
The capacity of artificial intelligence to transform massive data sets into augmented information hubs that may assist increase speed, cost, and flexibility throughout the value chain has made it one of the most significant technology advancements in markets in recent years. AI has the potential to assist businesses and retailers in the fashion industry with merchandising, capacity planning, and predictive analysis. Customers can benefit from expanded product options, increased product availability, and quicker, more precise delivery thanks to this. Through customization and social media, AI can also assist in improving the browsing experience and client retention.
Shopping Without a Phone
The act of making a payment is frequently viewed as being separate from the total customer experience. But by removing inconveniences like lengthy checkout lines and irregular hours, easy, contactless purchasing with smart logistics POS software may make the checkout experience more fluid, effective, and convenient. Modern automated convenience stores don't need cash registers, salespeople, or checkout lines. Customers enter the store by scanning a QR code, choosing their purchases, and then purchasing using their digital payment. To stop theft, detectors on the shelves track when things are removed and are linked to the customer's ID.
Artificial Reality
A vision of one's actual world that has been altered with computer-generated information is provided by augmented reality. Unsurprisingly, fashion and beauty firms are utilizing this technology in inventive ways. The convenience of virtually trying on items and avoiding the risks of testing actual products in stores during times of social isolation are two benefits that L'Oréal's AR-based apps offer.
Where are you When it Comes to Tech-based Retail?
Although tech-based contactless purchasing is anticipated to grow by more than 300% over the next several months, as per British bank Barclays, many businesses have yet to integrate these technologies into their operations because they view them as a novelty. Your company can start from scratch with the aid of apparel retail software. It entails strengthening the company's potential for future growth for medium-sized enterprises and elevated lifestyle brands that produce items such as clothing, footwear, travel accessories, home furnishings, and decor.
Conclusion
Brick-and-mortar stores have struggled because of the Covid 19 epidemic, but foot traffic had been declining for years before then. In actuality, a lot of establishments are failing for much the same reason they've always closed: they merely fail to satisfy customers' increasing wants and expectations. It's crucial to take your specific needs into account while looking into clothes retail technology for your stores. Whatever your requirements, our powerful tech-based solutions that may assist you in enhancing both the customer and employee experience as well as the overall performance of your firm. To assist lifestyle and fashion retail establishments with all of their demands, from purchasing to accounts, LOGIC ERP uses the most recent technologies. Get in touch with us today.