An Increase in Shopping Leads to a Focus on Retail Software for Thrift Stores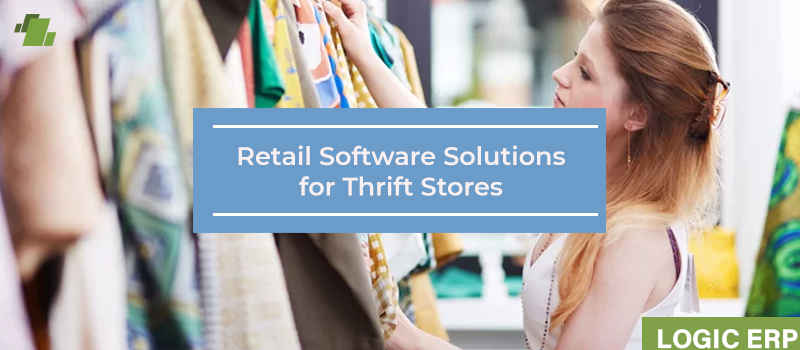 The increased popularity of thrift stores is boosting the demand for advanced retail software solutions. Walk down any high street and you'll see evidence of one of retail's fastest-growing trends: the rise of the thrift store.
Several consumer trends are convergent in the success of thrift stores: the need for affordability; the desire to engage with purpose-led enterprises; a shift away from mass manufacturing and the attractiveness of the unique; and a high environmental consciousness and desire to be more sustainable.
According to Boston Consulting Group, the clothes thrift business alone is approximately $30-40 billion, with annual growth of 15-20% from 2020 to 2024. According to a recent poll of 7000 shoppers in six countries, sustainability was the driving element behind the growth, with 70% stating it as the primary reason for purchasing pre-worn apparel.
All of this suggests that the thrift store has successfully entered the retail mainstream.
Organizations manage multi-store networks, have warehouses full of products, and must provide ease of both online and in-store buying. With the sector's rapid expansion comes more competition, making it critical to provide a great customer experience, loyalty, and personalized promotion programs to entice shoppers who now have a wider variety of thrift shopping options than ever before.
Thrift Stores' Need for Retail Technology
Being in the shopping limelight has highlighted a need for more effective retail technologies for many thrift retailers.
The thrift retailers we've spoken with have noticed concerns with:
Inventory Visibility – a thrift store's inventory consists of contributions rather than manufacturer stock. It cannot be predicted, and each object is unique. As a result, commodities reception and inventory counting are problematic. However, retailers understand that to track performance and sell online, they require complete inventory visibility, which inventory management software for thrift stores can provide.
Sales Tracking – in addition to inventory visibility for tracking things, the other side of the performance coin is the ability to track items to understand and manage revenue. Stores must record sales numbers by category, store, online or offline. Multi-store management entails having visibility across all stores and having a consolidated view of all data.
Data-Driven Decisions – shops must understand what sales were – online and in physical stores – to move the relevant product to the appropriate channel.
Low-touch shopping – Thrift stores, like any other kind of retail, recognize that customers desire convenient, safe shopping channels, such as contactless payment, BOPIS/click and collect, and curbside pickup.
Customer Experience – With more competition, thrift stores must treat their consumers like gold, providing them with everything they've come to expect from mainstream merchants, such as internet shopping, loyalty programs, personalized marketing promos, and iPad POS for queue busting.
Thrift Stores' Digital Transformation
These imperatives are leading many thrift stores to embark on digital transformation programs, looking at how they can harness the power of technology to offer them the control, visibility, and decision-making capabilities they require to stay on top of the thrift shopping sector's increasing tide.
Implementing efficient retail software for thrift stores assists businesses in keeping track of donations and provides total visibility of everything they have available for sale – both online and in-store.
Online offline POS systems collect all sales data and make it instantly available at headquarters, ensuring a consistent customer experience. iPad POS systems improve customer experience by allowing for checkout anywhere in the store.
Many thrift stores are embracing internet commerce and allowing customers to make online purchases. Loyalty programs enable them to connect customer data from online and offline sources to gain insights into preferences and shopping patterns, which they can then utilize to generate tailored smart marketing.
The storage systems are integrated with accounting and finance systems behind the scenes for complete and accurate reporting without the need for data re-entry. Retail analytics are presented on management dashboards in a form that enables successful decision-making.
Land of Lincoln Goodwill Industries is an example of a thrift business that recognized the need for digital transformation and is now experiencing the rewards. They run 15 locations in 37 US states and recognized the need for better multi-store management and a more engaging customer experience.
The development of thrift stores appears to be continuing as buyers continue to value affordable costs, individuality, community giving, and, most importantly, sustainability. The push for digital transformation is picking up steam, as thrift stores perceive it as an essential vital retail software if they want to compete and succeed in this quickly increasing industry.