ERP Software in the Pharma Manufacturing Industry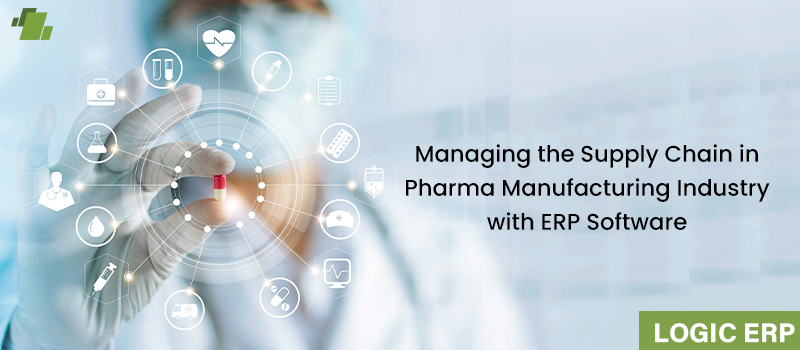 The pharmaceutical supply chain is currently an exceedingly complicated network that comprises numerous stakeholders such as manufacturers, distributors, suppliers, retailers, and the end consumer as the link between the laboratory and the marketplace.
The stakes are rather high in the pharmaceutical supply chain since pharmaceutical businesses must guarantee that pharmaceuticals are supplied appropriately to maintain both the company's reputation and consumer happiness.
What are the Supply Chain Problems in the Pharmaceutical Industry?
The business climate is rapidly evolving, and in this new setting, pharma manufacturers must produce high-quality goods, respond quickly, and improve their dynamic skills. To do so, pharmaceutical producers must overcome their supply chains issues, such as supply chain visibility, medicine counterfeiting, and cold-chain transportation, among others. These difficulties are complex, with economic, social, and even legal implications.
Additionally, pharmaceutical firms face severe challenges such as a lack of coordination, inventory management, a lack of demand information, order administration, shipment visibility, and expenses.
How may ERP aid in the Management of the Pharmaceutical Supply Chain?
Pharma manufacturers struggle to control the supply chain and face a variety of issues that threaten to bring their operations to a standstill or cause delays that might negatively impact the business. Consider the case of certain raw materials running out or not being replaced on schedule.
This is where a pharma ERP comes in, minimizing this and doing a lot more to efficiently manage a pharmaceutical manufacturing company's supply chain. It assists pharma organizations in improving operating efficiency, increasing productivity, and achieving profitability, as well as being agile to respond to changing market conditions.
In reality, supply chain management has been a vital aspect of ERP systems that assist businesses in interacting with multiple supply chain partners to receive raw materials and resources at the appropriate time and in the correct quantity to bring the end product to market.
Let's take a closer look at how pharma businesses may manage their supply chains with pharma ERP software:
Demand and Planning:
Pharma producers may use pharma ERP software to automatically build demand when orders are received, determining the amounts of stock and inventory needed, and assuring timely replenishment. Its MPS & MRP module comes in helpful, aiding them with how much and when to create, as well as how much and when to buy the essential material to satisfy this timetable.
Purchasing, Material, and Supplier Management: A pharmaceutical manufacturing ERP system in pharmaceutical businesses allows for more efficient purchase and provision of raw materials, services, and other resources required across the supply chain.
It provides a platform for pharma producers to analyze their risks as well as their capacity to achieve important supply needs of correct quality standards and timeliness.
Monitoring and Maintenance:
The capacity to monitor, review, and change supply chain initiatives and activities in real-time is critical for ensuring your pharma manufacturing company can retain the flexibility required to remain competitive and assure cost-effective operations. A pharmaceutical manufacturing ERP makes this possible.
Managing a pharma supply chain utilizing several independent technologies and workflow procedures makes it hard for manufacturers to compare actual activity to predicted goals and targets. Yet, ERP systems for pharmaceutical production provide an organized method of doing things, ensuring that any variations in the supply chain are rapidly discovered and corrected.
Handling Shipment:
When an item is dispatched, pharma manufacturing software creates an invoice that is promptly emailed to the client. Furthermore, it aids in the maintenance of a central repository for all shipments as well as delivery dates to guarantee that things are delivered on time.
The cold chain is another essential feature that ERP adoption in pharmaceutical organizations serves in the pharma supply chain. Some important medications, such as vaccinations, are temperature-sensitive and must be transferred through the supply chain with extreme caution to maintain their efficacy. When combined with cold chain management systems, an ERP guarantees that temperatures are monitored in real-time and maintained within the prescribed tolerance range to keep vaccines effective, safe, and secure for customers.
ERP Advantages in Supply Chain Management
A contemporary ERP streamlines the journey materials take from supplier to customer by automating the whole workflow from procurement through product delivery. Finally, it enables the many parties in the pharmaceutical supply chain to maintain comprehensive control over storage costs while meeting client demand.
Some of the most significant advantages that ERP software provides to pharmaceutical producers in their attempt to manage the pharma supply chain are:
Demand forecasting accuracy has improved.

Inventory costs were reduced in the event of a large-batch production method.

Reduced bottlenecks between internal operations and external suppliers, guaranteeing resource availability across the supply chain.

Full supply chain openness and visibility allow for better informed and balanced judgments.

Increased efficiency throughout numerous segments of the supply chain.

Workflow automation contributes to cost savings.
Conclusion
It has been proven beyond reasonable doubt that an ERP solution for Pharma plays a critical role in ensuring the smooth operation of the pharma supply chain by facilitating planning, inventory optimization, monitoring, and assessment, and by providing real-time end-to-end visibility into all supply chain activities.