Streamline Your Supermarket Operations Using POS System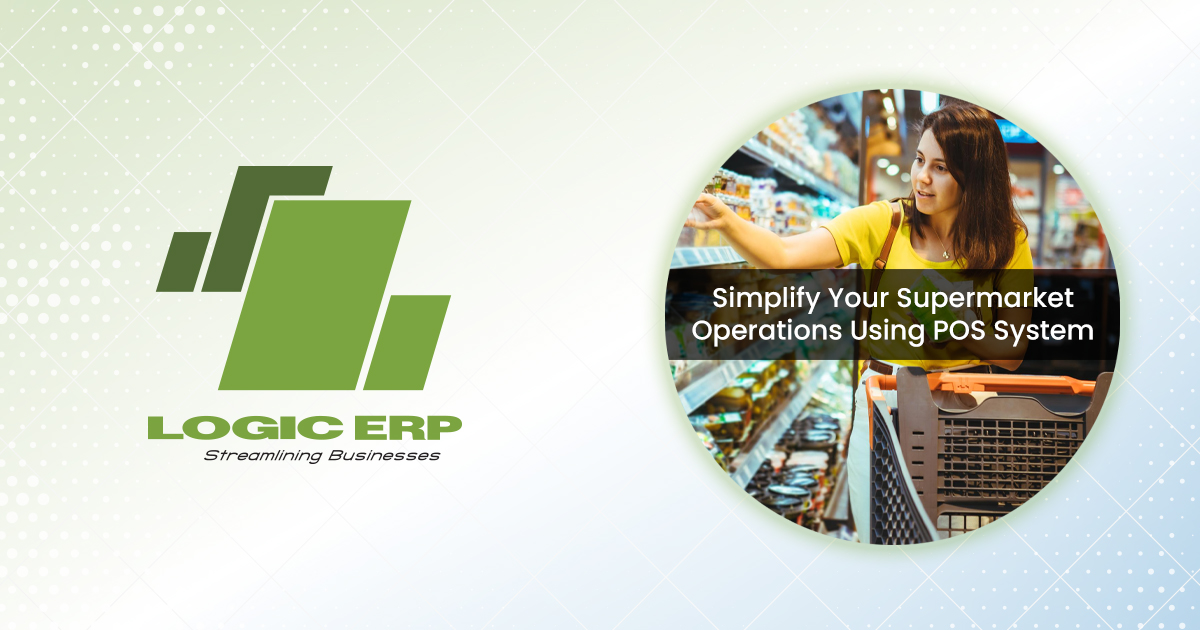 Without support, managing human operations, inventory and product replenishment, and even client acquisition and loyalty may be tough. Nobody can be expected to handle all of these processes by themselves. Attempting to do it all manually or using decentralized systems complicates an already difficult process. With the right point of sale (POS) technology, you can immediately streamline your supermarket operations.
Why is Managing Supermarket Operations Difficult?
With so many daily chores and operations to consider, can you imagine how much easier your work would be if a system assisted you in managing the majority of them in one location?
Whether it's improved inventory control or more efficient checkout technology, there's always room for improvement. Streamlining your procedures not only leads to in-store improvements and time savings but also allows you to refocus your time and efforts on improving the customer experience.
A cloud-based POS system assists you in better managing your supermarket operations so that you may have a greater influence on your consumers. Platforms like IT Retail help you save time on day-to-day work by providing features like inventory management, flexible checkouts, and customer data reporting. This allows you to focus on developing your business and supporting your customers.
Improving Inventory and Stock Control
Managing sales, inventory, and checkouts on various systems or programs may be time-consuming, and a retail POS system streamlines these activities into a single platform. If you physically track products in and out, inventory management alone might require hours of manual labor. This also offers a lot of space for mistakes.
IT Retail not only automates the majority of the inventory management process, but it also allows you to set up automatic inventory replenishment. When popular goods run out, you may create purchase orders automatically. A successful POS system should include sophisticated reporting and analytics to provide you with total visibility into how your inventory moves, allowing you to make more informed decisions about what to order and at what volume.
Because grocery businesses make a profit based on stock in versus stock out, using a POS system to improve inventory management will have a huge influence on your business and how you can support consumers.
Flexible Checkout Options
Cloud-based POS systems make it easier for establishments to handle transactions because the software can be accessed from any internet-connected device. A mobile retail POS system enables you to call anybody up from anywhere, making it easier for departments to function uninterrupted.
Platforms like IT Retail may transform any phone into a temporary POS system that accepts particular payment methods. This reduces wait times at traditional, stationary POS systems while increasing consumer churn rates.
Self-service checkout allows consumers to process their products independently, reducing wait times and lineups. IT Retail's self-checkout technology is designed to be safe, with closed cash drawers, weight verification, and other features. Purchased products are monitored as they leave the store, inventory is automatically updated, and shelves are kept supplied.
Streamline Internal Procedures
Efficient software automates outdated, manual, time-consuming operations. Inventory software saves time spent manually counting items, allowing personnel to focus on keeping stores supplied. Furthermore, stock visibility makes it easy for staff to check if anything is in stock, which increases customer and employee trust.
Having the correct information, especially about sales, product movement, and consumer behavior, leads to better decisions that benefit your bottom line. A good POS system assists shops in creating timetables that correspond to sales records. This reduces employee over- or under-staffing and improves customer service and retail management efficiency. Remote management allows you to manage all of your stores from a single place and monitor inventory levels at a store without having to physically visit it.
Customer Data Centralization
POS system make it easier to handle your business data, and you can watch sales statistics in real-time. When you use a POS system to integrate all parts of your business, your customer information is more organized and accessible to you and your staff, allowing you and your employees to analyze and make better business choices.
Customers may utilize your POS system to join your loyalty program, sign up for your email list, and submit pertinent data such as their name and address for future customer contacts with IT Retail.
Systems that enable you to organize and track your customers' purchasing patterns can assist you in making business choices, developing marketing campaigns or promotions, and tailoring your store to your customer's demands. A solid POS system will preserve all of this data in one place, making it easy to identify critical patterns. Client data tracking helps your consumers feel more connected to your shop and like they are a part of the community.
Streamline Your Supermarket Operations to Increase Profitability
The top point-of-sale software solutions assist you in streamlining and automating every part of your organization. Customer checkout, inventory management, staff shift scheduling, bookkeeping, business-boosting analytics, and customer loyalty programs are all included.
Customer demands have risen, as have labor and supplier expenses. Knowing how to simplify your ordering procedures and other aspects of your business takes you one step ahead of the competition. It enables you to devote your time and energy to crafting an experience that leaves clients wanting more.