7 Useful Manufacturing ERP Modules Your ERP Software Should Have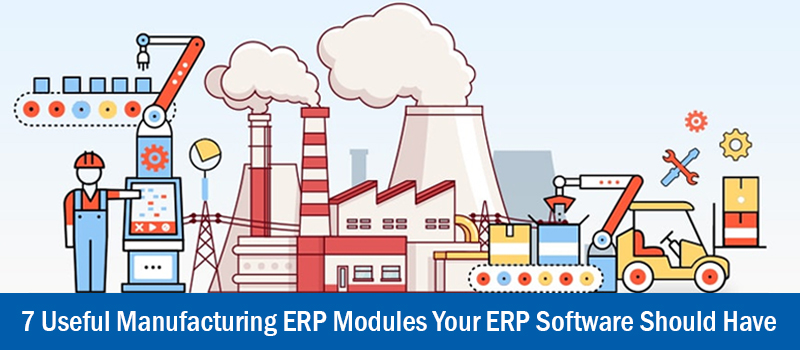 Every manufacturing industry is dependent upon ERP system. It all started with Manufacturing Requirements Planning and now, it has grown into Enterprise Resource Planning. Manufacturing industry comprises several businesses:
Pharma industry that manufactures a large number of livestock medicines, surgical equipment, etc.
Bakery business that manufactures batches of cake, biscuits, bread, etc.
The textile industry, manufacturing a huge amount of clothing, and much more.
On the other hand, discrete manufacturing range from one company producing one engineered-to-order product to other producing items in a huge amount having a single serial number. Now, let us look at modules that every business use, and should be embedded into your Manufacturing ERP Software:
Inventory Management & Control
If you are a manufacturer than you know how crucial is the inventory department. On top of it, you should also have the means to efficiently use and maintain your inventory. The materials purchase depends upon unique order requirements or on forecasts. One should have a perfect inventory, which is an elusive goal. Inventory management is necessary for both, discrete manufacturing and process. If your inventory becomes obsolete, then it's just a waste, which you need to control. Better control over inventory will allow you to keep it up-to-date and dispose of unneeded material. A good ERP software system will have a highly scalable inventory control module to keep the materials at their allocated location.
Human Resources Module
Employees make the products that manufacturers sell. Integration of human resources module with ERP enables you to control the benefit packages and payroll rates of every employee. The management will automatically know when an employee's appraisal date come and will calculate the new payroll costs accordingly. With a tracking mechanism, you can classify the certificates and training your employees need to become eligible for promotion or to perform their duties. You can unschedule the workers from work in the production scheduling module who fall behind in their certifications. With Human Resource Modules, the management can analyze future employee characteristics model to hire new employees with the skill-set needed in your manufacturing business.
SRM (Supplier Relationship Management)
It is a vital module in the Manufacturing ERP software. This module allows the user to keep track of quotations requested by the suppliers. You can keep the rating of those quotes for better quote management in the future. SRM also works as a quality assurance system in the manufacturing industry. The suppliers need to maintain international certifications and quality standards, which are kept in SRM. The automatic alerts come whenever updates needed by the manufacturer.
Production & Operations Management
Production management is the core of a manufacturing business. The reason is, products must be made according to customer's needs. Also, the products must deliver on time to the customer. An ERP system should have better financial management operations so that you have the cash required to pay on time to your employees and suppliers. As a discrete manufacturer, you can use materials bill to categorize component parts needed for production. It will fasten and ease the process of making a finished product.
Module for Managing Sales & Order
A large number of customers place orders daily for the required products, also known as customer purchase orders. These orders become sales order at manufacturer's end. With the ERP system, you can schedule work and components purchase required for fulfilling customer's demand. The sales management can alert the customer regarding the order status in case there's any risk involved. ERP enables intelligent reporting of sales and orders.
CRM (Customer Relationship Management) Module
Make sure that your ERP software solution comprises of a CRM module. With this, you can keep track of the communication you did with your customers. It can be via telephone, Emails or face-to-face. You can provide various quotes for sales order through emails and telephone. It will be a vital asset for your promotion campaign. CRM will keep track of time and date you sent the message and to whom. It can also keep records of the campaign results within a prospect organization.
As a manufacturer, you need to be very careful while selecting the ERP software as it will be handling very crucial processes of your business. With LOGIC ERP, you can handle transactions, streamline processes, manage payroll cost, and much more without any difficulty. On top of it, the documentation system will help you to generate detailed reporting and bills of material to meet compliance demands.