5-Ways ERP Software can help in Inventory Control at Warehouses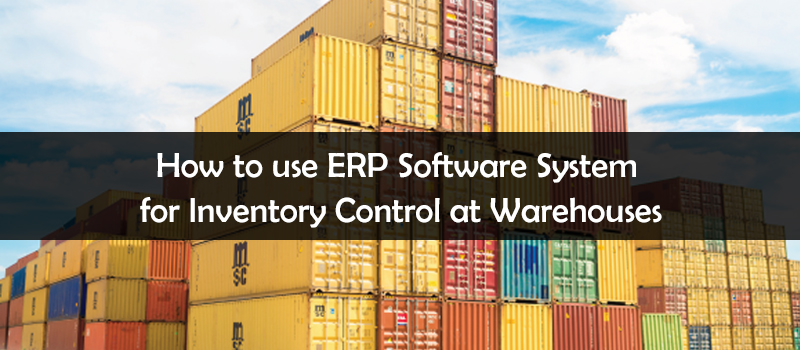 Inventory management is a tricky task for a business. Whether its a bakery shop, a grocery store, a clothing house, etc., inventory control is always a challenging task for every business. Along with stock placement, you also have to know about processes to optimize your warehouse for ensuring that it's balanced properly with the outflow. There are various factors that maintain the right levels of stock and goods, such as:
Customer Requirements,
Correct data about availability of goods,
Dead-stock,
Expired stock or goods, etc.
If you don't manage your inventory properly, it will lead to wastage of money in both, labor and material investment. But when you implement an ERP software system, it can track and maintain every detail associated with sales and purchase orders, and can also provide real-time reports of your inventory. Because of this, businesses are able to analyze customer's shopping behavior, most selling products, and plan stocks accordingly for their warehouse. Following are some of the ways how ERP software systems can optimize your inventory level:
Inventory Planning with MRP & MPS
With an ERP system, you get the functionality of the Material Requirements Planning (MRP) and Master Production Schedule (MPS). MRP helps in maintaining the appropriate material levels, to be used in production and necessary products get delivered on time to prevent customer dissatisfaction. This, in turn, reduces waste by keeping the lowest product and material levels in the stock. On the other hand, MPS decides the following:
The material manufactured,
Procured material, and
Schedule Planner to be followed for producing material.
ERP acts as a bridge to sales because it helps in accessing and analyzing data about what are the customer's requirements and when deliveries must be done.
Address Quality Concerns Related to Inventory Items
Nowadays, ERP software comes with quality management features, which you can integrate with all other business activities. When integrated with inventory, every material will get tested and examined to check any type of damages such as:
Broken seals,
Leaks,
Discrepancies in the product description,
Tears, etc.
ERP software can help you defining quality inspection plans on the basis of particular checklists, to enter into the testing phase. It will ensure that every detail of the material and process, and their status feedback are saved securely. You can avoid unnecessary stock handling, eliminate poor quality products, thus offering the best quality to your customers.
Complete View of Inventory
Stock optimization and inventory control are the key ingredients for the success of every business. It helps them to keep track of the products that are selling briskly. With ERP, you can streamline all your inventory activities. It provides the real-time details of inventory across the supply chain and other operations. You can make better decisions as the software provides you with every necessary planning tool.
Warehouse Management
With ERP software, you can manage and automate all the warehouse operations starting from stock entry to delivery to customers or suppliers. It acts as a centralized system that handles multiple activities like:
Stock adjustment,
Bin allocation,
Inter-store stock transfer,
The shipment, etc.
ERP systems allow users to access stock locations to pinpoint the correct position of the items and give complete status about stock movement. You can easily coordinate between goods movement, gain visibility and speed across the supply chain of the organization, and handle customer request faster.
Complete Inventory Analysis
Every business requires inventory analysis, which can be on a daily, weekly, or monthly basis. An ERP system helps you to maintain optimum inventory levels, ensuring that you have sufficient inventory on hand to meet requirements of both, operations and customers. You can perform inventory analysis to prevent money wastage and improve your service levels by maintaining adequate inventory levels to fulfill current and future production needs.
When you have an optimized inventory management mechanism, your business can deliver products on time and avoid items wastage because of exceeding expiry dates, or other defects. LOGIC ERP software solution offers superior functionalities to avoid any type of inventory pitfall in your business. Our solutions will ensure that the right stock is available at the right time, at the right location to meet suppliers and customers demands. It will increase productivity, thus empowering your business to earn greater revenues.