How to use Restaurant POS System as an Online Restaurant Management Software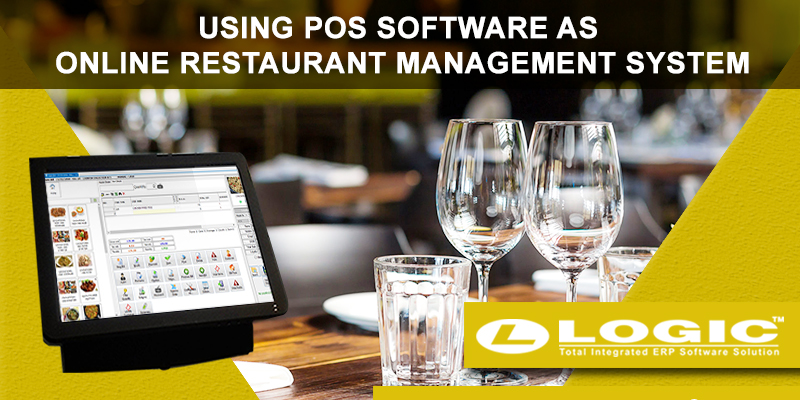 With everything being digitalized, why would anyone want to keep his/her restaurant business lagging behind? Point of Sale Software is one of the basic requirements these days that every restaurant must have. Apart from accepting orders and generating receipts for them, it possesses several other features also. In the last few years, a lot of advancements have been made in Restaurant POS software systems to provide owners with several sophisticated features for speeding up their billing process and enhance customer experience.
As technology is taking lead in everything, the restaurant business also requires a single integrated solution for managing different aspects from a single location. Very few people know that a restaurant POS can act like a complete restaurant management system, ranging from front end operations to optimizing entire kitchen operations.
5 Ways to use POS Software as Online Restaurant Management System:
Have Tight Control over Inventory
One of the important aspects of the restaurant business is inventory management. An analysis shows that some major factors that lead to substantial restaurant losses are:
Wastage
Restaurant thefts
Pilferage
It is very difficult to keep track of the inventory, which becomes more problematic when you have to handle multiple branches of the restaurant. With online restaurant management software, you can mitigate the risks and errors that come with inventory management, thus streamlining the kitchen operations. You have to make sure that your POS software comes with an integrated inventory management system to have tight control over your products stock. It can automatically calculate the total stock consumed in a day, week, or a month according to total orders placed. Your POS will even notify you about the current stock of the item, about to expire stock, etc. You will get proper documentation of everything to prevent inventory theft.
Taking Orders Online
Over the past few years, so many innovations have come through because of Food Tech revolution. One such aspect is the online ordering and payment system. These days, the majority of restaurants are earning profits because of online ordering and food deliveries. Food aggregators such as Zomato, Uber Eats, Swiggy, and Foodpanda are the leading stakeholders in the current market space. Restaurants receive a large number of orders through these platforms too.
It is quite common for a restaurant to receive orders from multiple food aggregators. And when they have to manually update the orders in the POS from all these platforms, it becomes problematic. But, with a smart POS software system, you can accept orders from all the food ordering channels, which will get updated automatically without disturbing the flow of kitchen operations.
Not just that, if you have your own online ordering mobile app or website, you can easily customize it according to your restaurant's theme, which will include the full menu display. When it is integrated with your CRM, it will allow you to collect your customer's details like ordering history, behavior, and contact information. With this data, you can start restaurant marketing campaigns also.
Manage Multiple Outlets from Single Location
Every restaurant owner wants to expand their business, whether it's in different cities, or states, or countries. For achieving such a dream, you will need to install a robust restaurant POS software system, which can help you in your business expansion. It can help you in the following ways:
Managing sales account of all the outlets.
You will get complete account details of all the sales report from every outlet.
The software will provide you with a comparison of sales reports of all your outlets.
Details about the available stock in every outlet.
Once you start receiving all the information from every outlet in one place, your problem regarding how you will manage multiple outlets at once will resolve automatically.
Real-Time Reporting System
You can't be physically present at every outlet at a time. But it doesn't mean that you have to depend on the outlet managers for the sales reports. With restaurant POS software, you will get real-time data about the sales, ensuring that you are always alert about your restaurant activities. Along with this, you will get the following benefits:
As a restaurant owner, you will be able to customize reports according to your requirements and can even view them graphically.
When you have a cloud-based restaurant POS system, it will provide you with detailed accounts and reports of every process that's going on across all your outlets.
You will be receiving the reports on your mobile phone.
Improve Customer Relationship Management
As a restaurant owner, you always have to work to build a strong customer relationship with your existing and new customers. A restaurant POS system can help you augment your customer relationship management in the following ways:
Your restaurant POS can help you centrally manage the customer database. If you have multiple outlets, you can have a single database of customers and can classify customers according to their ordering history, behavior, and geography.
Starting loyalty programs is the perfect way to improve customer retention. By integrating loyalty programs with CRM, you can target customers in a better way. It will help you in improving your customer base.
When you have the entire details of customers, you can send customized emails and SMS, informing people about the new offers, events, discounts, and other exciting things happening at your restaurant.
You must install and use the restaurant POS that meets your requirements and comes with new features and regular updates. It will ensure that you are always up-to-date with new POS trends and not running behind your competitors. A restaurant POS software by LOGIC Enterprise will help you in making your daily restaurant processes seamless. See for yourself how it decrease your manual labor dependency, so you can be at peace like nothing wrong could ever happen in your restaurant.