7 key Features Your Salon & Spa Software Must Have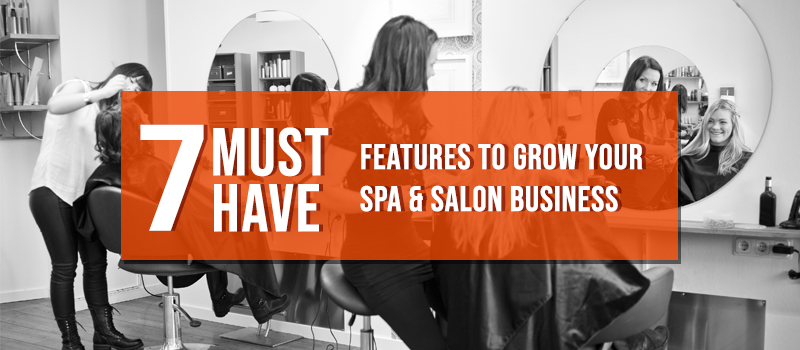 In the recent few years, we witnessed a drastic technological change from manual process to automated or next-gen technologies and apps. You can notice its impact on the beauty industry as well. People working in the beauty industry are now using advanced Salon & Spa Software to improve their business growth. Such software is helping business owners in automating various aspects of daily operations and have complete control over them. They can even modify their processes to support their business growth and meet customer satisfaction level.
Whether you are self-employed or own a large scale beauty business, a salon management software for makeup artists can make their job easier. Booking appointments, marketing, keeping track of client records – all these processes would be easier with salon and spa software. You can access it from both, mobile devices and computers. You can also add your credit card and POS processing to the software.
If you own a spa, salon or tanning salon, you must give proper attention to the features that your salon software must have. Following are some of the necessary features mentioned:
Appointment Scheduling
It is the most important aspect in the beauty & wellness business. There are many complexities in it, like:
Single appointment
Group appointment
Single appointment with multiple stylists or therapists
Cancelling and rescheduling appointments
LOGIC provide appointment management feature that helps you manage all the above complexities in a simple manner. It will keep your desk moving with a touch-screen, intuitive salon & spa appointment book, and you don't have to worry about double-bookings. You can quickly reschedule, recur, and re-size appointments, which will save you your precious time. With its smart platform, you can take orders online, through emails, messages, or directly through the phone. For automatic recording and processing of orders, it offers integration with IVR's. Bills will get created and printed automatically on the customer's arrival.
Online Booking Mechanism
Introduce 24/7 appointment booking opportunities in your hair salon with a versatile online booking hair salon & spa software. LOGIC provides a fully-integrated online booking feature that allows you to handle appointments without any risk of double-booking or overlapping. It will make easy for you to do business and watch your profits soar.
Increase Client Retention with Feedback Management
Reputation management is one of the sensitive aspects of the beauty business. With LOGIC instant feedback tool, you can take control of your salon's reputation and boost your client relationships. With tricks like a quick survey immediately following their appointments, you will get timely feedback from your clients. It will give you a chance to rectify the issues if there're any in your spa and salon services.
Customer Advance & Package Management
The package, a combination of multiple services offered within a single package or service, such as:
Summer skincare package,
Hair shinning package,
Bridal package,
Weight loss package, etc.
The packages get categorized according to the service count and value of every combined service. The service count based services are generally offered to individuals and the value based offered to celebrities and institutions. The payment made by the customer is in advance during the time of offering package, which reduces as the client avail the services. The packages are time base, which makes it necessary for you to track the expiry of customer advance.
Inventory Handling
POS system designed by LOGIC take into account the retail side of the salon and spa industry. Most of the spas and salons face difficulties in selling their merchandise. It is because managing a retail business and client service at the same time is very challenging- especially when it's about bookkeeping. By bringing all the revenue streams under a single interface, the LOGIC salon software makes easier for you to handle different aspects of your business. It is the easiest and most effective solution for your salon & spa business.
Security
As technology is advancing, the rate of digital threats and hacking incidents have also risen. When you integrate client data, employee data, and point of sale systems with online systems, you should make sure that the system is secure. Hacking is a very big deal, which can cause the downfall of your business with a blink of an eye. Another risk is of employee theft and fraud. The software by LOGIC has the ability to restrict staff access to certain aspects of your system. You can create the roles and configure their access according to your choice.
Performance Analyzer
The smart dashboard in the software enables you to keep track of your hair salon's performance. You can configure the target for a month, quarter, or year, and compare with the real data. You can also set targets for branch or location growth, stylist or therapist performance, client acquisition, and inventory turnover. It will help you to plan effective marketing strategies.
It is your call to make. The software you choose can either make your business operations easier or harder. The salon & spa software by LOGIC ERP can help you make things simple and easier by centralizing your important business operations. A salon's software is like a catalyst for growth, which helps you to grow your business profitability. So, make sure to make the right choice.