How to Ensure Success of Your Multi-Store Retail Business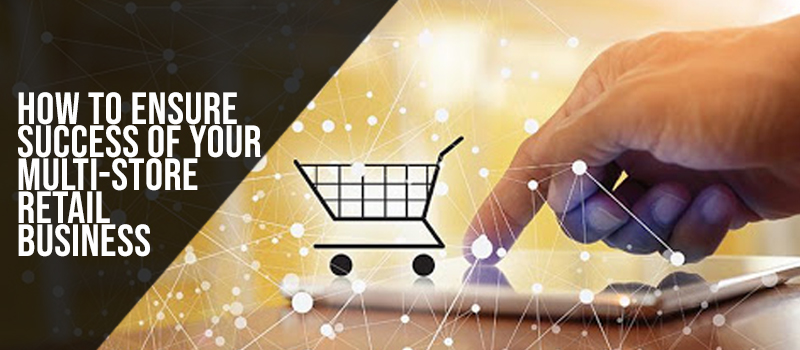 It's not easy to run a multi-store retail business but with the right process, people, and tools, you can make the task of managing several stores quite easy. In this blog, we'll talk about the few steps you can take to ensure the smooth working of all your stores under your watch. Following are some of the tips to help you manage multiple retail locations:
Inventory optimization across all locations
Inventory optimization is important, it doesn't matter if you are running multiple stores or not. You must know how much stock is there at every store location at any given time. It's necessary to maintain adequate inventory levels across all store locations.
In case the customer can't find a particular size, color, or type of product in one location, you should have the ability to check other branches, whether they have it or not. This way, you can either direct them to the alternative location, or you can ship the items to their home or your store.
That's why it's necessary to have an inventory management system to streamline the inventory lookup or transfer process across multiple locations. Doing so, you can keep your stock levels in check and serve your customers better. You can also track the inventory in transit, enabling you to see where products are located in the store.
Also, if you have a cloud-based system, then it would be a great asset to your business. Such solutions give you the ability to view data anytime, and you can easily analyze inventory information of different stores from anywhere.
Integrating your business with cloud
To cope-up with the business trends, the best decision you can make for your multi-store business is to run it on the cloud. Cloud-based systems allow you to access the data and tools you need from anywhere and any time as long as you have a secure internet connection.
Cloud ERP software can reflect and update data such as stock levels, sales, etc. in real-time as well. It is a very convenient feature for retailers. When you get up-to-the-minute information about your business activities, you get an accurate view of store performance, which can help you to make better decisions.
The security of your data is handled by the cloud service provider. As the information is not saved in any local device, it minimizes the risk of data loss in case something mishappen to your devices.
Make sure to choose your tools accurately. In case you have to use multiple cloud-based tools, having the solutions that can integrate is the best option. LOGIC ERP software, for instance, can integrate with accounting software, enabling retailers to sync up financial data between their accounting software and POS.
Keep in touch with all your stores regularly
When you are running several stores, you have to make sure to regularly communicate with every outlet. You can conduct regular site visits to see how each store is doing. If it's not possible, then make regular calls to store managers to see how they are performing. In the multi-store retailer business, you have to closely monitor every store performance. With LOGIC you can run store-specific reports on a regularly to keep tabs on each locations:-
Staff performance,
Sales/Purchase,
Best/Worst selling products, etc..
By regularly monitoring these metrics, you get a clear understanding of every outlet's performance, even though you are not physically present there.
Streamline communication process
In a multi-retail store business, you need to make sure that every team is on the same page. Communicate is an important asset in a business, especially when you have to relay information about new store policies, critical employee information, and promotions. You need to have a reliable communication platform to ensure that your messages get transferred to the right people.
Implement standard operating procedures for each outlet
When operating in multiple locations, you have to make sure that all stores must have one way of doing things. It'll make it easier for you to manage and allow your customers to have a better experience with your services and brand.
You can do so by establishing SOPs (standard operating procedures) to carry out new policies and activities in your stores. For retailers, the type of SOPs should cover the following:
Security
You must have the proper safety and security protocols to keep your staff and customers safe and secure. These protocols must cover common issues, such as appointing someone in charge of opening and closing the store, procedures to deal with shoplifters and natural disaster situations or other emergencies.
Handling Monetary Transactions
You can implement a procedure to cover the concerns of monetary handling at your store that will include payment modes, procedures to handle returns and refunds, register closing, etc..
Once you have decided on the protocols, make a document. You can use a retail ERP system to track and carry out your process from one place.