LOGIC ERP Integrated with PayU Payments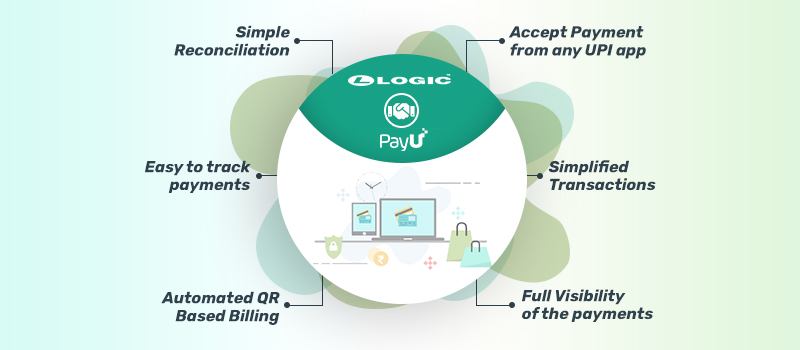 We are pleased to inform you that LOGIC ERP has integrated with PayU Payments to provide a fast, secure, and easy payment option to its customers.
What is PayU Payment & its benefits?
It is a UPI enabled payment option with which, online businesses can accept and process payments via payment methods that are integrated with mobile and web applications. It provides following benefits to the merchants:
Easy to use & track: It keeps you updated on information regarding transaction status, refunds, shipping, and other details.
Simplified transactions: You will receive fast and assured payments for the products you deliver.
Resolve dispute easily: Dispute resolution team of PayUMoney helps you to resolve your payment disputes quickly and securely.
Integration of PayU Payments with LOGIC
PayU Payments and Logic ERP have come together to create a seamless, fully Integrated UPI QR module.
Merchants will now be able to select a QR based payment, similar to the existing Debit card, Cash options on their Logic billing system and view the payment made via QR code real-time from their Logic ERP. They will also be able to generate the Bill subsequently.
This truly makes the Merchant billing experience seamless and also enables the merchants to have full visibility of all the payments done via the QR code right from their Logic ERP system.
The customer can pay via any UPI payment app. All they have to do is scan the PayU enabled Bharat QR code displayed at the checkout counter and pay through any UPI powered app.
Benefits of using PayU-enabled QR Codes for LOGIC Merchants
1. Fully Automated QR based billing – No manual intervention needed for entering the payment amount in the billing system to generate invoices.
2. One single QR can accept payments from more than 90+ UPI apps available.
3. Track Payment history & settlement details in the LOGIC ERP directly.
4. Simplified reconciliation.
To become a merchant or integrate with PayU Money, click here.