Haldiram goes live with LOGIC ERP B2B App for Distributors and Sales Staff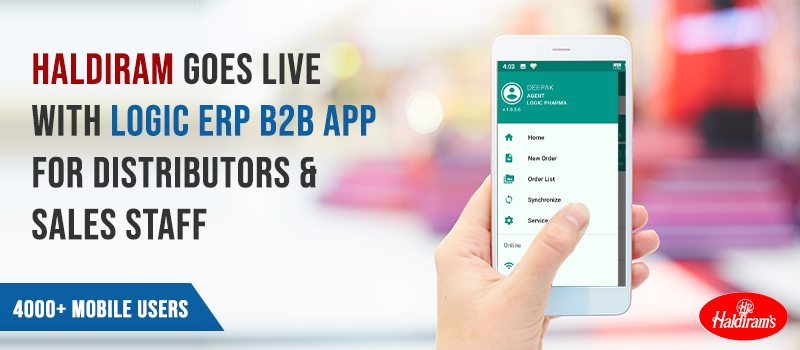 Haldiram is one of the leading manufacturing brands of snacks like Bhujia, Namkeen, etc… They provide world-class ready-to-cook snacks and have a strong distribution network of 150 super distributors, 1200 SFA, and 1500 distributors.
THE CHALLENGE
The Haldiram team was issuing tertiary and secondary level orders via the manual or telephonic process from retailers and distributors. As things went by, they ignored the necessity of maintaining sales staff wise tracking/route plan, and no proper paradigms were made regarding collecting orders from retailers and distributors. As a result, it became challenging to handle the batch controlling, identifying expired goods and pricing, dispatching systems, etc..
Although Haldiram integrated with third-party Mobile App vendors, the problem was still not solved as the app only provided data to Haldiram's team related to orders and sale staff tracking. And the real problem was in the third-party B2B mobile app. They were facing the following issues:
No details related to inventory were displaying in the app.

Difficulty in item master creation through excel or manual process.

No price list validation of customers.

No mobile app integration with backend applications.

Issues when enrolling sales staff data through excel or manual process.

Issues in data authenticity of order booking.

Users must manually punch order data into backend applications for dispatching customer orders.
LOGIC ERP PROVIDED THE SOLUTION WITH ITS B2B APP
When Haldiram's team was analyzing the solutions for their problems, the Logic ERP team approached them to provide a scalable solution. Logic ERP integrated its Logic Enterprise ERP application with Haldiram's backend software SAP4H (fetches distributor's inventory details in LOGIC ERP application). The distributors have been using Logic ERP applications for more than ten years, and now, it will be handling:
Inventory solution

Batch wise controlling

Promotions of sales

Accounting

Replacement entitlement

Schemes

Pricing, etc…
Logic ERP also integrated its B2B app with ERP application of backend, which can be mapped sales-staff wise or distributor wise for offline mode and order booking online. It also has an auto-mode option for moving item master and account master into B2B app, same as mapped in setup master. B2B app will allow booking orders as available in stock of distributor, and pricing, discount, and schemes can be applied customer wise as defined at the backend.
Logic ERP B2B app comes with payment entry provision along with auto-synchronization features based on the distributor location. Users only have to enter customer order, payment, ledger, pending order, etc., the rest will be handled by the app itself. There is no need for entering data manually at the backend. The backend team of the distributor only has to do packing slip and billing against the order.
BENEFITS OF USING LOGIC ERP B2B APP TO HALDIRAM
Auto synchronization of item and account master in the app.

Easy order booking on online and offline mode.

Auto synchronizations of order if booked in offline mode when the internet will be available in the user's app.

The distributor can book orders through the app as per stock available at their end.

Pricing of customer wise auto applied in the order as defined at the backend.

Discount and scheme are auto-applied customers wise as defined at the backend.

Users can enter cash and bank entries in the App.

Easy tracking of Sales staff