Use PayTM Dynamic QR to Accept POS Payments from any UPI Enabled App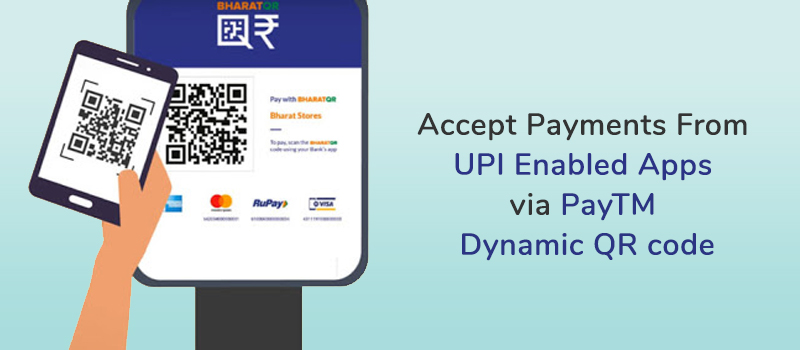 One of the main concerns right now for the government is how to control the spread of the COVID-19 virus. Although they introduced various guidelines to prevent community spread of the virus, it seems to still grow in number day-by-day. Now the question here is, "what can you do to play your part as a retailer, shop owners, restaurant owner, etc.?" Well, there are plenty of answers to this question, but the main thing that you can do is "introduce touchless or cashless payment in your business."
Slowly, but eventually, people also started to prioritize cashless payments during shopping, buying groceries, etc.. Well, it's the era of digitalization, and it was bound to happen. The only difference is, it took a pandemic to realize the cause. Seeing this, LOGIC launched a new feature that will enable the merchants to accept payments at POS from any UPI enabled App via PayTM dynamic Bharat QR code scanning.
What is PayTM Bharat QR Code?
It will allow merchants to receive payments without using the swiping machine. The customers can pay using any UPI enabled app by scanning the QR code displayed on the merchant's PayTM device.
Merchants have to generate the Bharat QR code for PayTM and take a print out of it. After that, stick that print out at the payment desk. When the customer will scan and pay for their purchase, the money will get credited into the bank account instantly.
The main benefit of this functionality is that shopkeepers and consumers can avoid coming in contact with cash payments or credit/debit card payments. It will keep the chances of getting infected to a minimum. Also, it's the age of digitalization where every business will adopt next-generation opportunities to provide high-end services to customers that could bring profit to them. Having a cashless payment mode will be very crucial to reshaping the future of the business.
To know how this functionally works in LOGIC, click the link below:
https://www.logicerp.com/tutorials/2020/08/10/accept-payments-at-pos-from-any-upi-enable-app-using-paytm-dynamic-bharat-qr-code/