Why is it Important to Digitalize your Grocery Businesses in 2020?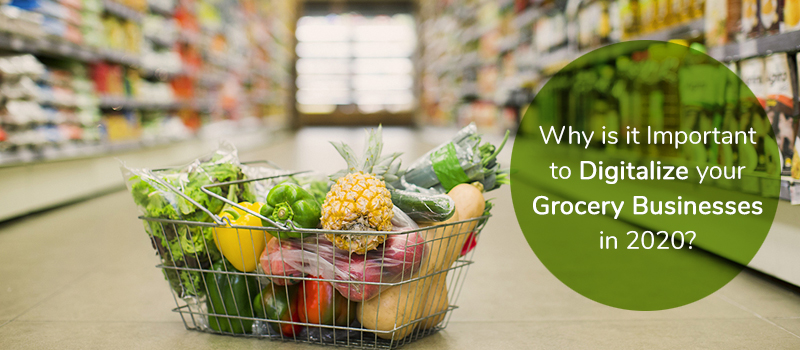 One of the businesses that witnessed the most dramatic transformation in the coronavirus pandemic is the Grocery business. And now, with people preferring online shopping over traditional shopping, the trend of digital business transformation is on the rise.
WHAT HAS CHANGED NOW?
You can't deny the fact the COVID-19 has flipped the world upside-down. No one predicted that the whole world would be lockdown and people have to shut themselves in their houses. Businesses have to find new ways to reach out to customers and have to cop up with the urgent demand for essentials and other items. Well, consumers adjusted to at-home activities like cooking, exercising, online shopping, etc…
The consumer's behavioral shift also brought changes in shopping habits, which gave rise to digital grocery shopping habits. According to Statista reports, during the COVID-19 outbreak in the USA, the share of online grocery shoppers increased by up to 37% in the fourth week of March, which was 11% in the first week of March. In other words, the coronavirus pandemic tripled the numbers of online grocery shoppers.
Not only in the USA, but the pandemic fractured shopping habits of people worldwide; pushing them to try new ways to buy food, essential items, etc. Due to this, businesses have to look for new ways to meet consumers' demands.
TRANSFORMING GROCERY BUSINESS
Following are some reasons that every grocery business owners should know to understand why digitalization is a key ingredient to win over quickly changing market:
TAKING BUSINESS ONLINE
The grocery shopping trend is still on the rise. Retailers have started to move from brick-n-mortar stores to other selling forms. Because of the ongoing online shopping trends, even the small business owners are slowly innovating their store practices. Well, one of the easiest ways to tackle the changes occurring due to coronavirus is by offering a from-home shopping experience by taking the business online.
Not only it'll be convenient for your existing consumers, but it will also enable you to expand your customer base. With the LOGIC Aaptak app, you can enable online grocery shopping at your store. It also allows your store to be discovered by the app users who never visit your store often. It will help your grocery store business on many levels, including sending bills to consumers, easy record-keeping, easy integration with ERP software, flexible payment processing, etc…
TAKE ADVANTAGE OF THE SITUATION
The whole world is affected by the pandemic, which has put a lot of strain on businesses worldwide. But for grocery businesses, it's a great opportunity to innovate and integrate digital solutions into store operations. With LOGIC cloud-based ERP solutions for grocery stores, you get better relationship management capabilities. You can reach your customer any time, provide regular consumers with best deals, coupon codes, send customized SMS, etc.
As a retailer, you get the ability to understand your target customer shopping habits. With cloud-based ERP software, you can access the reports and data from anywhere and anytime. Use that data to take the necessary steps to increase the sales rate and get better ROI.
The global lockdown might have ended, but the future is still uncertain. People have adapted to new shopping habits, and this percentage is increasing day-by-day. As a grocery retailer, you should adapt to digital business trends if you want to survive in the post-COVID-19 era. LOGIC ERP cloud-based business software for grocery store owners provides the best-in-the-industry solution to upscale the business. Contact us to know more.