Logic ERP Launched AapTak Business App to Facilitate B2B Orders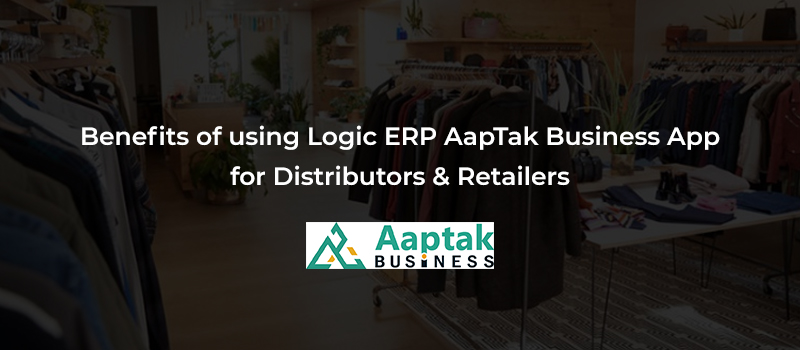 Since the COVID-19 outbreak started, the world went through several changes. Companies introduced the Work From Home culture, people using online platforms for shopping & making payments, and businesses preferring to adopt digital work culture. Take an example of online food ordering apps – they are everywhere, making life simple and easier for people. But, most of these apps are consumer-based. Little did you know that some apps specialize in B2B orders, where customers can order from their suppliers.
AapTak Business App by Logic ERP is one of them. It will not only help you get your orders in but will also help you transform your business once you start using it. Here's the list of top 10 reasons you should consider using the AapTak Business App:
Benefits of using AapTak Business App for Distributors
Eliminates Paperwork: The days are gone when we used to take retail orders via phone call and write them on paper manually. To put it simply, it takes away a lot of time and focus. Well, now you can get rid of the pesky paperwork by automating the admin tasks with an online ordering app. With this app, all your retail orders will go straight to your ERP system. It will give you more time to focus on other things.

Manage Retail Orders in one Interface: This app is a one-stop system to manage your customer's retail orders. You can see and manage your customer orders and access the historical data and reports to keep your business run smoothly.

You will Stand Out: Everyone has a smartphone these days. By adopting a mobile ordering system, you will give your retailers a way to order from anywhere at any time. It will make you their supplier of choice, especially when they can order, even if it's not working hours.

Increase in Sales: It will be easier for the retailers to browse through your product range and place orders whenever they want. This, in turn, will uplift your sales rate. The easier and convenient you make it for your customers, the higher your repeat business will be.

Product Showcasing: You can display your entire product line in the app by adding images and a mobile-optimized digital catalog. Adding beautiful product photos can increase sales. So, take advantage of such a cost-effective feature.

Collect Online Payments for the Orders: Nowadays, customers prefer online transactions via debit/credit card, UPI payments, QR scan, etc. AapTak Business App also accepts online payments, which is convenient for you and your retailers.

Reduce Ordering Errors & Mistakes: When your orders will go straight to your ERP system in real-time, it will eliminate manual data-entry errors and reduce ordering mistakes.
Benefits of using AapTak Business App for Retailers
There are several benefits to the AapTak Business App for retailers. Whether you deal in Pharma, FMCG etc. – big or small – can use this app to save time and run your business seamlessly.
Order from Anywhere, Anytime: It would be easier for you to order from anywhere at any time. You have to simply log in to your phone -> select the distributor -> select items -> then place the order.

See Distributors and Order details in one place: All your current and previous orders details will be available in the app itself. Along with that, you can also see distributors details such as contact and product information.

Pay Online: You can pay online for your orders. There are multiple payment methods added to the app.
If you want to know more about it, contact us now.