Impact of Cloud ERP System on Retail Industry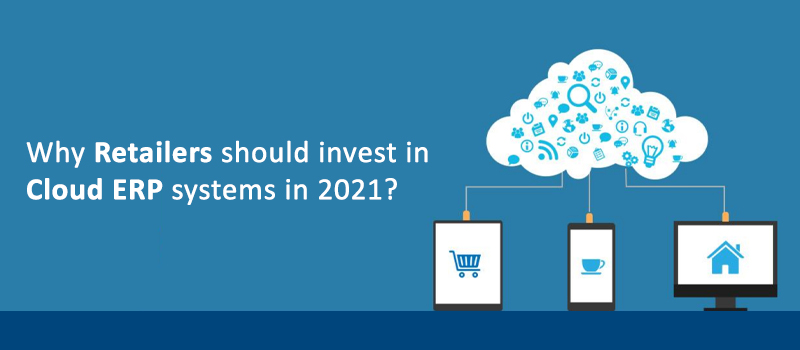 For running a retail business, there are various aspects that one needs to vary – market trends, keeping inventory up-to-date, customer retention & engagement, employee or staff management, accounts & finance, etc… There are a variety of challenges that retail business owners have to battle to keep the business going. On top of it, the intense competition in the market and the growing threat from the e-commerce industry is also making things difficult for the retail industry.
Since the COVID-19 outbreak started, more and more people are moving towards online means of shopping and payment. That's why industry leaders have also started to adopt advanced technologies to transform their business according to current trends. One such technology is cloud ERP software systems. When the nationwide lockdown was imposed, most of the retail stores were closed throughout the country. Those who were using traditional ERP systems were in a dilemma: how will they keep their business going if they are not in the store. On the other hand, those who have already upgraded to cloud ERP systems were able to handle retail business from the comfort of their home.
The saying turned out to be true: "If you can't go to the workplace, Take the workplace with you."
Now, why do you need cloud ERP in the first place? One of the key reasons is that it's helping retailers do much more with the data they have in their arsenal. Streamlining supply chain and logistics, multi-store management to expand the customer base, delivering high-quality customer experiences, etc… There's plenty of benefits that Logic ERP cloud can deliver to your retail business. In addition to effectively gathering, storing, and managing the data, the Logic ERP cloud is enabling retailers to process and analyze their data with real-time, customizable, and mobile reporting that gives meaningful insights. There's more – it also cut down costs significantly compared to traditional ERP systems. It gives you access to critical data such as inventory, operational, staff performance, etc., in real-time and much more.
There's plenty that cloud ERP software system can do for the retail sector, and some of the benefits have been listed below:
REAL-TIME DATA ACCESS WITH ENHANCED SECURITY
Given the amount of data that retailers have to deal with, a cloud ERP system is a perfect choice to deal with this problem. It can seamlessly and safely handle all sorts of data related to sales, purchase, customer, staff, finance, inventory, etc. In addition, the data can be accessed from anywhere, anytime, with a proper internet connection and appropriate credentials. The avant-garde encryption methods help in keeping sensitive data secure on the cloud portal.
ENHANCED CUSTOMER EXPERIENCE
When it's about delivering a top-notch shopping experience to customers, cloud ERP has an excellent performance in this regard. It features plenty of components and functionalities that retailers can use to drive better customer engagement strategies for improving the shopping experience of their customers.
IMPROVED PROFIT MARGINS
Retailers thrive for better profits. However, it's easier said than done. With the long-lasting impact of a pandemic, changing customer behavior, and the dynamic nature of the retail industry, the competition level is very high in this sector now. But, by implementing the Logic ERP cloud software solution, retailers can navigate these challenges with data-driven insights to help cut costs. You can save costs on the IT infrastructure as you have to only pay for the services or features to avail in the cloud ERP system.
Besides the above-mentioned benefits, cloud ERP is also reliable, affordable and highly scalable. To know more about Logic ERP cloud software, contact us now.