Astonishing Advantages of Accepting Online B2B Payments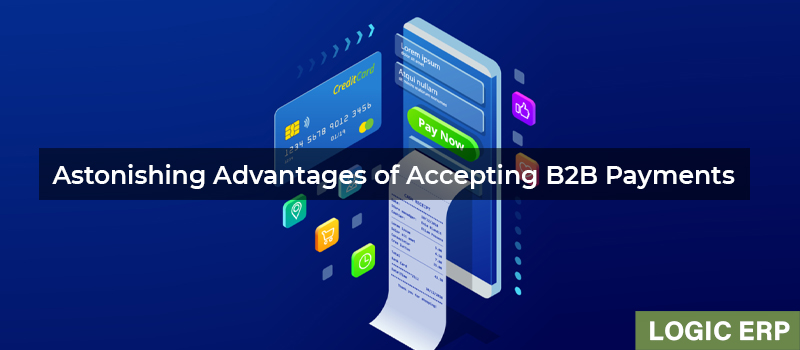 The world of B2B eCommerce payment processing has traditionally been one of the disjointed processes, disconnected systems, and extended transaction times. Online payment solutions have made it possible to streamline your end-to-end accounting operations and reduce the time it takes from order to cash. Companies who use online billing software to issue online invoices, take online payments, and reconcile them automatically are far ahead of others who still use manual processes.
The nice part is that electronic payment acceptance is not confined to huge firms. Companies of all sizes can benefit from the online payment system. Many businesses are already accepting payments online because of the numerous advantages. Here are some of the most important advantages of electronic payments that demonstrate that collecting money is no longer a nightmare for business owners:
Enhanced Cash Flow
Almost 82% of small businesses fail due to cash flow problems making it the biggest hurdle in the smooth growth of your business. Instead of depending on paper checks to make or receive payments, automating more of your B2B payments allows you to spot patterns in your incoming and leaving cash flow.
Transaction Costs are Reduced
Traditional payment systems are well-known for being time-consuming and pricey. Even a single traditional transaction requires a significant amount of time and energy. When you factor in paper supplies and labour that goes into traditional payment methods like processing a check, for example, transaction costs are higher. Instead, moving to an online B2B payment service like Logic ERP will allow you to reduce this cost and, as a result, boost your profitability.
Payments That are Processed Faster
The speed with which payments are processed is crucial to the success of any retail firm. The B2B payment process is complicated – processing payments can take weeks for certain organizations due to invoicing, credit checks, and mounds of paperwork. Businesses can acquire cash considerably faster if they use digital payments with many payment alternatives. This improves cash flow and allows businesses to grow more quickly.
Increased Sales
Accepting online B2B payments can boost your company's revenue. It allows you to tap into new markets by allowing you to reach out to a huge number of clients, which will result in more sales opportunities and higher revenues. Furthermore, you can use superior customer-attraction techniques such as cashback, vouchers, reward points, discounts, and so on.
Customer Retention is Important
When you use a digital B2B payment option for your retail business, you not only build trust in your services but also provide your consumers peace of mind about the security of their purchases. Consumers benefit from online payment software because it protects them from fraud and streamlines the transaction. It enables customers to make payments. It enables clients to pay using simple payment options, saving them time and decreasing the amount of hassle they face.
Boosted Payment Security
If you take payments from customers in cash, there's a good possibility it'll be stolen or misplaced. There is no such scenario with the internet. Furthermore, electronic payment systems provide you with a variety of security features such as tokenization, encryption, SSL, and more. With its cutting-edge technology, Logic ERP assures that retailers and their customers are not concerned about personal and financial information.
Transparency
When it comes to payments, transparency becomes a critical factor. When it comes to electronic payments, you don't have to be concerned about a record of your payment information. You can also give your consumers the payment information ahead of time. As a result, receiving rapid payment confirmation could lessen the risk that is sometimes associated with traditional transactions.
Various Payment Options
There are more payment options available.
Buyers who pay with digital payments have access to a variety of payment options that are not often available when paying with traditional methods. Modern checkout options allow you to integrate as many and as local payment methods as you need. Modern checkout options give merchants the ability to accept as many and as diverse payment ways as they need, allowing them to expand their global reach. Digital payment modes include UPI, online banking, payment wallets and others.
No-contact
During the COVID-19 pandemic, people began looking for ways to minimize human contact to avoid becoming infected with the coronavirus. As a result, the demand for contactless payments has grown. Contactless POS terminals can be used in your business to eliminate the need for human interaction. You can also enable your clients to pay with QR codes or One-Time Passwords (OTP).
Process for e-Payments in Logic ERP
Our bill payment software digitally transfers payments from your ERP or accounts payable system into the authorized bank account of the supplier in real-time, resulting in more favourable payment cycles, a considerable reduction in fraud, and enhanced relationships with suppliers.
Summing up
Paper checks have gradually but steadily given way to digital invoices and payments in B2B payments around the world. This means that small firms must begin employing cutting-edge technology to avoid being surpassed by competitors.
You can transform payments from a cost centre to a critical competitive advantage for your company using Logic ERP's online payment system. So, what do you have to lose? Connect your business to Logic ERP's online payment system and start heightening your gains.