Digital Payments: Making Transaction Process Smooth & Easy for Retailers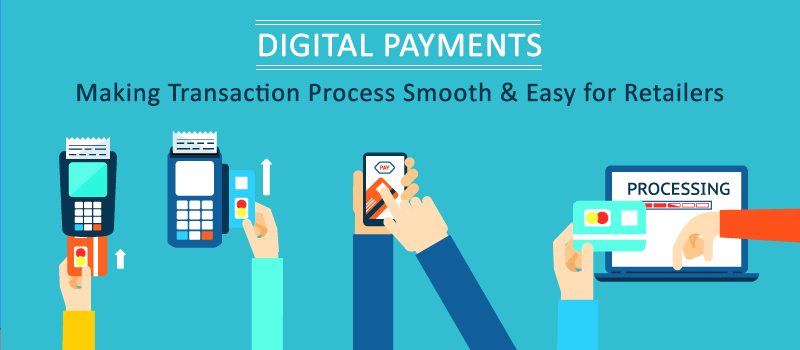 COVID-19 had a great impact on our everyday lives. It has changed the way we purchase and pay, forcing businesses to implement better ways to operate. As the health concerns among people increased, we started avoiding handling cash, crowded places, and adopted shopping habits, giving rise to contactless or digital payments trends. Although digital payments have been around for a couple of years, in 2020, this industry witnessed a sudden upsurge.
One of the reasons for such an upsurge is the expansion of internet connectivity and affordable smartphones. It completely transformed the old banking norms to contactless transactions. For example, as a retailer, if you implement the Logic ERP cloud-based or on-premises software, you can provide your consumers with multiple transaction options. Some of them include:
UPI

Net banking

QR code scan

Wallet Payments

Paytm EDC

POS payment

Touchless payments etc.
As a safety measure against the COVID-19 pandemic, people have started to accept touchless payment methods. It, in turn, pushed retailers to shift from traditional cash payment methods to digital payments. The retailers who were reluctant to adapt to such changes experienced a sudden drop in their business profits. Let's take a look at some digital transactions aspects and how they help retailers and consumers:
SUPPORT FOR PAYMENT MANAGEMENT
As merchants are always under pressure to support more payment methods, Logic ERP, on the other hand, is helping retailers to manage omnichannel or multi-regional payment processing. You get a single point of contact for accessing transaction records, along with customizable reporting, real-time transaction management, etc.
TOUCHLESS PAYMENT PROCESS
One thing that everyone will agree upon is that our lives have become a fast-paced track with the involvement of technology. No one likes to wait in long queues to make payments for their groceries or other items. That's why app-based payments are becoming a driving force behind touchless payments across India and globally. Giving the consumers multiple choices to pay not only improves your business reputation, but the consumers will also visit again at your store for shopping. As a retailer, you have to handle less cash and can avoid manually inputting payment-related data, offering better accuracy and speed.
BETTER SECURITY MANAGEMENT
A cashless transaction process consists of multiple modules: the financial institution, government regulators, cash flow security protocols, etc. These modules are necessary to protect customers against security incidents. Logic ERP with its cutting-edge technology ensures that retailers and their customers don't have to worry about personal and bank details security.
EMBEDDED PAYMENT MODULES
Payments are no longer restricted to the cash register only. They are now embedded in business software and solutions, integrating supply chain, marketing, operations, and other support functions. As contactless technology is becoming more widespread, retailers and consumers are looking for solutions that minimize physical contact while making payments.
Logic ERP with its touchless payment module, offers fast checkouts, billing, payment convenience, and a quicker way to pay for the services that consumers avail of. If we talk about cashless payments, in India only, over 3.3 million merchants have started to accept cashless payments. This number is going to increase even further in 2021. So if you want to stand in the competition, you have to make your choice right now. The contactless payment solution that comes in Logic ERP cloud and the on-premises solution will aid in faster billings, and increase peace of mind as you manage your business from anywhere, anytime.