Grow Your Sales with the Right Retail Billing Software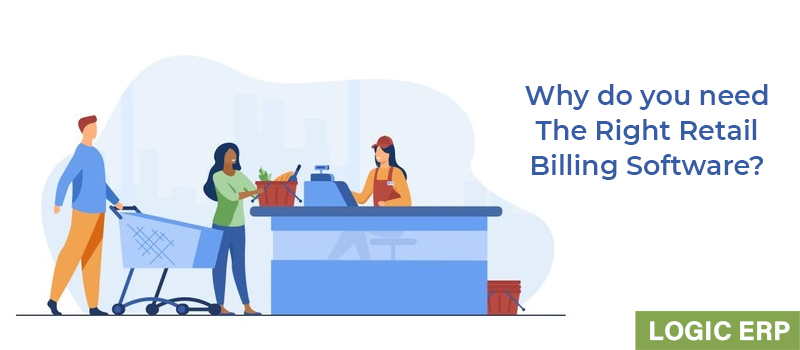 Allow me to share a basic reality with you. Billing and invoicing is a headache, especially, in the retail business. It's always been that way. Do you recall the days before computers when accounting was done by hand? Referring to the days when businesses hired accountants and data entry operators to keep track of billing and invoicing information in large files by hand. The procedure was frantic. This is 2021, the year of automation when businesses will no longer need to hire accountants or data entry operators to handle billing and invoicing. Billing and invoicing software, on the other hand, can efficiently manage these operations, saving both time and money. It's a breeze to keep track of and generate individualized invoices owing to these billing and invoicing tools.
Every retail store, regardless of size, requires retail software or POS (point-of-sale) software to operate. But, when it comes to purchasing retail billing software, what do you look for? What exactly should you be looking for? A robust billing software is a necessity in a restaurant, a supermarket and clothing store, and tons of other stores, but what are the features that are needed specifically to ease management and control in your retail shop? Logic ERP provides services curated just for your company, the way you want them. Let's talk about it. Apart from managing payments and expenses, there are a few things to consider before purchasing any POS or retail billing software:
Compatibility: The software you acquire for any type of retail store must be compatible with the machines you already have. It is important to select software that is compatible with PCs, laptops, and tablets.
Inventory management: A decent POS or retail software should include a component for managing, updating, and recording your inventory. In 2021, going out of stock is not an option. You can also receive an alert when a product's stock falls below a certain threshold.
GUI: You can't afford to train your personnel for a month on a difficult-to-master billing system. You also won't be able to recruit trained pros to help you with it. As a result, one of the most crucial elements to consider while picking retail software is the user interface. It's all about being simple, catchy, and understood.
Integrable: You can't afford to have separate software for accounting, inventory, sales, and payroll, for example. As a result, having a single system that can accommodate everything you require is essential. This can assist you in keeping track of your business.
Safety: While integrating everything onto a single platform reduces effort, it also puts everything you own at risk. And don't forget about the most valuable asset you have: your customers' data. All of these details, including personnel information, sales records, and account information, must be kept extremely private, as well as access levels. This is where Logic ERP's Retail Billing Software comes in. Logic ERP ensures all your data is safe and there's no monkey business.
CRM (Customer Relationship Management): In today's retail marketing, customer feedback is the highest form of incentive. In the generation X and generation Z cultures, keeping track of clients and having their information on hand can help you design effective royalty programs and discounts, as well as letting them know you remember them.
Reports: Nowadays, the competition is so fierce that you must plan based on your previous client interactions. More than half of all customers in stores are repeat customers. Having smart reports based on your sales and the ability to anticipate future sales of the items and services you offer can help your company grow immensely and with Logic ERP's curated Retail Billing Software all this is easily possible.
There are definitely aspects that you must learn about that are relevant to your type of business or retail store. As a result, the most important feature you must select is-
Customizability: Almost all organizations that provide retail software solutions offer customization for your POS or retail software system, allowing you to run your business your way. Logic ERP, a retail software solutions provider that provides you one of the greatest sets of experienced people that will assist you in selecting the best POS software for your business and also propose what you need to be the best among your competitors. At the end of the day, it's all about winning the race for your clients' hearts.
Wrapping It Up
Efficient business in retail is heavily reliant on the local sales team. A growth-oriented feature to look for when choosing the right retail software to buy, as discussed, is an easy-to-use interface that allows the creation and management of sales incentive schemes as well as the capacity to generate bonus reports. This generates motivation within the salesforce and drives the sales of the store to greater heights. The capacity to manage both your employees and your customers is critical in the retail sales process. Logic ERP guarantees to uplift your sales by implementing these features to your retail management.