Top 5 Inventory Management Problems and Solutions for Manufacturers in 2021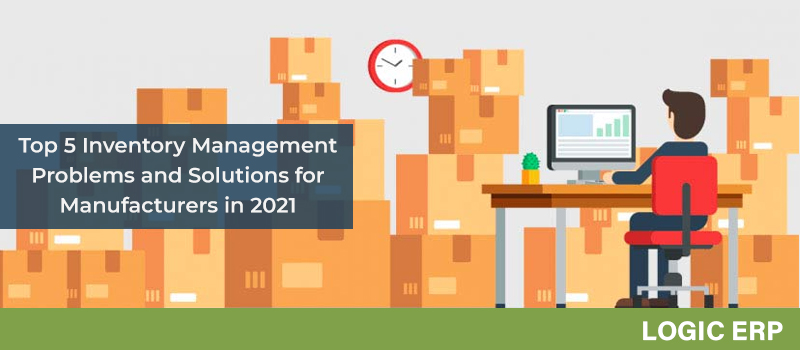 Inventory management, despite its importance to corporate success, has a low profile. In a nutshell, it implies keeping the right amount (or number) of important items on hand. Discrete manufacturers create finished goods such as toys, smartphones, automobiles, airplanes, and other tangible goods that people use every day. However, many of them lack a dedicated inventory manager and inventory management software, which has a negative influence on customer relations and profits. Customers dislike interacting with organizations who postpone projects due to a lack of essential materials or a lack of knowledge about the instruments and equipment in their inventory. The ideal solution to this is to maintain an appropriate inventory level by accurately projecting demand based on historical data and an assessment of external trends.
Effective inventory management software, such as Logic ERP's, assists businesses in coping with demand changes and balancing warehousing and ordering expenses.
Inventory Challenges That Confront Businesses:
Small businesses fail for a variety of reasons, one of which is poor inventory management. Inventory management is primarily a balancing act between having too little and too much inventory. The amount of inventory that is "just right" is frequently a shifting target. The following are some inventory-related challenges that confront businesses –
Disparate systems for storing accounting and inventory details
Accounting and inventory-related information is stored in a variety of systems by a large number of businesses. It has various flaws, including unnecessary manual labor, an increase in human-induced errors, and a data mismatch. Another factor to consider is that inventory levels fluctuate often, which implies that manually maintained inventory records are likely to be erroneous.
Excess inventory and stockouts
Inventory, on the balance sheet, is a liability. So, you're losing money if you have more inventory than you need. Many businesses buy surplus products that sit on the shelf unused. As a result, a significant amount of money has been squandered that could have been put to better use. Stockouts, on the other hand, occur when a company lacks the minimal quantity of inventory needed to run its daily operations. It leads to last-minute purchases and delays in getting products to customers, thus compromising the customer experience.
Absence of inventory control
It's difficult to estimate future needs without an efficient inventory control procedure to track what's coming in and out of the inventory, as well as the placement of products in the warehouse.
Inaccurate demand planning
If you don't have data to examine how many products you've used in the past, predicting the best quantity of goods and equipment you'll need in the future is difficult.
The desired item is frequently available in the inventory, but pinpointing its specific position is difficult. This could happen for two reasons:
The lack of a defined storage area.
The same thing can be stored in multiple locations.
Ways in Which Inventory Management Software Can Assist Businesses
Maintaining an acceptable inventory level is critical for businesses in all industries. It allows you to cut costs, increase profits, and keep emergency supplies on hand. Logic ERP's inventory management software gives discrete manufacturers these advantages, allowing them to maintain market competency and provide exceptional customer service. The following are some of the ways in which Logic ERP's inventory management software can assist you:
No excess inventory and stockouts
With real-time inventory data, you'll be able to buy only as much inventory as you need to carry out your daily operations. To begin with, you will be able to save a significant amount of money that would otherwise be spent on unnecessary tools and equipment. Second, you'll never run out of inventory since you'll always have enough on hand to complete productive projects.
Creating accounting efficiencies
Organizational inefficiency is caused by disparate information systems. Inventory management software connects disparate ERP systems and updates data in real-time, allowing for error-free records to be maintained.
Accurate system of records
Every item, piece of equipment, and material has all of its information – location, manufacturing date, expiration date, cost, lot number, and quantity – safely saved on secure servers that are accessible to key stakeholders at any time and from any location. In addition, information is updated in real-time, reducing errors and allowing personnel to focus on mission-critical tasks.
Enhance inventory controls
You can track and manage the full inventory lifecycle while keeping expenses under control. Furthermore, the Logic ERP's inventory management software monitors inventory utilization and provides alerts to designated managers when inventory levels fall below a predetermined threshold.
Improve inventory visibility
With Logic ERP's inventory management software, you can have a lot more control over things like average lead time, inventory location in the warehouse, historical purchasing habits, reorder management, and maintaining optimal inventory levels.
Conclusion
It can be difficult to transform inventory and business processes, but help is on hand via Logic ERP's inventory management software. It can help you increase productivity, develop capabilities, expand into new markets, and establish yourself as a market leader. It can assist in a variety of areas, such as process improvement and financial access.