All You Need to Know About Grocery POS Software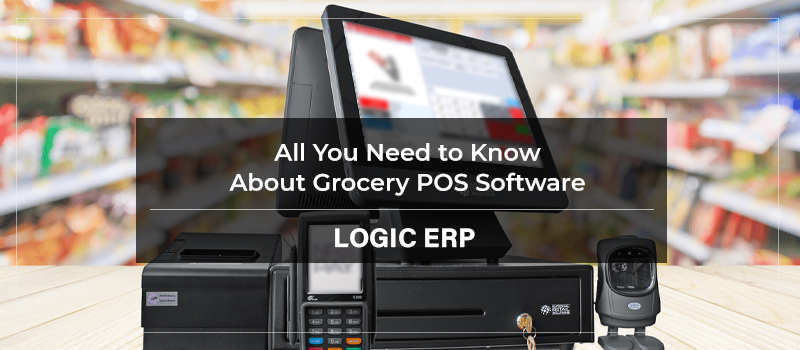 A POS system is required for the smooth operation of a grocery store. It is the location with the most traffic. As a result, it must be extremely functional. There are a lot of things to keep in mind as a grocery store owner until a client walks in and returns. Managing your entire company can be challenging. Especially if the stores are spread out around the city. Without a strong plan, no business can move forward; you must have a clear grasp of your business, who your customers are, and how they buy. Here is how Logic ERP's grocery POS software can help you.
Grocery Stores Have Been Conquered by POS
The expression is correct. The point-of-sale system has already been implemented in a large number of establishments. You might be asking why a point-of-sale system is so necessary. If you own a grocery shop and aren't using the correct POS software, you're missing out on a lot of money. The term 'opportunity' is used here to describe a significant component that contributes to the smooth operation of a company. Let's look at how a point-of-sale system influences your business and how Logic ERP can help you with it.
Issues with Availability
Customer is king is really true; without customers, no business can grow. Customers that are dissatisfied with your service will not return to your grocery shop. A customer will be upset if he placed an order only to be told later that the item is unavailable. A good POS system for your grocery shop will help you avoid issues that affect your real-time. When there is excess stock, the software will notify you. As a result, you can take appropriate actions.
POS System for Your Grocery Store
When selecting a point-of-sale system for your grocery business, it's critical to choose or use POS software that's tailored to your industry. Also, the program should be able to maintain your inventory and create accurate inventory reports, as well as provide information on your best suppliers and best-selling products. You can use this information to figure out which things sell well and need to be replenished right away.
Cash Management
A cash management system is required to assist business owners in properly running their businesses and managing their finances. Every business must generate cash flow in order to stay afloat. As a result, it will be able to cover the costs of running the firm. Investors must be repaid, and the business must be balanced. This is a demanding task that is prone to errors if done manually. Logic ERP POS software can readily handle this with high precision.
Security
Security is one of the most pressing concerns we face today, and there are numerous solutions available in this digital age. The data is quite essential depending on the grocery store. A POS saves data in a central location, and makes sure that your data is safe in the event that your device is lost or hacked. This can be remedied by logging out and securing a device. Cash can be taken from your store, so only authorized workers should handle cash transactions, which are also logged by the system, so you don't have to worry about store cash fraud.
Promos and Discounts
Promotional activities assist a grocery store in gaining a large number of customers. Customer data is saved on a POS system; therefore, this is doable. You can offer discounts and promotions in a short amount of time. To use the deal on all products in the store or just a few, click here. You can schedule the offer and build custom promo codes, and you can extract customer contact data from customer data and transmit bulk emails to your customers for promotional purposes.
Select your POS software
Many elements of a point-of-sale system have been mentioned, but there are a few things to bear in mind when selecting a POS for your grocery business. We need to know how reliable the service provider you select is, as well as how their software differentiates from others.
24*7 Customer Service
It may take some time for your workers to learn how to use a new POS system, but with the correct customer support, it can be a viable option. It is beneficial to your business's good running to have a 24/7 service to fix defects or faults in software. They must provide limitless live chat, email, SMS, and web enquiry support 24 hours a day, seven days a week. Any concerns will be resolved by a well-trained customer service team.
Different Locations
Users with many locations should have a POS designed for them; it should be simple to handle all of your business activities, and it should be possible to increase your locations in the future. Transferring things between locations, controlling centralized purchasing, and retrieving all locations from one site are all advantages of Logic ERP's POS software.
Conclusion
With the advancement of technology, new systems are introduced into the business every day, allowing businesses to expand. However, it is not a wise economical decision to constantly change systems. As a result, you must obtain a system that is unique to your grocery and receives regular upgrades from its service provider. Logic ERP POS software can help you meet all your business needs.