6 Advantages of Using a POS System in Your Supermarket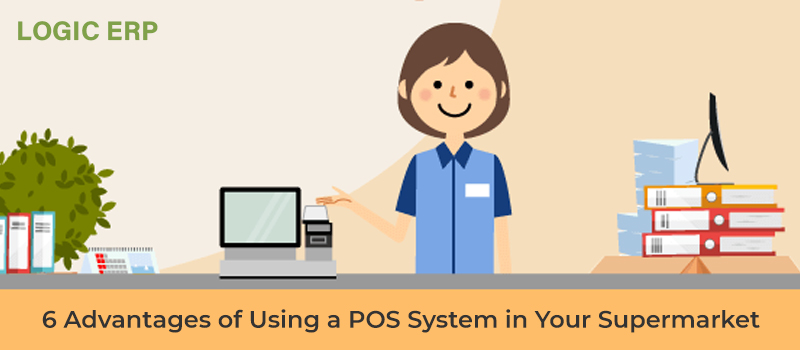 Even with all of the pandemic's devastating effect on all sectors, supermarkets, which fall under the category of vital commodity retailers, are doing quite well. So, here's the question: Do you run a supermarket and do your clients have to wait for a long time for the billing transaction to be completed at your counter? Do you have trouble keeping track of your store's invoicing and accounting as well as inventory, sales, and revenue information? If you run a supermarket in today's competitive environment, you need a reliable POS billing software rather than a manually handled billing system. For your business to run effectively, you must be aware of the available Supermarket software. POS software has the ability to propel any business to the top of its field. It has an important role in generating positive effects on the global economy.
Almost everything in the supermarket sector is based on the consumer's shopping experience. Whether a firm succeeds or fails is determined by how customers view their overall purchasing experience. Having an online experience with POS capabilities, on the other hand, makes things easier. When the purchase is completed and the goods are handed over to the customer, the POS billing software for the supermarket company is activated. According to market trends, it is an important purchasing process that ensures a good user experience. Let's take a look at how Logic ERP's supermarket software can make your job simpler and more efficient.
Accelerate product return processes
Advanced Point – of – sale software solutions, such as Logic ERP's, allow for fast product returns.
You can handle a customer's cancellation of a purchase using your POS system with only a few clicks. When a transaction is cancelled, the quantity of stocks that were reduced increases immediately.
Provide detailed and accurate sales reports
Using a point-of-sale (POS) system, you can keep detailed and precise sales records. The bestselling product, the number of products sold, profit margins, and other statistics are all included in the reports. You can use the system to reduce human errors that commonly occur when adding sales data, ensuring that the final data is totally accurate.
Make sure that client's data is secured
Using cloud POS solutions, all customer data is saved correctly and securely. Instead of being saved on computers, the data is saved in the Cloud. As a result, data loss as a result of viruses or malfunctioning PCs is not an issue with Cloud POS systems. You may run your business offline by adopting a cloud-based POS system like Logic ERP. You don't have to worry about missing data if you execute any transactions. When your smartphone is connected to the internet again, all transactional data will be preserved and synced.
Cloud POS systems with retailers
It would be so convenient if you were able to take your firm along with you wherever you go. That isn't unthinkable. Cloud-based POS systems like Logic ERP provide you access to your sales from anywhere, on any device. As a result, you won't need to visit your locations to keep track of ongoing transactions, inventory, or sales statistics.
Enhance the customer experience
Point-of-sale systems enable retailers to deliver an enhanced customer experience. As a result, store clerks may locate things that their consumers desire in a matter of seconds. Shoppers can also use the technology to build their own self-service booths, permitting them to search for anything they want.
Enable inventory tracking across many sites
Retailers can utilize point-of-sale systems to manage their inventory throughout several sites and shops. They may verify the amount of stock in each of their stores. For instance, if one of their stores runs out of a particular item, they can look for it in another. This means that retail owners can rapidly evaluate whether or not items that their customers want are available in each of their establishments.
Conclusion:
We live in a technically brilliant era, and businesses all around the world are reaping the benefits of advancements in technology. The local supermarket sector is no exception. The advent of supermarket POS billing software was a game changer. You may enhance the audience experience, save management costs, save time, achieve profitability, and simplify the accounting process by simply switching to technology. Before looking at supermarket software prices, it's important to understand what it's all about.