Step-By-Step Guide on Using a Retail Management Software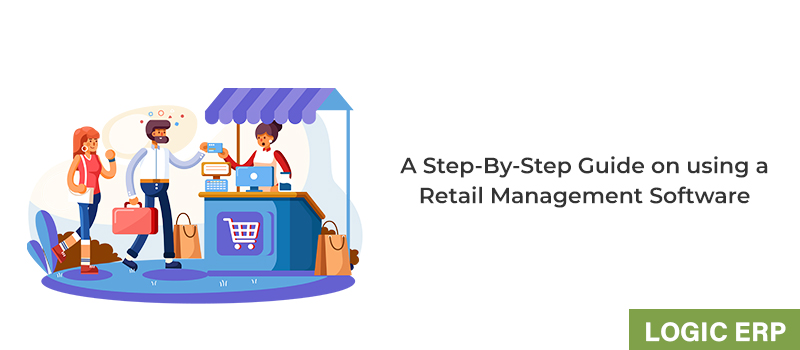 The retail industry is one of the largest and most competitive. Companies need to find ways to accommodate a growing customer base while staying profitable. Retail management software can help companies with this challenge by streamlining business processes. It can help businesses increase profits. E.g. Logic ERP aids in the use of analytics to optimize operations and acquire insights.
What is a Retail Management Software?
Retail management software is a computer-based system that stores data and provides reports on the performance of a business's sales, customers, inventory and staff. These programs can monitor daily operations or provide complete overviews of past activities. The optimal retail management program guarantees that the customer experience is pleasant.
Essentials of Retail Management Software
A comprehensive retail management system comprises several modules that can help improve both the consumer experience and the net profit.
Dashboards can examine your retail store company and optimize inventory, staffing, and logistics in real-time. Dashboards provide a visual breakdown of crucial information to provide you with an insight into your retail outlet.
Management of Loyalty Programs
A retail system should assist you in administering client rewards. This must be done while keeping track of points gained and redeemed for each consumer. Customers are drawn to loyalty programmes that reward them for their purchases.
Upselling and cross-selling
After reviewing their purchases, assisting clients by encouraging or proposing similar or complementary products can provide several opportunities. There are two approaches to this – cross-sell and upsell.
Retail management systems enable customers to pay in a variety of ways. The user can pay with cash, credit card, gift certificates, or digital payment apps.
Multi-item promotions are popular. They enable retailers to fix prices for a segment of consumers based on information derived from their purchasing history.
Automation in retail stores
To compete in the age of Retail giants, retail establishments must provide exceptional consumer experiences. That's why it is critical to improve all store procedures and effectively digitize manual processes.
What role does retail software play?
The retail industry has seen significant changes since the outbreak of the pandemic. 87% of shoppers leave stores if an item is unavailable and there is no help present. 30% of shoppers will wait no more than two minutes to see if what they want is in stock. Brick-and-mortar stores must undergo a technological change to keep up with the competition.
Features of retail management software
A retail management software package should offer retail-specific capabilities or industry-specific functionality. Versatile systems enable you to tailor different modules to your specific requirements. Logic ERP presents the following features of retail management software:
Payment Processing Module – The module enables online payments and securely stores information about payments made to a store. It also generates reports and performs reconciliation with banks.

Inventory Management Module – The inventory management module controls warehouse stocks and automates logistics and supply chain processes.

POS Software – A store's point of sale system is a computer, mobile phone or self-service kiosk that allows customers to order and pay without cashier assistance. A POS system is a fundamental component of retail management software.

Retail Management Software with a built-in point of sale system – The right retail management software lets the company obtain a centralized repository for all essential information regarding transactions, commodities, and consumers to perform key functions.

ERP Systems – ERP systems help you to collect customer data, control human resources, deal with money flows and transactions. They also support the balance between orders and stock and integrate logistics, supply chain and inventory management processes. Logic ERP is one such company that offers tailor-made and flexible ERP solutions to clients of varied verticals.
Cloud retail software is the way of the future.
Retailers are beginning to realize that they can use cloud retail software and mobile apps to do more than streamline their operations. Consider the cost of paying IT personnel to maintain the system, handle updates, and troubleshoot problems. It is significantly easier to breach an on-premise retail management software.
Retail systems that operate across many channels
Omnichannel retail approaches, by definition, synchronize traceability across all endpoints. Device proliferation is increasing how individuals make diverse purchases across channels. The days of a solitary point of sale system at a store are long gone.
Logic ERP's retail software enables you to achieve growth and profitability. From simple retail point-of-sale systems to comprehensive retail management, we cover the complete spectrum of capabilities. Get in touch with us to find more about our high-performance retail software.