What Are the Benefits of a Grocery POS System?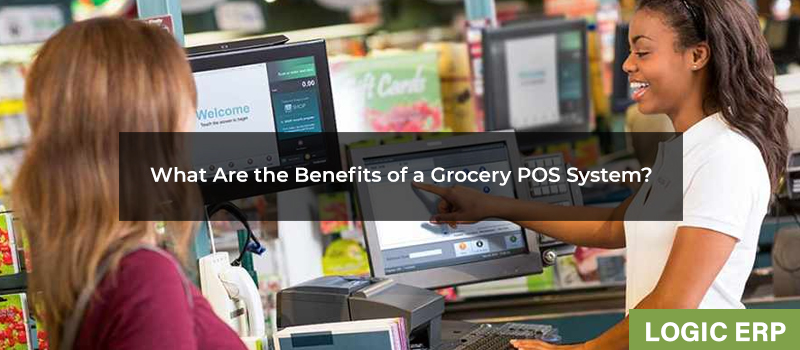 Grocery POS software has been used by electronics retailers and other large-scale merchants for years, but it's also growing in popularity within the smaller business for many reasons.
What exactly is Grocery Software?
Grocery POS System is a retail point-of-sale system used by grocery stores and supermarkets to improve transactions and streamline business operations. A grocery software enables the cashier to scan products at checkout, charge customers for their purchases and dispense coupons. It features powerful reporting tools that allow store managers to view daily sales, payroll, inventory and customer information.
Here are some of the benefits of Grocery POS Software:
Point-of-sale software enables effective inventory management

Back in the day, businesses were forced to track their inventory manually. Point of sale (POS) applications makes it easy to track inventory and improve customer service. They replace pen-and-paper with a paperless way of tracking purchases, sales, and shipments. As one of the leading POS systems, Logic ERP helps in tracking products and inventory, managing purchasing, and offering a superior customer experience.
POS system helps in advancing the entire consumer experience

A POS system improves the overall customer experience and helps with productivity and lowers cost. It also allows you to enhance your operations with the ability to accept electronic payments. Earlier POS terminals used to take up space. But now you can replace your bulky POS terminal with cloud grocery software that's affordable and easy to use! As per reports, 41% of consumers feel that going digital is much more convenient.
Mobile POS allows you to take your business everywhere

As businesses grow, they aren't always able to accommodate a brick-and-mortar store. That's why mobile POS systems are so valuable. Mobile POS allows you to reach new customers as you're on your way to making more sales and profits. Furthermore, feature-rich and convenient applications enable scanning of barcodes, as well as real-time, constructing and selling on the go.
A point-of-sale system provides data protection
New privacy laws and changes in corporate regulations have made security more important than ever before. Advanced POS software offers highly secure transactions that are encrypted, whether these transactions are online or offline. It will also store customer information securely, including name, address, and debit/credit card details. In the event of data loss, back up to the cloud ensures business continuity by keeping all your data intact.
A POS system aids in the preparation of sales reports

Companies need to evaluate, analyze and assess sales data to make informed decisions about how and where to allocate marketing and sales campaigns. Advanced software's allows companies to gather this data instantly and generates reports based on pre-determined criteria, providing a competitive edge.
A retail point-of-sale system expedites the process of product returns

Unsatisfied customers often return purchased items. This is a pricey and tedious procedure. With the help of a Point of Sale (POS) system, it is much easier to track the bill and generate a return invoice so that the item can be marked as returned.
POS systems can help in automating your finances

Proper accounting is essential for any business. It is especially crucial in the supermarket business, where the whole accounting process can be automated to a significant degree by using an advanced system that ensures that journal entries are created only when necessary, and entry mistakes are avoided. Such advanced systems also often integrate with third-party accounting services like Logic ERP, reducing the amount of manual effort needed.
POS allows for real-time data collection

Businesses today operate in real-time where quick access to information can enhance decision-making and improve profitability. Supermarkets, with their extensive inventory, diverse product line, and constant demand for replenishment, find themselves on the cusp of keeping pace with technological innovation. Working with ERP from Logic ERP Systems can help a supermarket enhance its bottom line through real-time data analysis and faster decision making.
The appropriate retail POS software can turbocharge your business

The most technologically advanced companies around the globe are enjoying the benefits of technology that is giving them new opportunities which they never imagined. The implementation of an advanced point-of-sale system in a supermarket can have significant advantages for the business. It is estimated that sales in the US alone will reach $250 billion by 2025 with an increase in online shopping.
At Logic ERP, we offer customized ERP solutions and business process management services that help companies streamline business processes and find the best technology to achieve their goals.