How Does Consignment Inventory Function?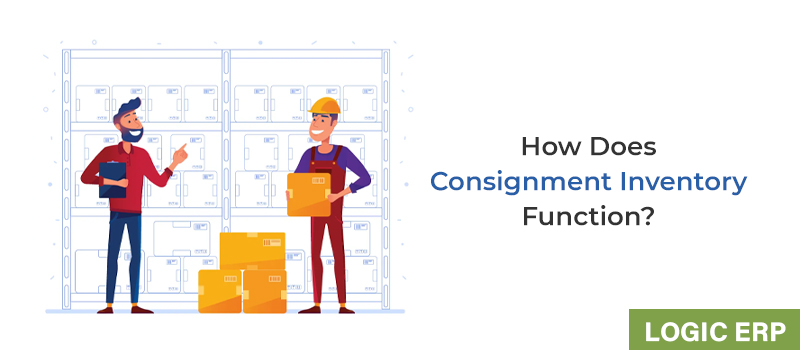 Consignment stores are growing at a rate of 7% annually. With this kind of growth, it is no wonder that the consignment industry is estimated to generate revenues up to $17.5 billion in the US alone.
What exactly is consignment inventory?
Consignment inventory is a service used primarily by retailers that allow customers to buy goods from a particular store, via the Internet or the telephone, and then have them shipped directly from the manufacturer. In other words, consignment inventory acts as a bridge between the consumer and the producer.
What are the benefits and drawbacks of using consignment inventory?
Let's take a look at both the benefits and drawbacks of using consignment inventory:
Benefits
The consignment inventory model allows retailers to avoid tying up their capital and incurring inventory-related costs.

Consigning goods can expand your retail inventory, creating a deeper variety of products resulting in higher sales.

Consignment inventory provides suppliers with access to new channels for product sales. 

The consignment arrangement allows a supplier to try out a new product by selling it on an ongoing basis in retail stores.
Drawbacks
When you use a consignment inventory system, you don't have to pay for the items up front. However, there are many costs associated with this system. These include giving up floor space and paying shipping costs.

A consigned inventory requires a higher degree of complexity with added complications because goods do not belong to the store. Because they come with no upfront costs, profit margins can be tricky to monitor.

A consignment business model requires an up-front investment, but the consignor does not bear the risk of having unsold inventory.

Cash flow is unpredictable when vendors own the goods. The risk of revenue loss when items don't sell is the potential for revenue loss.
How does consignment inventory function?
Consignment inventory is an important part of a store's inventory. As with many initiatives, though, it's crucial to follow certain best practices.
Begin with a positive vendor partnership 

To attract consignments and make the most of them, you need vendor relationships that are both strong and built on mutual trust. To find vendors, consider trade shows or search for new ones by doing an internet search.
Establish a consignment agreement that benefits both parties

After you've reached an agreement on the logistics of your business relationship, it's time to create and finalize a formal consignment contract. At this stage, you should strive to establish a mutually beneficial arrangement that covers the following items:
Authorization to sell: This agreement confirms the consignor's authorization for the consignee to display and sell items in their retail store.
Pricing: Retailers and consignees must agree to a pricing clause that indicates the lowest price at which the consignee may sell the items.
Consignment charges: This section of the contract identifies the percentage of sales that would go to the consignee and consignor, as well as the time frame for when the consigner will receive the funds.
Storage location: This section should state the exact address where the warehouse will store your goods.
Time: Consignors should indicate the period for when their items can be sold. Items that are not sold must be returned to the consignor.
How to keep track of consignment inventory?
When you're selling consignment goods, it's important to follow best practices to ensure an efficient inventory control process.
Track consignment sales and inventory using the appropriate approach

Inventory accounting can be tricky, particularly if you're consigning some items and not others. If your business model relies on a mixture of both categories, it may be helpful to track them separately. For example, using an inventory software like Logic ERP can provide your business with a consignment inventory accounting and management system that will streamline your inventory management and help you manage non-consigned items as well.
Employ inventory management software to help you keep track of your inventory

For consignment items, cloud-based inventory management software like Logic ERP can offer a competitive advantage over pen and paper. Logic ERP's integrated accounting module allows retailers to easily manage consignment sales and inventory, making it easy to see which items are selling the most and which ones are the most profitable.
By using the right inventory software, your consignment efforts will have a higher chance of success when you have a mutually beneficial agreement. At Logic ERP, we provide a fully integrated Point of Sale and Inventory Management system that will help your business provide the best consignment inventory for your customers.