A Comprehensive Guide to Selecting the Best Cloud ERP Software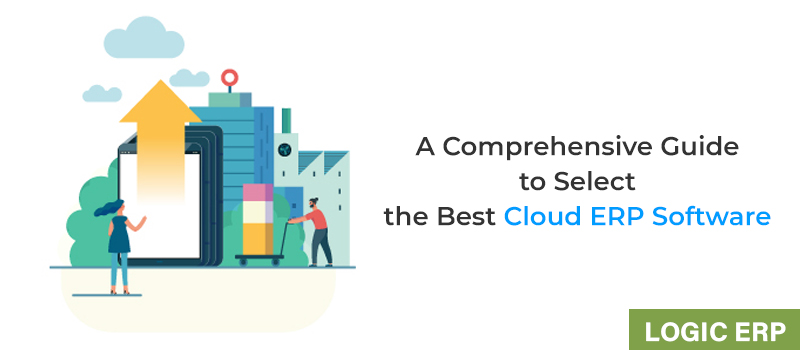 Cloud ERP systems have made great inroads into the business world. Choosing the right ERP software platform is vital to your business' success. Although it can take some time to come up with a solution that is right for your company, the process can be simplified with a little research and planning. Logic ERP is one such service that is a great way for small businesses to get the same technology that large companies use without the heavy price tag. Gartner recently issued the Magic Quadrant for Cloud ERP for Product-Centric Enterprises for the year 2021 where it predicted that by the year 2023 businesses who effectively rebuild their ERP platforms will see a 40% increase in IT agility in delivering business goals.
Glossary of Terminologies
Trying to learn about the cloud without some background knowledge in technology can be frustrating. Here's what you need to know as you search for the best ERP system for your business:
Public Cloud –

A public cloud is a form of cloud computing that provides shared processing capabilities, services and storage over the Internet.

Private Cloud – A private cloud is a computing environment that serves a single customer: the organization that owns it. This environment provides more control than a public cloud but results in greater costs.
Deployment Choice – The ERP system can be installed on-site or in the cloud. If you select the cloud, you can choose between a private cloud or a public cloud model.
Service Level Agreement (SLA) – The contractual commitment between a vendor and customer that sets the standards for reliable service and support.
Software as a Service (SaaS) – SaaS is an application model, where cloud-resident software is provided to customers over the Internet instead of being installed on the customer's computers.
Platform as a Service (PaaS) – A type of cloud service that provides a computing platform and its associated software, such as application development tools.
Infrastructure as a Service (IaaS) – It delivers virtualized infrastructure in the form of servers and networking equipment.
Key Success Factors to Choosing the Right Cloud ERP Software
To create a successful implementation, every business should evaluate business fit, the ease of use and scalability, and the ability to grow with the business.
Business fit –

ERP systems are designed with a specific business in mind; choosing one for your company should be based on how it will fit with your business, including any industry-specific needs. Selecting an ERP provider that specializes in your industry will give you the added benefit of shorter implementation times.

Logic ERP has flexible business management systems to fit any type of business.

The ease of use – Selecting an integrated ERP solution that's cloud-based and mobile-friendly will make it easier to navigate day-to-day business tasks. These capabilities can help companies streamline operations and remain current on the latest technologies and trends.
Ability to grow – The best future-ready ERP systems are built with a flexible and scalable architecture to support business growth. A great ERP solution like Logic ERP will provide the capabilities and functions you need today, as well as those that address your business's plans.
How to Assess Top Cloud ERP Vendors
By reviewing analyst reports and your own organization's unique requirements, you will be able to narrow the list of potential cloud ERP vendors.
Here are some considerations for developing your selection criteria:
Analyst research – Look for studies from analyst firms such as Gartner or Forrester Research that evaluate the leading cloud ERP providers. These reports will help you identify common strengths and weaknesses and rank the vendors accordingly.
Peers' experiences – The best way to find out how an ERP vendor works in practice is to hear directly from users of that software. Check out sites like Capterra or G2 Crowd, which aggregate user comments on a variety of business software products including those which have been delivered as a cloud service.
Business Needs – While almost every business needs an ERP solution, not all businesses are built the same. You should evaluate your needs and look for a system that can integrate with other systems and provide the functionality you need.
In your search for cloud ERP software, be on the lookout for a solution that fits your industry. Logic ERP has multiple plans to fit your business needs. Click here for more info.