How ERP Can Help You Simplify Your Business Operations.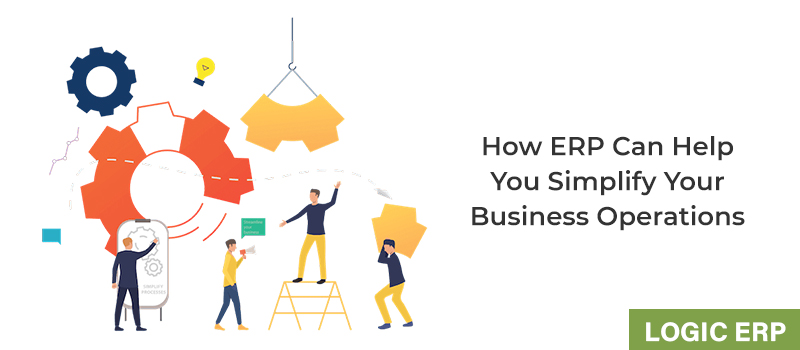 ERP software can be a great way to reduce lead times, improve quality, give better customer service, reduce costs, and in turn improve profit margins. By far the most obvious benefit of ERP implementation is operational efficiency, with 97% of businesses reporting improvements in their operations. This is why, for firms trying to improve their operations, an ERP system can be a worthwhile investment. ERP software can bring all of your business operations under one umbrella. This makes it easier to manage all business activities. A survey conducted by Ultra Consultants found that "improved efficiencies in business transactions" (40%), "better performance metrics" (46%), and "cost savings" (46%) are the top three goals cited for the implementation of ERP systems. 
Here are a few ways it can help you streamline your operations:
Inventory Management – An ERP system allows you to maintain a real-time track of inventory and materials. You will be able to plan better for future requirements and optimize your inventory levels by eliminating waste and excess stock.
Improved quality – ERP software is a great way to improve the quality of products or services and boost customer satisfaction. With ERP, it is easier to track any defects in products and services and take corrective action. By bringing together different departments under one software platform, the chance for errors is greatly minimized.
Better customer service – An ERP system can help you monitor your customer base and determine the buying habits, needs, and preferences of your customers so that you can develop better relationships with them. ERP software simplifies your order tracking system by providing you with real-time updates on your inventory levels. 
Order Management – An ERP system allows you to manage orders from the moment they are received until delivery. You have access to all the data related to orders including customer data, product data, delivery schedules, and payments received which helps reduce lead times and increase satisfaction among customers. This is because it reduces delays and errors as a result of manual data entry into multiple systems.
Effective Collaboration – Companies can greatly benefit from electronic collaboration tools that allow them to share information and help facilitate communication. Cloud ERP software includes electronic collaboration tools and advanced planning software to assist companies in managing their business more effectively. To streamline inventory and shipping, Cloud ERP software's like Logic ERP uses such tools as electronic communications, purchase orders, tracking shipments, issuing invoices, and more.
Increased cost-cutting – Cost-cutting is a long-term goal for most organizations. A well-designed Enterprise Resource Planning system like Logic ERP can reduce costs while maintaining high product quality. An ERP provides adaptability, enabling you to expand or modify the system to add new features over time. It also gives your business the tools to make smarter, more timely decisions and save both time and money.
Regulatory Compliance and Data Protection – Businesses face strict data security and regulatory compliance requirements. For example, financial reporting requirements change often, and companies must adhere to governmental and industry-specific data security rules. An ERP provides a comprehensive audit trail. It can also help businesses decrease the risk of mistakes leading to fines and other penalties. ERP software can generate financial reports that adhere to industry standards and regulations.
Data Analysis and Reporting– ERP software is at the core of many firms' overall data management, providing companies with a formalized, documented way to track financials, store their entire product catalog, and oversee their inventory. A good ERP system such as Logic ERP includes analytic and reporting features that allow business owners to monitor key performance indicators (KPIs), as well as create customized reports based on any of their desired metrics.
Risk Management – The implementation of an ERP solution can mitigate all the involved risks as controls can be strengthened and fraud reduced by controlling access to data and establishing approval routines. Accurate information will prevent mistakes that might lead to missed targets or fines. Moreover, personnel can respond to disruptions quickly since they can monitor the state of your entire operation in real-time.
Logic ERP provides business software solutions to organizations across different industries that simplify your business processes and help you streamline core processes within your organization. Logic ERP's implementation services start with a comprehensive understanding of the client's business processes and desired outcomes.