How to Properly Manage Your Inventory in The Food Production Industry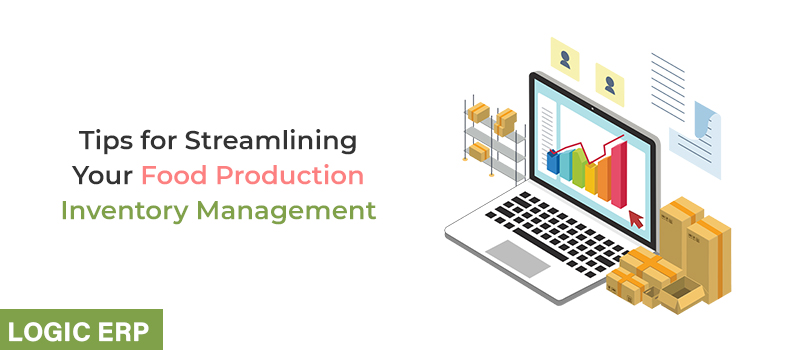 Food & Beverage companies reacted to the Covid-19 pandemic with changes to inventory management practices. Food manufacturers are faced with unique challenges in inventory management. Food and beverages have expiration dates, require strict environmental conditions, and must be handled carefully to avoid contamination. The risk of spoilage or theft is higher than other types of goods. This can lead to excess goods on hand, which leads to wasted resources, lost revenue, and damage to your reputation. Effective inventory management can help you identify waste, reduce costs and improve the quality of your products. Logic ERP is one of several tools that can help you track inventory and minimize waste by allowing you to track sales and reorder items based on demand. The ERP software integrates with accounting software to provide streamlined inventory storage and management system.
Inventory management is the key to successful food production. To make a profit, you must know what you have on hand and how much it costs. Although it's not always easy to get inventory management right, good practices can save you time and money in the long run. Here are some tips for better inventory management for your food production business:
Perform a 360-degree review – All businesses need to know that organization and planning are key to their success. A 360-degree inventory evaluation is a way of determining your inventory management strengths and weaknesses; it allows you to identify areas in which you could use improvement. Evaluating at each stage of the inventory process—from the people involved in inventory control up to the technology used in managing it—will give you a more complete picture of what needs improvement.
The Role of Data Analytics – Inventory management software uses data points like customer purchases, average sales volume, and order history to determine how much inventory a retailer should stock at any given time. The goal is to ensure your business has enough products available to meet customer demand while minimizing the risk of overstock. Companies that don't use data analytics to optimize their supply chain run the risk of product loss due to overproduction, underproduction, or waste. They're also less likely to be able to identify inefficiencies within their operations.
Maintaining steady stock replenishment – Due to the finite shelf life of perishables, food production businesses face an ongoing challenge in managing inventory. Demand changes can also influence supply; when quantities of one item carried in stock exceed the demand for that item, food businesses have the challenge of preventing spoilage. Fortunately, there are software solutions available like Logic ERP, which uses sophisticated algorithms to calculate how much of each product your company needs and when it is time to reorder more supplies.
Successful product recalls – With the use of inventory management software, you can identify and trace each batch of raw materials that go into manufacturing your product. When a faulty product needs to be recalled, identifying which batches of raw materials were used in making it will allow you to easily recall the correct quantity of products. Product recall software that generates reports can identify what products have been recalled and where they have been sent. In many cases, this information will indicate exactly who purchased the recalled item.
Improving the bottom line by reducing waste –

 Food & beverage companies are burdened with a high cost of food waste. In the U.S., 40% of food is wasted, costing the economy $218 billion each year. To reduce costs and ensure profitability, food & beverage companies need effective inventory management software that can prevent food waste by managing stocks and spoilage, as well as maintain good quality control when selling perishable foods.

F&B manufacturers should often check their inventory levels – Food and beverage manufacturers should monitor their stock levels regularly to avoid running out of ingredients, as some products have limited shelf life. Failure to maintain adequate inventory could result in lost sales or dissatisfied customers. Logic ERP inventory management software can help food and drink manufacturers maintain sufficient levels of raw materials and finished goods, enabling them to better forecast demand and place orders with suppliers.
At Logic ERP, we provide the best ERP software solution that enables businesses to effectively manage inventory and keep track of customer information.