Why do you Need a Management System for Your Pharmacy?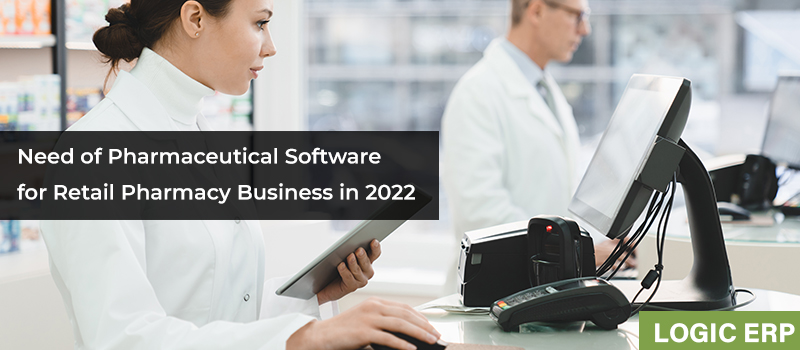 The pharmaceutical sector needs technology for business management systems no less than other sectors because it is the most lucrative niche in the world. The 2020 pandemic expedited the contactless accessibility of medications and drugs. By providing online solutions, B2C business processes in the pharmaceutical industry have advanced significantly. Many large businesses permitted internet delivery to patients during quarantine conditions, ensuring distance marketing. The businesses will keep doing this as long as it increases their revenues. Because of this, the local small pharmacies need to be ready to adapt to the shifting markets and fashions.
Based on the aforementioned, if you're ready to digitize your retail pharmacy business, you can choose a pharmacy management system designed to meet the needs of the pharmaceutical industry. You can easily handle your marketing efforts based on market offers and improve the industry experience for B2B and B2C customers with the pharmacy management software from LOGIC ERP.
What is Pharmacy Management Software? What are Some of its Benefits?
The 'Chemist Software' is another name for a pharmacy management system. By automating processes connected to a patient's medical history, prescription, patient care, billing, supplier relationships, prescription management, distribution, delivery, substitutes, pharmacy chain trade, medical supplies, etc., the software is specifically made to make difficult everyday tasks easier. The following are some benefits of using the best pharmacy software: expanding B2C pharma stores, frequent small pharmacies that want to keep stronger relationships with their clients and want to match those expectations, and improved B2B relationships with suppliers, manufacturers, and partners.
Why do you Need a Management System for Your Pharmacy?
You will need an intelligent system if you want to manage the sales and purchases of prescription and non-prescription pharmaceuticals, regulate your stock and inventory, predict consumer demand and satisfy it, and gain a complete knowledge of your company's performance. With real-time notifications, revenue management, user-wise control, and other features, LOGIC ERP pharmaceutical software helps you manage your finances. You'll benefit from it from billing to balance sheet, a thorough answer to any of your business concerns. The list of evident problems you might be having but for which you don't have a fix is provided below. You'll be able to handle anything thanks to the software from LOGIC ERP.
Classification & selection of medicines

Pricing, points of loyalty, deals, and reductions

Integrated supplier ordering system

Adaptation to payment systems and other devices

Connection to POS

Integration of API

Management of online pharmacies

Prescription supervision

Family history and ledger management

Alternate availability based on salt and content
Characteristics of a Pharmacy Management System
The pharmaceutical ERP software from LOGIC ERP, which is in charge of maintaining accurate inventory with automation, includes inventory management as a critical component. The platform will offer digital records of all inventory inflow and outflow, helping to consolidate data and increase inventory turnover rates.
Pharma software assists in keeping appropriate inventory levels by managing various prescriptions as well as over-the-counter traffic. Having patient appointments automatically booked will make it very handy for your pharmacy to operate in a structured manner. This would not only boost your earnings but also shorten drugstore patrons' wait times.
A pharmacy, no matter how little, is a sophisticated center of information. The operation of pharmacies is subject to numerous rules and regulations that must be followed. You may take use of these tens of thousands of reports for your expansion with a retail pharmacy management system like the one from LOGIC ERP. You can direct the energy in the direction of your success. Every report, including patient personal data, transactions, the supply chain, sales, profitability, inventory level, and purchases, is available with a digital overview.
Conclusion
Being a traditional retail entrepreneur, you are operating in a competitive and highly lucrative market. Consider it a benefit because you are already part of the industry. It's time to embrace technology in order to boost your company's growth figures. If you decide to digitize your traditional retail business with LOGIC ERP, we will use all of our experience to create a completely unique solution for you. After careful consideration, you recently decided to embrace pharmacy software and watch your company undergo a magical transformation.