What is MIS Reporting, and How Can It Benefit Your Retail Business?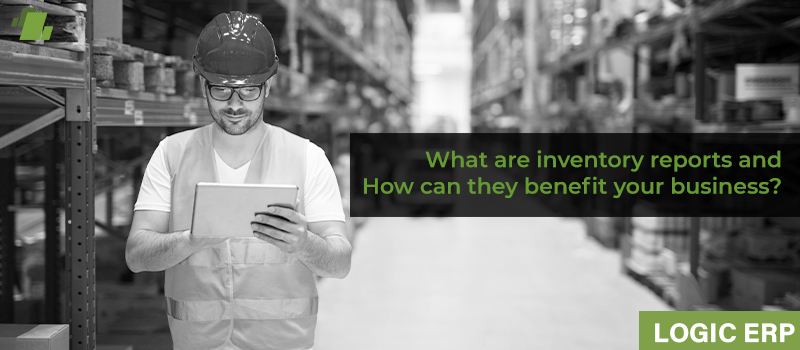 Inventory and sales records in retail contain a variety of information. However, over half of the small companies either do not track their stocks or do so manually. Shops are hence susceptible to false reporting. While this may appear trivial, using data to inform company decisions could mean the difference between a successful sales time and a disastrous period. Logic ERP will walk you through an inventory analysis and how to construct reports to benefit your retail business.
What is the definition of an Inventory Report?
An inventory report summarizes a retailer's current inventory. It distills details such as how much stock you have, which items are selling the quickest, category effectiveness, and other inventory status and performance statistics. You can use a variety of inventory reports, each with its unique function.
What is the purpose of creating an Inventory Report?
The knowledge that delivers merchants about their business makes inventory reporting valuable. The top performers in the sector are data-driven, and metrics for inventory reporting offer broad and detailed perspectives on the company's operations. They assist you in developing a compelling, fact-based business narrative. Because direct data is more instructive than no info, that data need not be "huge data." Logic ERP customizable inventory management software enables small and medium-sized organizations to manage their inventories effectively.
How to make a Report on an Inventory?
Before taking any action, it is advised to consider what you want to gain from the MIS reports. Your organization's key performance measures (KPIs) must be described. Considering all the metrics will keep your reporting system focused and valuable. Think about your tech stack or the software programs you employ to manage your company's technology. For the process to go more quickly, to reduce human error, and to sync data amongst tools, you'll need trustworthy inventory management software. Software integration problems account for 15% of asset distortion problems.
Technically, you could utilize Excel spreadsheets and hand-written reports, but current technology, like the POS system from Logic ERP, will make stock reporting simpler, more precise, and more valuable. Retailers who use POS systems are more adept at generating insights than those who don't control sales and inventory to the level of stock-keeping units.
Prepare a Wishlist
What expects from your solution that contains the data, your point-of-sale, software for inventory management, or another source? Include basic details such as how many items you currently have on board, where they are situated, which lots you have, and stock-keeping unit numbers, pricing, and other essential details. Your information choices are highly influenced by the queries you want to address.
Decide on a Timetable.
It would be best to collect all statistics for the same period to avoid having inconsistent data. You might zoom out to a year or into an hour. Make sure you are comparing like with like when comparing eras. In other words, you'll probably see a significant change if you compare June sales figures to November ones because of holiday customers.
Execute your Reports
The next step is to decide which reports are running and how to produce the numbers. Starting with canned or automatically generated reports is advised. For your analysis, POS dashboards and pre-built reports are excellent starting points. It's important to remember that you won't have an accurate view of your EOP inventory unless you have an enterprise tracking system that documents your inventory ownership over time.
Conclusion
Reporting may seem monotonous, but learning how your organization operates is essential and identifying areas that need improvement. As we have already stated, Logic ERP can automate your inventory reporting. So you know that we think business owners should focus on their business rather than on technology. The MIS provided by Logic ERP makes it simple to identify your profit-making areas, loss-making areas, and the offerings you should be concentrating on. To experience all the benefits of inventory monitoring for yourself, get in touch with Logic ERP right away.