ERP Software- 7 Advantages in Retail Business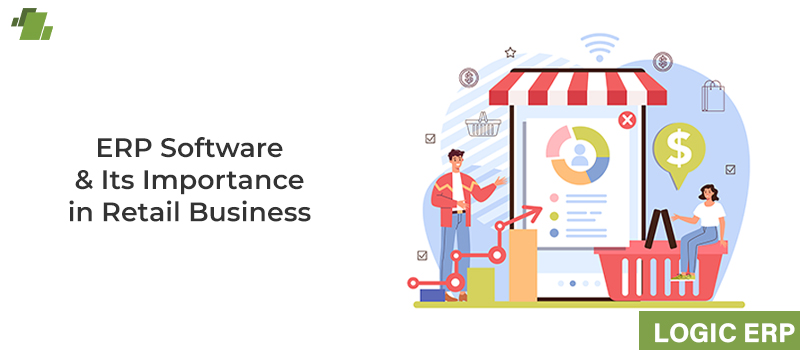 ERP has become an unavoidable prerequisite for the retail industry, regardless of size. With rising competition, enterprise resource planning (ERP) systems have become critical for businesses to sustain and meet changing client needs. It is a set of customized software that enables businesses to seamlessly connect and manage all main activities, such as managing multi-location stores, often shifting supplies, pricing adjustments, product discounts, and much more. This may be time-consuming and difficult if done manually; however, ERP software delivers the quick, easy, and dependable management solution required to operate organizations more efficiently.
A retail firm thrives on its ability to persuade prospects to buy and become loyal clients. Managing this demands professionalism as well as the appropriate technologies. In their absence, merchants frequently make simple mistakes that can be disastrous to their entire business health.
Retail ERP software is an excellent tool for keeping track of missed attempts. The system is a combination of numerous innovative technologies that might assist shops in avoiding creating roadblocks to success.
Here are the seven most essential advantages of ERP in the retail industry:
Trustworthy Business Data
Inventory, sales, purchases, and other procedures contribute to the collection of business information. Management can make rapid and educated business choices using real-time, accurate, and relevant information.
An ERP system integrates all of them into a single integrated application. The one database facilitates data access and assists businesses in better planning to deal with competition, changes in demand, and other unanticipated disturbances. Again, better planning implies greater control, which helps firms generate more profit.
Improved Inventory Management
Inventory is critical in the retail industry. Controlling it allows you to store enough to satisfy projected demand while reducing surpluses. This issue is thoroughly addressed by ERP software. The system saves precise information about each product in stock to help users know exactly what is in stock and what needs to be re-stocked. Furthermore, the technology aids demand forecasting by studying previous client purchasing behaviors, allowing you to alter inventories to match prospective wants.
Including Multiple Channels
Retailers frequently require numerous channels to operate concurrently to guarantee that all operations in their organization work properly. These channels are integrated into a uniform platform by an ERP system, allowing departments to communicate information in real-time. There would be no need for one department to contact another every time there was an update. Employees get access to data anytime they need it. Businesses gain from improved communication with the current solution.
Boost Operational Efficiency
Retail ERP software enables organizations to gather, store, and manage information via an automated system to organize and streamline day-to-day operations and decrease the laborious human efforts involved in performing those repetitive tasks. The service assists businesses in increasing efficiency to guarantee that milestones are fulfilled on time, saving operating expenses.
Automate the Sale and Payment Process
POS systems that record sales transactions automatically eliminate the extra work and scope of human mistakes that arise when done manually. Modern retail ERP software is coupled with the POS tool, which is the primary reason for making sales transactions faster and easier. Retailers may use the technology to decrease consumer wait times for purchase billing. In addition, the system delivers real-time data. All transactions are promptly reflected in the central ERP, allowing management to monitor the activity at various retail units.
Improve Customer Management
Customers are essential in the retail industry. An ERP system with a customer management tool enables merchants to manage better and solve client acquisition and retention difficulties.
As previously stated, an ERP system records all information, including consumer purchase history. This data may be used to examine customer purchasing tendencies, allowing you to offer discounts that respond to their requirements and deliver a genuinely personalized shopping experience.
Pricing and Discount Management Made Simple
The retail industry's nature needs a dynamic pricing structure. Keeping track of this manually, on the other hand, is an uphill task. You'll need a reliable ERP solution that can automate the process of tracking product pricing and discounts, making it simple and painless.
It would be incorrect to suggest that utilizing an ERP system is unavoidable to compete effectively today. The program provides features that can improve a retail business's operating skills, giving it a competitive advantage.