POS System to Simplify Supermarket Operations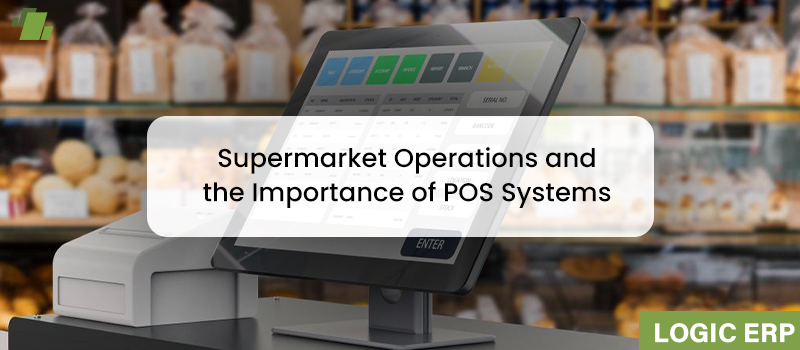 Managing personnel operations, inventory and product replenishment, and even client acquisition and loyalty may be difficult without assistance. Nobody can be expected to manage all of these procedures alone. Trying to accomplish it all manually or using dispersed systems complicates an already tough task. You may quickly streamline your supermarket operations with a suitable point of sale (POS) system.
Difficulty of Controlling Supermarket Operations
Whether it's improved inventory control or more efficient checkout technology, there's always room for improvement. Streamlining your procedures not only leads to in-store improvements and time savings but also allows you to refocus your time and efforts to improve the customer experience.
Almost any operational process can be optimized with the correct mentality, methodology, and tools. A cloud-based POS system assists you in better managing your supermarket operations so that you may have a greater influence on your consumers.
IT Retail platforms let you save time on day-to-day tasks by offering capabilities like as inventory management, flexible checkouts, and consumer data reporting. This allows you to concentrate on growing your business and serving your clients.
Improving Inventory and Stock Control
Handling sales, inventory, and checkouts on various systems or programs may be time-consuming, and a retail POS system streamlines these activities into a single platform. If you physically track merchandise in and out, inventory management alone can take hours of manual effort. This also offers a lot of space for mistakes. Not only does IT Retail automate the majority of the inventory management process, but it also allows you to set up automated inventory replenishment.
A great POS system should contain advanced reporting and analytics to provide you complete visibility into how your inventory moves, allowing you to make better educated decisions regarding what to purchase and how much to order. This contains information on popular goods as well as stale inventories, and it may alert you when stock levels are low.
Because grocery businesses make a profit based on stock in versus stock out, using a POS system to improve inventory management will have a huge influence on your business and how you can support consumers. This method may be automated to save time and maintain shelves supplied more effectively.
Flexible Checkout Options
Cloud-based POS systems make it easier for establishments to handle transactions because the software can be accessed from any internet-connected device. A mobile retail POS system enables you to call anybody up from anywhere, making it easier for departments such as flowers to function uninterrupted.
Self-service checkout allows consumers to process their products independently, reducing wait times and lineups. IT Retail's self-checkout technology is designed to be safe, with closed cash drawers, weight verification, and other features. Your checkout counters will update stock levels in real-time, integrating all of your procedures and making overall store management much easier. Bought products are monitored as they leave the store, inventory is automatically updated, and shelves are kept supplied.
Streamline Internal Processes
Efficient software automates outdated, manual, time-consuming operations. Inventory tracking software saves time spent manually counting items, allowing personnel to focus on keeping stores supplied. Furthermore, inventory visibility makes it easy for staff to check if anything is in stock, which increases customer and employee trust. A good Retail POS system assists shops in creating timetables that correspond to sales records. This reduces employee over- or under-staffing and improves customer service and retail management efficiency. Remote management allows you to manage all of your stores from a single place and monitor inventory levels at a store without having to physically visit it.
Customer Data Centralization
POS systems make it easier to handle your business data, and you can watch sales statistics in real-time. When you use a POS system to integrate all parts of your business, your customer information is more structured and accessible to you and your staff, allowing you and your employees to evaluate and make better business decisions.
Customers may utilize your POS system to participate in your loyalty program, sign up for your email list, and submit pertinent data such as their name and address for future customer contacts with IT Retail. Customer data tracking provides insight into client retention while also giving possibilities to improve your customer service experience. This helps your consumers feel more connected to your shop and like they are a part of the community. You're anticipating their wants and needs without their knowledge.
Simplify Your Supermarket Processes to Increase Profitability
The top POS software solutions assist you in streamlining and automating every part of your organization. Customer checkout, inventory management, staff shift scheduling, bookkeeping, business-boosting analytics, and customer loyalty programs are all included.
Consumer demands have risen, as have labor and supplier prices. Understanding how to simplify your ordering procedures and other aspects of your business takes you one step ahead of the competition. It enables you to devote your time and energy to crafting an experience that leaves clients wanting more.
The features and benefits of a POS system, as well as improved retail operations, have a big influence on your store and free up resources for you to focus on serving your customers and your community.